As the staff cuts at DreamWorks Animation and Walt Disney Studios prove, bigger is no longer thought of as better in Hollywood. The suits are now angling after a far more efficient business plan. Tinsel Town 2.0, if you will. A place where smaller teams follow shorter production schedules and work within tighter budgets yet still somehow manage to deliver top-quality motion pictures.
Oh, sure. Pixar's animated features get all the acclaim while Blue Sky Studios' movies clean up at the box office. But over in Culver City, SPA has been consistently turning out strong performing animated features for a significantly lower price point than anyone else in town. Which -- in the wake of "Hotel Transylvania's" success last fall (This Genndy Tartakovsky film sold $148.3 million worth of tickets stateside, $198.3 million foreign for a combined worldwide gross of $346.6 million) -- has not gone unnoticed in certain corner offices.
Of course, one of the main reasons that SPA is often able to do so much more with less if that this animation studio grew out of Sony Pictures Imageworks. And given that the work ethic of a visual effects house is hardwired into Sony Pictures Animation's DNA, it's no wonder that these guys have a gift when it comes to delivering top-quality work on very tight schedules.
And given that all of this got started back in July of 2002 when Sony Pictures Imageworks released its Oscar-winning short, The ChubbChubbs!, it's kind of appropriate that SPA has recently gotten back into the short animated film game with last year's traditionally animated Goodnight, Mr. Foot which Tartakovsky wrote, directed and animated himself and then continuing with the 22 minute-long movie The Smurfs: The Legend of Smurfy Hollow. Which will have its world premiere in June when this Halloween TV special is screened at Annecy in official competition.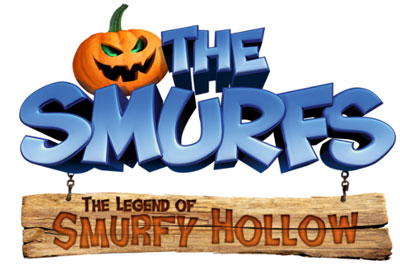 Now some industry watchers might see The Legend of Smurfy Hollow as a cold & somewhat calculated bit of brand extension. A way for Sony to cash in on "The Smurfs 2," which is expected to do big office this summer (The original Smurfs was one of the biggest hits of 2011, selling more tickets worldwide than Pixar's Cars 2 and Blue Sky Studios' Rio). But since The Smurfs: The Legend of Smurfy Hollow (in a nod of the old Smurfs television series) will mostly be done in 2D while The Smurfs 2 will be a mix of live action and CG, from the Sony Pictures Animation's point of view, there's more than brand extension to this Halloween TV. Smurfy Hollow also allows the studio to expand its creative palette & production pipeline. It gives SPA different ways to tell stories.
And Sony Pictures Animation is taking the same sort of approach when it comes to producing sequels to some of its more popular early releases. When "Cloudy with a Chance of Meatballs" developed such a strong following after its theatrical release in September 2009, Bob Osher -- the president of the Digital Production division at Sony Pictures Entertainment -- decried that it was time for SPA to revisit Swallow Falls, the setting of the original "Cloudy" movie.
But where this gets interesting is that Osher -- rather than seeing Cloudy 2 as a strict cash grab -- opted to also view this sequel as an opportunity to grow SPA's creative team. So the studio had Phil Lord and Chris Miller, the directors of the original Cloudy with Chance of Meatballs, meet with Cody Cameron and Kris Pearn, two longtime Sony Animation Pictures story artists. As the four of them tried to come up with an exciting, entertaining storyline for this Cloudy follow-up.
Borrowing a page for Pixar's Toy Story 2 playbook (i.e. John Lasseter and co. used scenes and characters that had been cut out of the original Toy Story as the jumping-off point for that film's sequel), Phil, Chris, Cody and Kris took some food-imals that had been cut out of the final act of the first Cloudy movie and then made them into the main attraction of this movie's sequel. And as soon as SPA management heard about the proposed "Something big was leftover" storyline for Cloudy 2 ... Well, Osher and co. not immediately got excited about this creative new direction for Cloudy 's sequel, they also decided to let Cody and Kris direct the picture.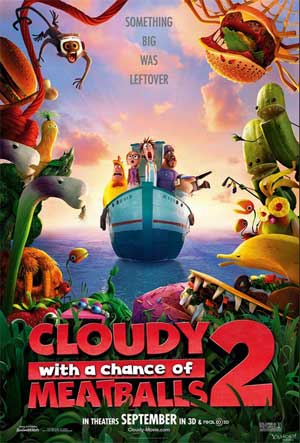 It's bold moves like this that are causing a lot of people in feature animation to keep a closer watch on Sony Pictures Animation these days. When Bob took up the reigns on the digital side of things and Hannah Minghella was named as the new president of production for animation back in March of 2008, these two brought a new energy and focus to the operation. It was Osher and Minghella who rebooted The Smurfs under the watchful eye of Michael Lynton (who grew up with these little blue creatures) and Amy Pascal. Hannah was subsequently promoted to president of production at Columbia Pictures in 2010. Bob and her successor Michelle Raimo Kouyate are then responsible for recruiting Genndy to come direct Hotel Transylvania which had been stalled in development hell for years before that.
And speaking of Hotel (Which SPA is already sequelizing. The follow-up to this family-friendly vampire movie is due to hit theaters in late September of 2015), Tartakovsky won't be returning to Transylvania anytime soon. The Monday after Hotel Transylvania held its U.S. premiere at the Grove, Genndy and his story team were already hard at work boarding a big screen comedy-adventure starring E.C. Segar's Popeye the Sailor Man. Which -- if the early buzz on this 3D movie proves to be true -- Popeye is really going to wow audiences when it sails onto screens on September 26, 2014.
And when you factor in the great work that's being done over at Universal's Illuminations Entertainment (Their latest CG feature, Despicable Me 2, will be bowing in multiplexes nationwide on July 3rd) and Paramount Pictures' animation division (where they're currentky hard at work on a sequel to 2004's The SpongeBob SquarePants Movie), Sony Pictures Animation is now one of a trio of animation studios that are delivering top quality feature films at a significant lower price point than Disney, Pixar, Blue Sky Studios and DreamWorks Animation are.
Which -- to hear Jeffrey Katzenberg talk (as he was reflecting on how poorly Rise of the Guardians had performed at the box office during DWA's Quarter 4 2012 earnings conference call) -- is an issue that his animation studio is now attempting to address. By mid-2014, DreamWorks Animation hopes to have new technology in place that will then lower the production costs of their new full-length features to $120 million.
Which -- to put things in perspective here -- will still be $35 million more than SPA spent during the entire eight years that Hotel Transylvania was in development.
Which is why -- as we enter the era of Tinsel Town 2.0 -- you should expect to see even more financial pruning and production fine-tuning on the Toon Town side of the operation.
Jim Hill is an award-winning entertainment writer who lives in New Boston, NH. Over the past 30 years, he has interviewed hundreds of veterans of the animation & themed entertainment industry and written extensively about The Walt Disney Company.
Jim is currently working on a behind-the-scene history of the development & construction of Disneyland. For his more immediate musings on movies, TV shows, books and theme parks, please check out his blog, jimhillmedia.com.
Calling all HuffPost superfans!
Sign up for membership to become a founding member and help shape HuffPost's next chapter