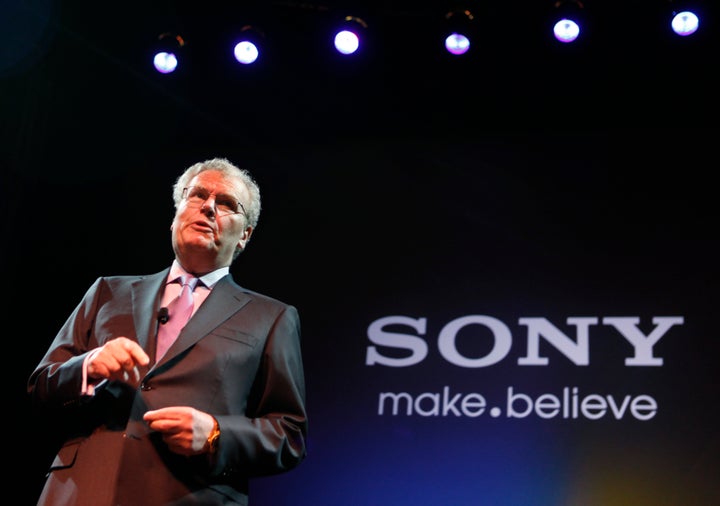 NEW YORK -- Security has been restored. Come back and play. This was the message delivered to PlayStation aficionados by Sony's chief executive, Howard Stringer, during a Tuesday morning sit-down with a handful of reporters.
Some 36 hours earlier, the company had flipped the switch on its popular online game network, resuming service for many of its customers. Sony had shut the network down three weeks earlier following a brazen breach by hackers who broke into files that held personal information for as many as 100 million customers, including credit card numbers.
"We are up and running, and we are safer than ever," Stringer declared, kicking off a vigorous workout of that reassuring phrase. But these declarations soon faded into less comforting acknowledgements about the nebulous threat of hackers in an era of broadening connectivity. Reassurance gave way to resignation about the remaining vulnerabilities -– not just for Sony, but for all companies, not to mention the tens of millions of people increasingly entrusting banking information, photographs, medical histories, libraries and intimate fragments of their lives to the memory banks of the Internet.
"It's a realization that we all had, that no system is 100 percent safe," said Kazuo Hirai, who oversees Sony's online game division, and has been at the center of managing the security breach. "This requires constant monitoring and constant vigilance."
It is known as cloud computing -- storing information not on your own device, but on someone else's server. This phrase is starting to sound more apt by the day, and not in a good way, as if the clouds are a barrier to clarity giving cover to bad elements. Who else has access to your data, and where are the threats? Who knows? Such details are maddeningly obscured by the amorphous nature of the threats at issue.
When pirates first broke into Sony's servers last month, the company said it found evidence that Anonymous, a loosely organized collective of hackers, had played a role. That prompted an unusual public disavowal from Anonymous, deepening the mystery.
Sony still does not know who broke into its servers, its executives said Tuesday –- this, despite hiring several security firms and engaging law enforcement agencies, including the Federal Bureau of Investigation.
"We continue to hire people to investigate," Stringer said, "but we haven't found any evidence to point the finger at anybody."
Despite adding security measures, conducting myriad tests and studying the results in granular detail, Sony says it cannot offer assurances that its networks are today impenetrable to mischief-making outsiders.
"Who can stop whom?" Stringer said. "It's a kind of escalating competition between good and bad. These are the new rules of cyberspace."
Like perhaps any chief executive atop a multinational empire, Stringer carries himself with the confidence that befits someone accustomed to commanding thousands of people at points around the globe, his pronouncements capable of altering sizable flows of money. He spends his life hopscotching from Sony's offices in Japan to its Hollywood movie studios to his residence in London. On this day, he sat in a grey power suit and a silk tie, his pressed shirt adorned with glinting cufflinks, as he presided over a paneled conference room on the 35th floor of the Sony Tower in midtown Manhattan. A high definition video conference system linked up Sony executives in Japan.
But despite the veritable army of resources he commands, recent months have confronted Stringer with a series of lessons in the limits of power in the modern-day world. He spent much of March in Japan, grappling with the impacts of the devastating earthquake and tsunami, attending to blackouts, parts shortages and the human dimension of a full-scale disaster. Just as that crisis relented, hackers delivered another, forcing the company to shut down its popular online game services.
As Stringer portrays it, the incident has brought home the reality that the world is essentially infected by unseen threats against which no company can fully inoculate itself.
Asked if governments can be helpful, Stringer said it was encouraging to see the White House last week press Congress to deliver legislation aimed at limiting cyber-security threats. But he cautioned against hoping this would produce a fix: Governments themselves engage in hacking against other governments, he said, adding that these operations function like veritable training programs for freelance hackers, who put their skills to use however they choose.
"You know cyber theft is going on between governments," Stringer said. "Everyone recognizes the defense agencies and security agencies around the world have very very sophisticated hackers that can hack quite a lot of secrets." He noted reports of state-sponsored hacking involving China, Russia, Iran and Israel. "If you train your best minds to hack sophisticated nuclear entities around the world, you're going to get some brilliant people, and when they're unemployed they will turn to other endeavors."
Stringer indulged a metaphor that could hardly sow assurance, likening hackers to the spawn of the Afghan mujahideen militias trained and aided by American forces to attack their Soviet occupiers in the 1980s. Among the more prominent mujahideen to emerge from that period: Osama bin Laden, who took his arms and skills and folded them into a new enterprise known as al Qaeda.
Adding to the discomfiting nature of the threat is the lack of clarity about the motivations of those involved, rendering defense complex. Stringer recalled how online piracy burgeoned with music, as people sought ways to share files instead of shelling out large sums of money for albums from major labels. Then, the action shifted to movies on DVD. These episodes were propelled by clear financial motive. But the latest target is harder to grasp -- online games that are served up free.
"There's a lot of moral ambiguity," he said, offering up the common lament of a commander seemingly forced to battle ghosts. "We're all wrapped in the same shroud."

Popular in the Community