Hi friends! Social Smurf here, the most social Smurf in Smurfs' Village!
Those of you who are parents out there likely have kids who are interested in setting up social media profiles, or perhaps you might be interested in setting up social media profiles for yourself. Don't worry! I can walk you (and your child) through the networks I'm on, explain how they work, and point out some of the important features that'll help keep your accounts safe!
Facebook -- A place for keeping in touch with friends near and far! I'm still lost about the "book" part...

Parents: You probably already have Facebook, but there are a lot of Smurfy privacy features you may not know about. They will help you and your loved ones protect information they would like to share with friends, but don't want to share with everyone!
As for your little ones (humans and Smurfs alike), know that sites like Facebook, Twitter, and Instagram are only for those over the age of 13.
When setting up an account for your child for the first time, there are a few features that are SUPER important to consider. Below are just a few of my own Smurfy suggestions, but remember: There's no set of exactly right privacy settings, because everyone is different! Use the ones that make the most sense for you and yours.
Privacy:
-Who can see your future posts? Friends
-Who can look you up using the email address or phone number you provided? Friends
-Do you want search engines to link to your timeline? Off
Timeline and Tagging:
-Who can post on your timeline? Friends
-Review posts friends tag you in before they appear on your timeline? On
-Who can see posts you've been tagged in on your timeline? Only me/Friends
-Who can see what others post on your timeline? Only me/Friends
-Review tags people add to your own posts before the tags appear on Facebook? On
-When you're tagged in a post, who do you want to add to the audience if they aren't already in it? Only me
-Who sees tag suggestions when photos that look like you are uploaded? No one
Apps:
-Instant personalization: Off
Ads:
-Third-Party Sites: No one (This keeps your name and picture off other networks that aren't Facebook!)
Twitter -- Much shorter than Facebook. Truly the Smurfs of social media posts!
Twitter is a place you go to share short thoughts, also called "Tweets," with other Smurfs who follow you! Not short as in 3 apples high. Short as in 140 characters!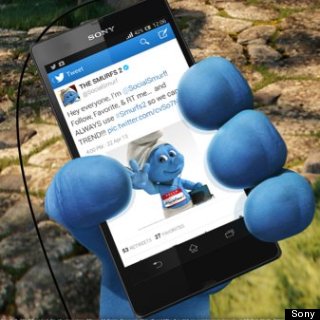 You can also join public conversations by using #hashtags to share updates with more people and post photos, videos, and links to items you want to share. And Twitter works great on mobile and desktop, so you can provide #Smurfy updates any time any place!
When your child is ready to join Twitter, there are a few things to make sure they know before getting set up! The savviest of young Smurfs on social media always remember:
- Protect your Tweets using the "Settings" tab. This will allow Smurfs to select who they let see their Tweets.
-Anything posted online is there forever, so Tweets and even user names are important!
-Nobody should Tweet anything they wouldn't say to a friend or to someone's face.
-Always ask your parents about photos you'd like to Tweet before sharing.
-Only follow people you know in real life. If you don't know a stranger who wants to follow you, you shouldn't let them!
-Never post your real name, address, or phone number.
-Never share your password with anyone but your parents. Not even your friends!
-Be careful of what you click on. Lots of those "free tablets" or other promises of prizes are not always trustworthy, and can lead to trouble!
Parents: Also know there are helpful tools like Twilert to help keep tabs on what's being said about your little Smurf on Twitter.
Instagram -- A place to share photos from your life using filters... I prefer the blue ones
Do you love taking pictures on your phone? With Instagram, you can share photos taken on-the-go with followers just like you! They can see whatever you see, and it gives you the chance to flex your photographer muscle by adding cool filters!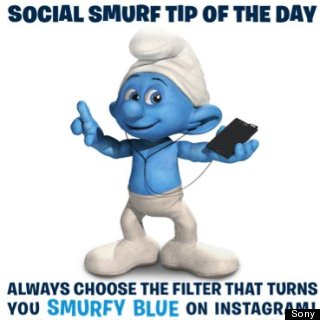 It's about sharing parts of your life and what you're proud of! Maybe you just want to show off your muscles like Hefty Smurf, or some pretty flowers you just picked like Smurfette does from the gardens in Smurfs' Village. You can also share cool photos of your friends, family events and your pets... but there are a few things to remember before you start snapping away (chief among them: Don't take photos of Azrael. It won't end well!)
-Ensure photo sharing is set to "private" on you and your child's settings. This will keep your photos from appearing in strangers' feeds, and keep from giving away your location on your photo map -- even to friends following you!
-Unless you're famous (or have a blue face like me), it's best not to share too much about who you really are to strangers. Have some fun with your online personality by selecting a creative profile photo and pseudonym by using a picture and a user name that's not really you. That way, your friends will know it's you, but your private information won't be out there for all to see!
-Only accept followers you know in real life. There are also many users who use creative names and may not be who they say they are... even "TheRealJustinBieber!"
-Parents: Join Instagram yourself, and have your child allow you to follow them. That way, you can see all their beautiful artwork and keep tabs on what they're posting.
Of course, it's important to educate yourself and your children about Internet safety. After all, the World Wide Web is a big and wonderful place -- but just like Smurfs' Village, there are ways you can find yourself in trouble if you don't watch out!
Have fun, be safe, and for all your Smurfy social media needs, make sure to follow me on Twitter and Instagram!
Also remember to like our page on Facebook for updates featuring all of us Smurfs including info about 'The Smurfs 2,' in theaters July 31!