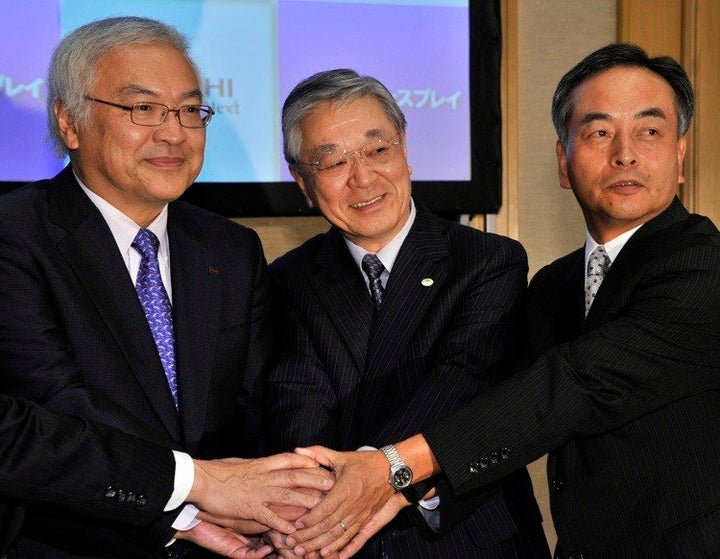 TOKYO (Reuters) - Japan's Sony Corp, Toshiba Corp and Hitachi Ltd will merge their liquid-crystal display operations using $2.6 billion of government-backed funds to fend off growing competition from rivals in South Korea and Taiwan.
The merged entity will be the world's largest maker of small panels used in smartphones and tablet PCs, leapfrogging leaders Sharp Corp of Japan and Samsung Electronics of South Korea and keeping at bay the likes of Taiwan's AU Optronics.
Sony, Toshiba and Hitachi were all making losses on small panels until last year so the merger will allow them to focus on their main operations.
However, the 90-percent government-owned fund, set up in 2009 to promote innovation in Japanese industry, could come under fire for using public money to prop up a volatile business in its biggest investment to date.
The Innovation Network Corp of Japan (INCJ) will invest about 200 billion yen ($2.6 billion) in the merged unit, taking a 70 percent stake. The three firms said on Wednesday that they will each take a 10 percent stake.
They aim to complete the merger by the spring of 2012 and list the merged entity, to be called Japan Display, by the financial year ending March 2016. By then, they intend to have boosted annual revenues to 750 billion yen from 570 billion yen expected in the year to March 2012.
A shakeup has been long expected because harsh competition and advances in technology require producers to make regular large-scale investment.
The three firms together controlled 21.5 percent of the market for small and medium-sized displays last year, larger than Sharp with 14.8 percent or Samsung Mobile with 11.9 percent, research firm DisplaySearch estimates.
While all three had been loss making in small panels until last year, they were expected to pull into the black in the current financial year.
They had hesitated about investing in a new line to compete against Sharp, which is due to receive a $1 billion investment from Apple Inc, or South Korean rivals LG Display and Samsung Mobile Display, which have supply agreements with key clients.
Sony has been weighed down by chronic losses in its TVs, Toshiba is speeding up plans to shrink its chip business, while Hitachi has been looking to distance itself from the volatile panel business to focus on infrastructure operations.
"Sharp is especially aggressive, and those who don't have a strong customer base may struggle, given that only a handful of smartphone and tablet makers are doing well," said Nam Dae-jong, an analyst at HI Investment & Securities.
Increasing demand from smartphone and tablet PC makers has prompted panel makers to shift their focus to smaller screens.
DisplaySearch says weighted average prices for mobile phone panels were 30 percent higher in the first quarter of 2011 compared with a year earlier.
However, analysts predicted the shift means the industry will be oversupplied next year.
"It's not a business that will likely provide stable profits in the mid- to long term," said Shigeo Sugawara, a senior investment manager at Sompo Japan NipponKoa Asset Management.
The INCJ is supervised by Japan's trade ministry, which had been criticized for not supporting Japan's chip and display industries in the early 1990s, a failure critics say allowed U.S. and South Korean firms to take the lead.
"The decision reflects a growing sense of crisis in Japan in light of its falling market share in the global chip and display markets," said a South Korean government official, who declined to be named.
The INCJ will lead the recruitment of new executives to run the company, while external directors will be drawn from Sony, Toshiba, Hitachi and INCJ.
How the three firms, which use two different types of display technology, will merge operations is unclear. The announcement did not include details of how they intended to deal with business overlaps either.
"The parent companies have found a most convenient buyer for their factories and staff," said Yoshihisa Toyosaki, head of Japanese research firm and consultancy Architect Grand Design.
"The assets of the merged entity will be huge. Without restructuring, there is no way that this company will win against Sharp, or rivals from South Korea, Taiwan, and eventually China."
Past investments by the INCJ, which can invest up to 900 billion yen with mostly government-guaranteed funds, include a 40 percent stake in Swiss meter maker Landis+Gyr to support Toshiba's $2.3 billion acquisition.
The new display company will focus on developing next-generation displays, including thinner organic light-emitting diode displays with higher resolution, the three firms said.
Hitachi has been in separate talks with Taiwan's Hon Hai Precision Industry, better known as Foxconn Electronics Inc, about a joint venture in LCD panels, sources have said.
Talks with the parent of Chimei Innolux Corp broke down when Hitachi failed to grab a key contract with Apple, an industry source said.
Ahead of the announcement, well-flagged by media, shares in Sony closed down 1.8 percent, Toshiba fell 2.4 percent and Hitachi rose 0.5 percent. The market benchmark Nikkei average ended flat.
($1 = 76.735 Japanese Yen)
(Additional reporting by Isabel Reynolds in Tokyo and Miyoung Kim in Seoul, graphic by Christine Chan; Editing by Michael Watson and Neil Fullick)
Popular in the Community