Last week, I attended a great class in NYC at Saveur's test kitchen. Chef Ginger Pierce of Peels NY, a Southern food restaurant in NYC's Bowery area, showed us how to make Peels buttermilk biscuits. What really made this class special was that Chef Pierce taught us with her recipe tucked away on an Xperia tablet. I joined a group of savvy women in technology who gathered together to have an open conversation about where this tablet is headed. Nowadays, we are bombarded with numerous options, but there are even more things to think about. What's your personal taste? Where do you get your information? Does advertising play a huge role in your decision-making? What's the best tablet that fit your needs?
I've spent some time immersing myself in the huge pool of knowledge surrounding the latest gadgets and devices, including the Xperia tablet. The Xperia tablet is one of the most tech-savvy tablets out there, and it stands up to competitors on the market. Try it and take a peek at its overall functionality, with a sleek, slim and lightweight(less than the iPad) build, as well as vivid, clear colors (of course; it's Sony, after all). With a 10.1" full HD reality display powered by mobile BRAVIA, it delivers enhanced color for a brilliant HD TV-like viewing experience. Moreover, this tablet comes with a NFC One-Touch feature that lets you wirelessly transfer content to your compatible TV, smartphone or speaker with just a tap. Sony is known for its premium brand, with high customer loyalty, as well as durability for long-lasting products. The Xperia tablet fits well into the Sony family. If you are a busy working mom like me, I could guarantee that you will like this tablet. I'm not alone in loving this product, either. Many reviewers have thought the same, so it's no wonder that the Amazon ratings are close to 5 stars
More than the build and display, what sets the Xperia tablet away from the others and fits it best into a busy lifestyle is that it is water- (up to 3 feet deep/up to 30 minutes) and dust-resistant! Finally, a tablet to take to the beach, use while cooking and, drumroll guys... relax with in a nice bubble bath. Yes, waterproof technology is becoming a reality. And, if you are like me having a little one at home, you no longer need to be afraid of bringing your tablet to the pool this summer. Let your little ones splash all they want as you sit poolside without worry!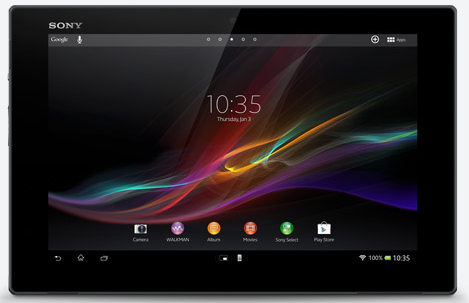 This is the tablet you've been waiting for. Sony's Xperia will fit into your lifestyle without compromising quality. Whether you are reading, watching movies on a plane, scanning through your recipes for dinner, or even letting your kids play games, the Xperia tablet will stand up to your needs.
Please share what you think about the tablet! I would love to hear from you.
Drop me an email: ivo.lukas@hotmail.com or simply comment below.
Popular in the Community