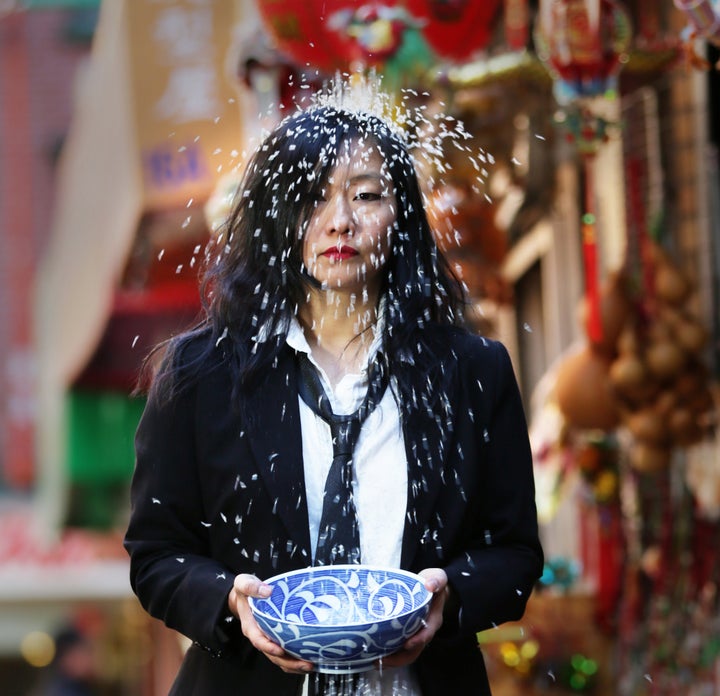 Growing up as an Asian-American in rural America can suck. Especially as a first generation Asian-American. We think representation for us sucks now? How about the 1980's? Soomi Kim has created an autobiographical play with dance, about growing up in the 1980's as a first generation Asian-American girl. MLCG (My Little China Girl), currently playing now through November, 18th at Dixon Place - 161A Chrystie Street, is directed by Leta Tremblay. Soomi Kim talked to me about her inspiration for writing MLCG (My Little China Girl) and what it was like growing up as a first generation Korean-American.
What was your inspiration for writing this autobiographical piece? Why now?
Soomi Kim - Right after David Bowie died in January 2016, I felt such a deep-seated sense of loss that I realized was tied into my youth. As a teen involved in the whole 80s Bowie/MTV generation, I was really into the China Girl music video when I was young. If you watch that video now, it will make you cringe with its racist depictions of the portrayal of every negative textbook stereotype of the Asian woman, but I thought it was interesting because, at that time, I hadn't seen any Asians on T.V. To see an Asian female lead in a Bowie video to me was revolutionary. I grew up in Oregon in a small town called Lebanon then moved to Beaverton, a suburb of Portland where people of color were scarce. Not only was I trying to assimilate and fit in, but also my young mind was being brainwashed by the media into thinking that the perception of beauty for people of color was a whitewashed version.
I recently looked through my old diaries and found that I had written about the impact of the China girl video, my love for Bowie and longing to be accepted. It occurred to me that this was the entryway into that time period, which was rife with my teenage dramas. It was also a reminder of how I was just trying to survive in the midst of major trauma from the sudden loss of my mother (who died in a car accident when I was 12 along with 4 other Korean women who were all in a van going to a luncheon in Corvallis, Oregon).
For the past 10 years I have conceived, co-created and performed works that were inspired by visionary figures who were Asian American and all died young through different circumstances. The pieces were based on: Bruce Lee (Lee/Legendary, 2008), the work of Theresa Hak Kyung Cha's book Dictee (Dictee: bells fall a peal to sky, 2012), and political activist/performance artist Kathy Change (Chang(e) 2015). All three were directed by Suzi Takahashi. These people had extraordinary lives and an innate sense of foreboding about their own mortality. They were all multifaceted artists, and their stories inherently included their racial and political identity, immigrant backgrounds, the racism they faced and how they overcame it through their art or activism. After pouring and immersing myself into these other lives (which included extensive research, character study, transcriptions, performance re-enactments etc.) I felt that it was time to share my own 1st generation Korean American story. None of this could have happened without my team: director Leta Tremblay, video and projection designers Justin West & Kevan Loney, sound designer Iggy Hun, dramaturge Mia Chung and the original music composer Adam Rogers.
How does your Movement/Dance further your story along? Would you say you are able to express yourself better through movement?
SK - Much like a snapshot can embody a moment in time and trigger your memory, I feel that movement, whether it is a gesture or a tableau, can evoke the same thing. Movement is the starting place for me in this piece and also has become the framework. When we experience strong emotions such as loss, love or pain, it's so in your body - it's physical and visceral. MLCG (My Little China Girl) is autobiographical and since my life has included movement in some form (gymnastics & acrobatics, dance, martial arts/choreographed fighting) it only seems natural to paint a picture of the multidisciplinary person I am. I feel that I am naturally inclined to express myself physically and I am also drawn to performance that blurs the lines between theater and dance.
What do you hope audiences will walk away with after seeing your show?
SK - I think they will relate to the universal story of the furious storm we all lived in as teenagers (especially for girls), as well as the experience of profound loss. For the non-Asian audience members, I hope they will gain some perspective of adolescence through the lens of a Korean American. I have a section of the show about the pressure of beauty standards-- all Korean women understand and feel this pressure to get double eyelid surgery (if you're born with a monolid) and it's a very common practice in Korea. Non-Asians are horrified at this notion, as I have found that very few people know about this phenomenon. So in that way, it is culturally specific. I look forward to taking the audience through a journey that will make them laugh and cry!
As an Asian-American woman, what was it like for you growing up? Was there conflict between wanting to "fit in" and remaining true to your culture? How did you eventually reconcile your conflict?
SK - I found myself often caught between trying to fit in, defining the universal themes of acceptance, and craving validation from friends, peers, and family. I grappled with my identity and tried to cope with the constant pressure to be "a good Korean girl", which was a superficial standard that I could never seem to fully get a grasp on. These ideals included speaking Korean (which I never was fluent in), fitting into a Western perception of beauty (thin, long-legged, straight hair and round eyes) and being a dutiful girl (cooking, cleaning, being a model student). I was regularly being compared to other "good Korean girls" who were all these things, and I felt inferior. Having lost my mother, the epitome of the female role model and what it meant to become a "woman" created a deep sense of loss on so many levels. What helped me find my way was education. In college, I took theater courses on Asian American and Third World theater. I had an amazing professor, Roberta Uno. These courses empowered and inspired me to study, create and perform, and I eventually became more informed. I think it paved the way to help form me into the artist I am today and continually evolve into being. I just kept following my passion to make work no matter how wild or outlandish the ideas were and have grown to embrace my heritage and identity.
Do you think much has changed for Asian-American kids today?
SK - Yes and no- because of the internet Asians are seen as more mainstream and it makes it easier to interact with or be in solidarity with other Asians and Asian Americans nationally and globally, and that's pretty great. But after Trump was elected, the anti-Asian (and basically anti anyone who is brown or perceived as "other" and Muslim) sentiment that arose was very alarming and a further reminder that Asians, no matter how assimilated, are still perceived as the perpetual foreigner even if you're 3rd or 4th generation. Also, Asians are still immigrating to the U.S. and face the same struggles and face the same barriers that have always existed. Asians are still fighting for visibility and are not seen as part of the American landscape. However, the exposure of successful, nontraditional career paths has made the possibility of carving out a more nontraditional career choice (one that extends beyond the typical "doctor or lawyer" ideal) more attainable. The more Aziz Ansaris, Constance Wus, George Takeis there are to represent (not only to show that Asians have a voice, talent and an audience) the better the chances will be to create change in perceptions and attitudes towards Asians in general. I was thinking that because our world has opened globally, the influence of Asian food has become more infused in our diet. When I was a kid, I remember being embarrassed about eating seaweed. Or the idea of eating raw fish or kimchi was exotic, smelled weird and was considered gross or weird to most people. Now I see kids of all ethnicities eating these things all the time (well maybe not kimchi).
If you could speak with your younger self what would you say?
SK - AHHH!! Umm.. It gets better! Also, if you want to be an artist in NYC, beg, save and borrow money to buy an apartment in Manhattan. Haha!
As an artist of color, what are your thoughts on representation versus presentation in the theatre arts?
SK - Representation: bad - only around 4% on Broadway and in non-profit theater are Asian American. Presentation: good. A lot of great playwrights and productions! I have a hard time understanding this profit-driven idea based on fear.
There are a lot of POC going to the theater and people in general who will go to see works by POC. Look at the recent success (in NYC) of the Off-Broadway show "K-Pop." They had a sold-out run! If institutions took more risks they'd see that there is an audience. But like the Academy Awards "Oscars So White" controversy, enough actors clamored and change was made to diversify within. Because of this fear model, works by Asian Americans and POC don't have the luxury of failure on Broadway, which is necessary in the arc of creating this change. Re-strategize people!! We need more diversity everywhere! Investors, board members, script selections, casting choices, staff members.. Take more risks! Also, produce works that don't fall into conventional playmaking constructs -- like my show! Produce me! haha
Any words of advice for your fellow Asian-American-Women pursuing a career in the arts?
SK - The obvious would be to encourage that they all write write write, create and perform in any capacity or medium. Cultivate the ability to listen to your inner voice and follow it, no matter how absurd or impossible. Also, learn how to produce. We need to be super diligent and unfortunately (or fortunately) go beyond what is expected in order to be seen and heard. Follow, observe, see shows (theater, dance, music -- don't limit yourself) and learn from other artists who are doing works that compel you. Seek mentors and hang on to those who champion you. Create relationships with like-minded artists including designers and collaborate on projects. The learning curve comes from going through this process, and it takes time and patience. We need your voices!
Follow Alex on Twitter and Instagram @AlexFChester
Related
Popular in the Community