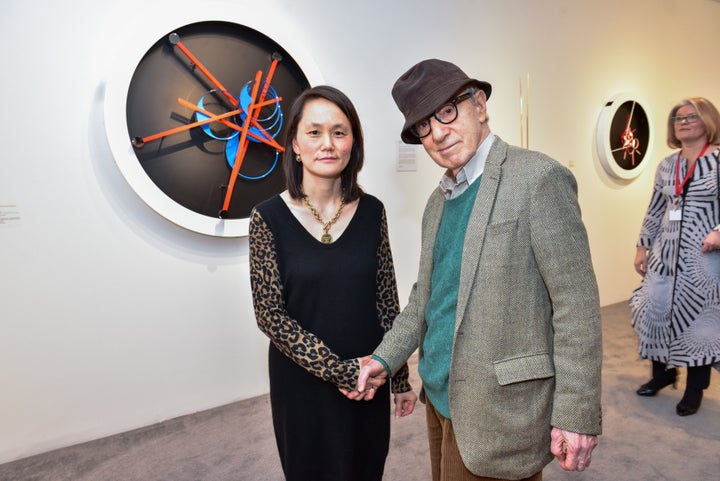 Soon-Yi Previn, the adopted daughter of actress Mia Farrow, opened up about her childhood and the development of her romance with filmmaker Woody Allen in a sweeping profile published by New York magazine on Sunday night. 
Previn, 47, made several accusations against her mother in the piece, saying Farrow, who adopted Previn from South Korea in 1978 and who was romantically involved with Allen for over a decade, was "never kind" to her. She also said the allegations that Allen sexually abused Farrow's daughter Dylan were "so unjust," saying her estranged mother had "taken advantage of the #MeToo movement."
"It's hard for someone to imagine, but I really can't come up with a pleasant memory" from childhood, Previn told writer Daphne Merkin, who described herself as a friend of Allen's for over four decades. "I was never interested in writing a Mommie Dearest, getting even with Mia ― none of that. But what's happened to Woody is so upsetting, so unjust."
No statements from either Dylan or Mia Farrow were included in the story.
Previn has mostly refrained from giving media interviews since she married Allen in 1997, when he was 62 and she was 27. Their romance stirred widespread controversy given Allen's long relationship with Farrow, but Previn said in Sunday's piece that she never thought of Allen "as a father," and that she "hated him" during their first meeting.
"Woody wasn't interested in meeting us children. And the feeling was mutual; we weren't interested in meeting him," she said of her first encounter with the filmmaker when she was 10 years old. "I hated him because he was with my mother, and I didn't understand why anyone could be with such a nasty, mean person. I thought he must be the same way."
She described their romance, which began when Previn was 21, as magnetic, and said Allen had given her "a whole world, a whole world that I wouldn't have had access to."
Allen was among the first wave of celebrities embroiled in the Me Too movement last year, and many in the industry and outside of it have since begun to challenge his work. Several actors have distanced themselves from the director, saying they would never work with him again and that they would donate their fees to the Time's Up movement.
Many of Mia Farrow's children came to her defense on Sunday. Dylan Farrow repeated her allegations against Allen in a statement posted to Twitter, saying the New York magazine piece contained "bizarre fabrications" and denying that she was ever coached into her claims.
"Thanks to my mother, I grew up in a wonderful home, filled with love, that she created," Farrow wrote. "I have a message for the media and allies of Woody Allen: no one is 'parading me around as a victim' — I continued to be an adult woman making a credible allegation unchanged for two decades."
Dylan's brother, the investigative journalist Ronan Farrow, also criticized Merkin's feature as a "hit job, written by a longtime admirer and friend of Woody Allen's." 
"As a journalist, I'm shocked by the lack of care for the facts, the refusal to include eyewitness testimony that would contradict falsehood in this piece, and the failure to print my sister's responses," Ronan Farrow wrote on Twitter. "Survivors of abuse deserve better."
In Sunday's piece, Previn elaborated on her marriage to Allen, who she said pursued her after a friendship turned intimate. "I wasn't the one who went after Woody ― where would I get the nerve?" she said.
"We talked quite a bit and to the best of my memory I came in from college on some holiday and he showed me a Bergman movie, which I believe was 'The Seventh Seal,' but I'm not positive," Previn wrote to Merkin about the pair's first romantic encounter. "We chatted about it, and I must have been impressive because he kissed me and I think that started it. We were like two magnets, very attracted to each other." 
She continued: "From the first kiss I was a goner and loved him."
This story has been updated with statements from Dylan and Ronan Farrow.
REAL LIFE. REAL NEWS. REAL VOICES.
Help us tell more of the stories that matter from voices that too often remain unheard.