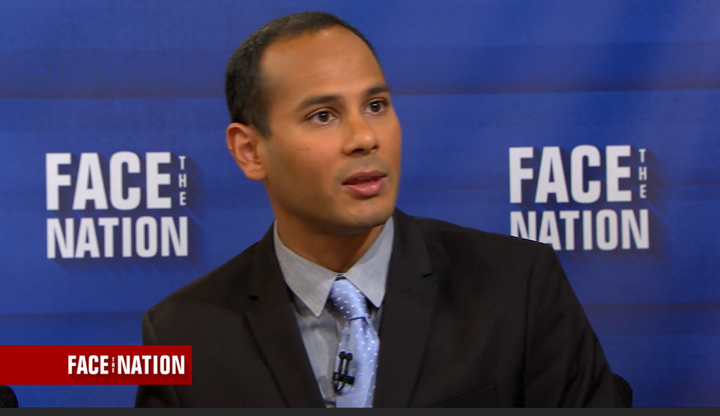 NEW YORK ― Sopan Deb, who emerged as a standout 2016 reporter for his tireless coverage of Donald Trump, is joining The New York Times culture desk.
In a memo to staff, Times Culture Editor Danielle Mattoon said Deb will "cover a spectrum of news – cultural, political, race/gender/class, way-we-live-now – through arts and entertainment lenses in the Trump era."
Deb, 28, joined CBS in 2014 as an associate producer following stints at NBC News, Al Jazeera Media Network, The Boston Globe and Major League Baseball. He became one of the network's campaign digital journalists, or "embeds," in June 2015, just as Trump entered the race.
He followed the insurgent Republican candidate throughout the country for CBS News and even got arrested at one particularly raucous Chicago rally. But it was Deb's Twitter feed, a rolling resource for Trump interview transcripts and fact-checks of the candidate's claims, that distinguished the journalist.
When Politico recently named Deb one the "breakout media stars" of the election season, a television executive described the reporter as "America's representative to the Trump campaign" on account of his Twitter feed. The executive said that "every single person is trying to hire him."
In the memo internally announcing his hire, Mattoon cited Deb's "ambitious, multi-platform articles, videos, and innovative storytelling" on the campaign trail, including his Twitter feed.
"Most notably he pioneered a story form for fact-checking and analyzing Trump: Sopan transcribed the candidate's remarks at rallies, events, press conferences, and interviews, then highlighted key sections and words and offered spot analysis ― posting it all relentlessly on Twitter," she wrote. "With this approach Sopan was able to shine a singular spotlight on the most newsworthy, surprising, and troubling parts of Trump's message. He also put Trump's language in context so even the candidate couldn't quibble."
While moving to the culture desk may seem surprising given Deb's Trump-obsessed Twitter feed, he has interests outside politics. Deb is a classical pianist, as well as a stand-up comedian.
"Sopan's superb reporting during this fast-paced and high-charged election cycle was second to none, and we at CBS are sad to see him go," CBS News Washington Bureau Chief Chris Isham said in a quote in the memo.
Isham added he has no doubt Deb "will bring the same energy to his new beat."
Read the full memo below:
I'm thrilled to announce that Sopan Deb of the CBS News politics team will be joining Culture as a general news reporter.

Sopan broke out of the pack of 2016 campaign reporters by generating ambitious, multi-platform articles, videos, and innovative storytelling as the CBS journalist covering Donald Trump. Most notably he pioneered a story form for fact-checking and analyzing Trump: Sopan transcribed the candidate's remarks at rallies, events, press conferences, and interviews, then highlighted key sections and words and offered spot analysis ― posting it all relentlessly on Twitter. With this approach Sopan was able to shine a singular spotlight on the most newsworthy, surprising, and troubling parts of Trump's message. He also put Trump's language in context so even the candidate couldn't quibble.

It was revelatory coverage and a benchmark performance of accountability journalism. In doing so, he grew his Twitter followers from a few thousand to about 117,000 today.

Sopan deepened his work with a multitude of digital skills – including shooting and editing broadcast-ready video while writing at a lightning quick pace. He broke stories, like obtaining a memo that former Trump campaign manager Paul Manafort sent to campaign staff just before his resignation. Sopan also regularly grilled Trump at press conferences. He wrote news, feature, and analytical stories at a fast clip while also providing content for CBS Radio.

Politico recently named Sopan as one of its "16 breakout media stars of 2016," writing: "CBS News' Trump embed has made a name for himself as the ultimate Trump chronicler, which he does almost exclusively on Twitter. Somehow Deb manages to transcribe nearly everything Trump utters, from interviews, to gaggles, to rallies and debates. He's often spotted by his fellow embeds typing furiously at every free moment – a skill he says he gained from playing piano his whole life (Deb almost went to music school)."

Speaking of that piano: Sopan comes to us with a lifelong passion for the arts and a deep interest in pop culture. Growing up in New Jersey, he trained as a classical pianist while devouring music of all forms. As a student at Boston University, he played piano for a musical based on the music of Ben Folds, and he is an inveterate concert and festival-goer with a particular love for Jazz Fest in New Orleans. "If I could have composed any album in history," he says, "it would be Exile on Main Street by the Rolling Stones, followed by Abbey Road."

He is an abiding fan of television (he is a real Trekkie, and among those who think "The Wire" is the greatest show ever made), and executed a great video and feature story about the idealistic roots of "Sesame Street." He also created a short documentary and accompanying feature piece at CBS about a cancer patient in New York who decided to pursue stand-up comedy to deal with her diagnosis, a piece that drew broad national attention. Sopan is a stand-up comedian himself, performing here and there in New York and even occasionally on the campaign trail.

Sopan has also worked at Al Jazeera America, NBC's "Rock Center with Brian Williams," and The Boston Globe, where he won an Edward R. Murrow Award for a documentary on Celtics star and civil rights activist Bill Russell's relationship with the city of Boston.

The CBS News Washington Bureau Chief, Chris Isham, said: "Sopan's superb reporting during this fast-paced and high-charged election cycle was second to none, and we at CBS are sad to see him go." He added, "I have no doubt that he will bring the same energy to his new beat."

We're thrilled that Sopan is coming to The Times to cover a spectrum of news – cultural, political, race/gender/class, way-we-live-now – through arts and entertainment lenses in the Trump era. Please join me in welcoming him. He starts Jan. 9. And for those who don't already know, he's @SopanDeb on Twitter.

Danielle
Support HuffPost
The Stakes Have Never Been Higher
Related
Popular in the Community