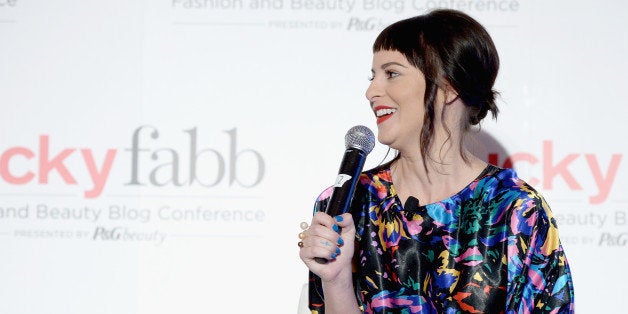 What does it take to get to the top -- without losing your center? Our "Making It Work" series profiles successful, dynamic women who are standouts in their fields, peeling back the "hows" of their work and their life, taking away lessons we can all apply to our own.
The first thing Sophia Amoruso sold on the Internet was a stolen book. Eight years later, she's the CEO of NastyGal, an online clothing retailer with annual sales over $100 million.
"Half the people in this office wouldn't have taken me seriously seven years ago," she told Fast Company in March 2014. "To my surprise and everyone else's, I've come out the other side more self-aware, self-critical, and able to appreciate what I have."
Amoruso's most recent venture is her book, #GIRLBOSS. Part memoir, part business guide, the book follows her unlikely path to success -- from a dumpster-diving teenager to a CEO.
Amoruso took a break from promoting her book for a phone call with The Huffington Post, discussing business books, Big Sur and being your own idol:
Why do you do the work that you do?
I realized when I started NastyGal, that selling online means you can calibrate so fast what works and what doesn't work. I immediately had a customer that I was loyal to; I had someone who was interested in what I was doing, who was either buying or not buying what I had to sell. And I realized that I really enjoyed putting things together for her and ultimately dressing her. So it's always been a response to a demand. And as soon as anyone cared about what I was doing, it was clear that I wanted to do the best job I possibly could. And it was never about being big. We have a big business today as a result of doing a good job at what I started almost eight years ago on eBay.
And what NastyGal has ultimately become is more than just clothing. We give girls a place to be themselves. And #GIRLBOSS, as a book, gives girls permission to to be who they want to be, and to try new things, and to have an opinion, and to have an unpopular opinion and to do things differently. I think it's important that everyone understands that there's no real prescription to having an awesome life.
What would you be doing if you didn't do this?
I really wanted to be a photographer. I wanted to go to art school, but I ended up with an education beyond my wildest dreams. I think I would probably try to be a photographer again [if I wasn't running NastyGal]. But at this point, I really don't see a life for myself outside of NastyGal, for a very, very long time -- and maybe never.
I think I've had various mentors. Theres not been a single person that I could attribute NastyGal's success to, because it was as much learning from the people around me as it was disagreeing with them. The book talks about being your own idol, and it's probably hard for a lot of people to grasp considering we live in this world where we worship celebrities. But I think if we compete with ourselves, we do our best.
Ultimately, my mentors are my team. They are my president, my CTO, my creative director, our head of marketing and our head of design. They all have more experience than I do at everything that they're doing, and they mentor me every day. I'd say the world is my mentor -- but for the most part it's been the awesome team that I've been so lucky to surround myself with.
Do you mentor other young women, or people interested in what you do?
I haven't formally. I've had lunches with various people who are starting businesses or trying to start businesses, who want advice or I'll try to introduce them to someone who might have helped me along the way. My schedule is crazy, so it's really hard for me to do, and my first loyalty is to NastyGal. Ultimately I don't have the time to give everyone that already works for me the time that I would like to. But we are launching the #GIRLBOSS foundation which, later on, will have a mentorship component to it. It's a nonprofit that will support creative entrepreneurs -- women -- in furthering their interests and their dreams.
What advice would you give yourself at the start of your career, before NastyGal became so huge?
That businesses can never rely on one person. It's really the team that makes the business successful. When my first COO left, I thought the sky was falling. He was only with the company for 9 months, but I learned so much from him in that short amount of time that it was like… what am I going to do with myself? A great mantra to have, whether you're breaking up with your boyfriend or you lose your job, or something changes that you didn't anticipate -- which is a fact of life, and very much a fact of running a business -- is: "I was OK before this, I will be OK after this."
Is there anything that you would worry about less, or pay more attention to at the start of your career?
I think I paid attention to everything that I needed to and could, at the start. I can be pretty reactive, and I've learned over time to be less reactive, to stop and think before I make decisions. When a company becomes a lot larger, the big decisions that you're making sometimes have a lot of money at stake and a lot of people's careers at stake. So it's a totally different process now, and there's been a learning curve to that for me. So I would say, "calm down," maybe. Just a little bit. I'm still working on that.
How would you define success?
You know, success is a scary concept, because it assumes something kind of final. In the grand scheme of life, I don't think there is some ultimate success. As a business we've learned not to go into things and do them for the sake of doing them, but to say "What do we want? What results do we actually want from this?" And to look back and say, "Did we do what we planned to do?" That's one version of success.
I think we're all capable of creating successes in our life every day, and I think that's a much healthier approach to your life and your career. If something doesn't work out and you learn from it, you've still been successful.
We're all so tied to technology these days. What's your relationship like with your cellphone?
It's pretty unhealthy. I'm in my inbox a lot. If I'm watching a movie at home, sometimes my boyfriend will take my phone away from me. On vacations I'll have him hide it from me. It's just way too easy to stay on top of everything all the time, which feels like you're being productive, but sometimes you're not productive at all. And it's very hard to get away from technology and just focus.
I just got a Nintendo Wii, and that's kind of fun. It's just totally mindless. I think mindless stuff is pretty relaxing. When I take a vacation, I try to go places where I don't have a lot of choices. I love Big Sur. You wake up in the morning, and there's one road. And there's probably five places to eat. Because I make so many choices in the day to day of the business, actually being places where I have what I need, but removed from the overwhelming feeling of too many choices, is usually really good for me.
What made you decide to write #GIRLBOSS?
I've read business books, and business magazines, and 10 years ago if you had told me "Hey, you should read this business book," I would have been like, "that's boring." But I actually find it pretty fascinating. There are so many parts of business that you can apply to real life. And I wanted to share that learning with girls, so I think #GIRLBOSS is a little bit of a gateway drug to the world of business books. It's also a memoir and a life bible. The world tells you: go to high school, get good grades. Go to college, get good grades. Start your first job and then you'll get a better job. And that works for many, many people -- but none of it worked for me. I tried, but I couldn't find the reward in it, and I think there's a lot of people who have varying degrees of that frustration, asking "where do I fit in?" and "what do I want to do with my life?"
We think we want to do something, try it, don't like it, feel like a failure because we spent time on it, and shift gears -- and I think no one really talks about that, and the fact that that's OK. Those cumulative experiences can turn into something really awesome. If you're patient with yourself and you learn from your mistakes, you can achieve a lot. And I think my story is an example of that. And I hope #GIRLBOSS gives women, girls and guys and anyone who reads it permission to live their lives the way they want to, to be honest with themselves and everyone around them, and ultimately try to build a better life for themselves.
What's the one thing women should do in 2014?
I think it's important that women live the life they want to live, and don't live the life that the world has told them to live -- unless they want to. That's their life, that's their choice, and that's what they want.
This interview has been edited and condensed.
Calling all HuffPost superfans!
Sign up for membership to become a founding member and help shape HuffPost's next chapter
BEFORE YOU GO
PHOTO GALLERY
How Amazing Women Are "Making It Work"