Sophia Amoruso has spent much of 2017 looking ahead and plotting her future after a turbulent couple of years.
The entrepreneur and best-selling author saw her Nasty Gal clothing empire collapse amid financial issues and workplace lawsuits, culminating in a move to file for Chapter 11 bankruptcy protection in November 2016. Not long after that, Netflix turned her rags-to-riches story into the 2017 series, "Girlboss," named after her 2015 memoir.
Now, Amoruso is using what she learned over the last few years to channel her new venture, also called Girlboss, a company aimed at inspiring women to redefine success on their own terms. She hosts a podcast, holds conferences and creates online content all with the hopes of inspiring women.
"It's [the definition of success] individual to everybody but it's a conversation we can have together ― that we should have together to land on what that means for each of us," she told HuffPost at Build Series.
For Amoruso, the definition of success changes ― sometimes it means working hard, she said. Other times, it's simply "chilling out." In the end, for her, it's about building relationships and friendships. And although some might consider her life to be successful, she's fully aware of the ups and downs of her career. 
"Some of the things that happened were completely out of my control, and sometimes you can't always point to what you did that led to that thing that you wished didn't happen,'" she said. "And that's a really challenging thing to experience."
"It seems pretty weird to just avoid. It's like, 'that happened.' It's a part of my story and we all make mistakes and fail in different ways all the time. I just did it at much larger scale," she said.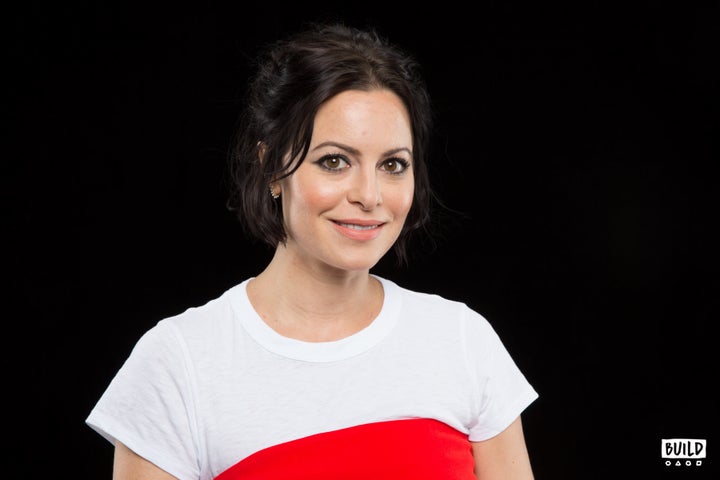 Looking back, Amoruso does have some regrets about how she ran Nasty Gal, which started as an eBay store in 2006 and grew to an $85 million company.
"I would tell myself to stay closer to my business. I think there were times where I hired really great people and I trusted them because they had so much more experience than me," she said, noting that as CEO of the company it was her job to "execute."
"One of the ways I make decisions is: 'Would it sound cool in a book?' ... Cool, I'm building a legacy. That's probably a reckless way to make decisions, but if I have kids, they're going to watch this. That's cool," she said. "And working with someone like Charlize [Theron] and Kay Cannon, who was the showrunner, was amazing. Having an all-access pass to any Netflix series is really exciting."
Amoruso admits, though, that it felt weird watching an earlier part of her life and career play out on the series, especially after the status of her Nasty Gal business had dramatically shifted. 
"It's definitely strange to have someone playing a version of you when you're 22 years old as you're trying to start over and tell a new story and build something new and no longer have people associated you with the thing you were so closely identified with for the last 10 years," she said, referring to her time with Nasty Gal. "That will mess with your head."
Asked what a Season 2 would have looked like, Amoruso said, "It was really funny when the show came out people were like, 'Ooh, can't wait for Season 2 when she goes bankrupt!' I don't know what the second season would have been. I don't think they would just have fast forwarded 10 years … At the end of the first season she had just launched her eBay store … and I think it would have been having a small team, and maybe talking to investors for the first time. Maybe designing or going to trade shows and pivoting out of vintage, which was what I did."
Looking ahead, Amoruso is determined to get a few things right in her new business, including company culture. 
"I didn't really think about company culture when I was 22 years old and working out of a warehouse with my first few employees," she said. "I think culture was something like pizza. Thinking about how we work together, creating processes so people can do their jobs well, understanding the division of different roles ― that people aren't bumping into each other and duplicating work and creating guidelines for people."
Still, she acknowledged, there are challenges ahead. 
"I'm trying," she added. "There's understanding philosophically, and there's actually doing it."
For the full Build Series interview, check out the video below. 
REAL LIFE. REAL NEWS. REAL VOICES.
Help us tell more of the stories that matter from voices that too often remain unheard.
BEFORE YOU GO
PHOTO GALLERY
Celebrity Photos 2017