Sophia Bush is known for her roles as Brooke Davis on "One Tree Hill" and Detective Erin Lindsay on "Chicago P.D.," but she'd rather be remembered for her activism, particularly in the current political climate.  
The 35-year-old has been a vocal presence on social media over the last few years, chiming in on everything from environmental issues to women's health and education. She's currently backing the #NoHormonesPlz initiative, which aims to encourage women to research what their birth control options are.
But her passion as an activist didn't sprout up overnight. Bush said she's always been open about her feelings and found an unlikely outlet on Twitter under the intense glare of the Hollywood spotlight.  
"We all have to be authentic to ourselves and I think, for me, I don't like the way that women are very often treated on the internet. And I didn't like the way, as a young woman on a television show, I felt like I was treated like a chess pawn," Bush told HuffPost during a Build Series interview Thursday.
"People talk about you and your body and your life and there are insane theories about who you might be dating ― there are a couple of people I've been rumored to be dating that I'm like, 'I wish. That would be so fun. How do I talk to that guy?' But it's also like there's humor there, because it sucks, and it sucks to be reduced, and it sucks to be talked about like an object and it sucks to be treated like a piece of meat. Like, it sucks. And, eventually I realized that I had to kind of lean into the suck because clearly social media wasn't going to go away and clearly people loving to say inappropriate things to women. That's not going anywhere. So I had to do something else about it."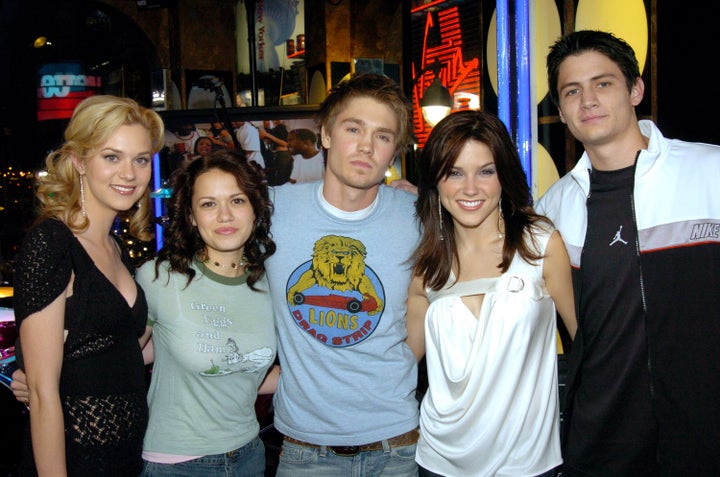 Her relationship with co-star Chad Michael Murray, whom she married and divorced in 2005, was a particularly tough time for Bush. "And the trauma of it was amplified by how public it became, which was incredibly foreign and bizarre to a girl who'd been just another college kid 24 months before her life blew up," Bush wrote in a candid essay for Cosmopolitan in January. 
Situations like that made Bush embrace the idea that there is much more to her career than magazine covers, rumors and critics. So, she decided to use her platform for good rather than dwell on the sometimes negative energy around her. 
"The reason that I wanted to be an actor, and I am an actor, was to tell stories about people that would make people feel things, think things, provide catharsis and maybe open people's eyes to people who are different than them. All of that boils down to telling real stories about real people," she told HuffPost. "Even if they're fictional and they're written by some great writer, they all happen because there's a real story behind it. And I realized social media was my place to tell real, actual news stories and stories about people and expose an audience to a group of school kids in Guatemala who deserve a school. To expose audiences to nonprofits they might have never heard of. To tell women, 'Yo, you deserve to have sovereignty over your body. Don't be embarrassed about it.′ That stuff ... that's what gives my life a purpose."
She continued, "My job is not my purpose, that's my job! I hope to do lots of them. I hope to do lots of shows and lots of films and eventually write them and create them and produce them and go back to directing and like all of those things. But that is work ― that's not the same as fulfillment." 
Watch Sophia Bush's full Build Series interview below. 
REAL LIFE. REAL NEWS. REAL VOICES.
Help us tell more of the stories that matter from voices that too often remain unheard.
BEFORE YOU GO
PHOTO GALLERY
12 Essay Collections By Women To Read In Your 20s