"I was a contestant on The Bachelor. When I arrived at the mansion I was numb and depressed. The first night I didn't shower or brush my hair. I think I was wearing sweatpants."
So begins a description for a series of embroidered paintings on view in artist Sophia Narrett's new show, which introduces us to an intriguing love story initiated on, yes, the set of the uber-popular reality show "The Bachelor." But there's a catch.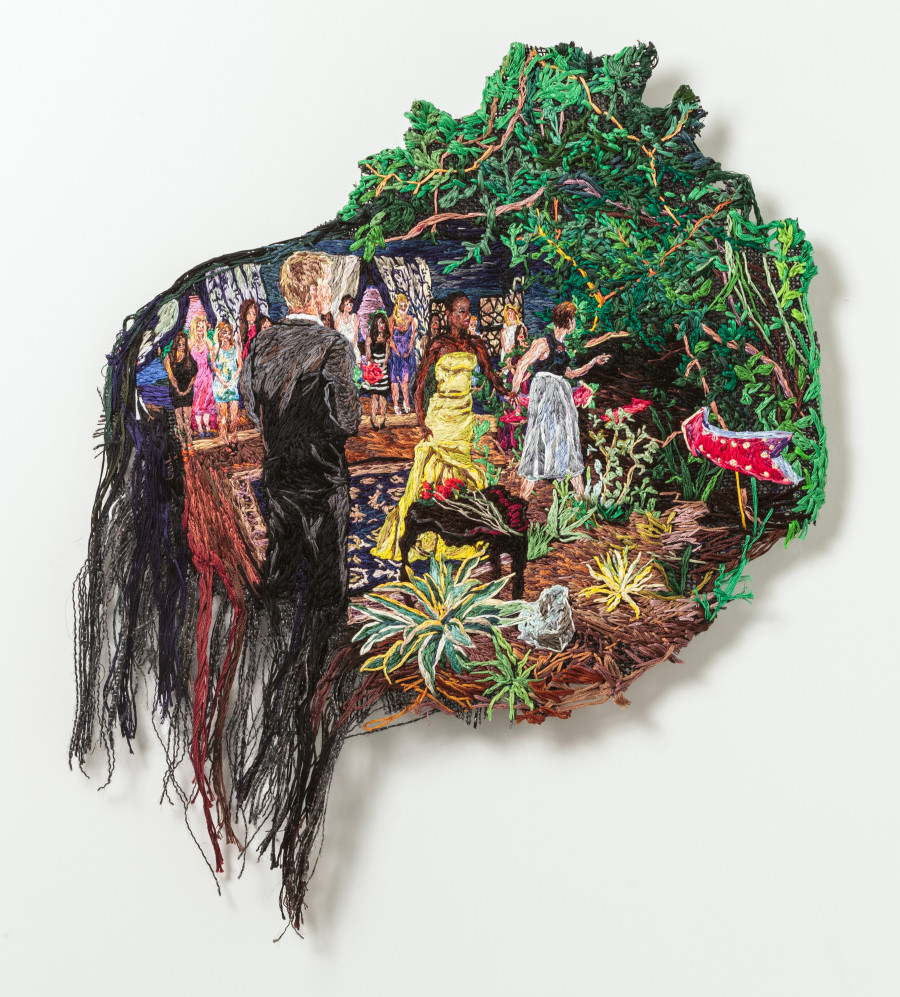 "A few days after I met her I was walking outside near the pool house and all of a sudden the air smelled like her. I looked around for her and when I didn't see her I was confused but I knew I should just enjoy the moment. It was the best air I had ever smelled. A few seconds later I walked up the steps and when I opened the door to the pool house she was standing inside, leaning against the wall. I knew I wouldn't ignore this feeling. She was my chance to be alive." (The Rose Ceremony, 2014, Embroidery Thread and Fabric, 19 x 16 in)
"I was at the first cocktail party when I caught sight of this woman," the text continues. "I was completely shocked by the sight of her, and immediately embarrassed by my appearance. I forgot about the Bachelor, and I spent the entire night looking out of the corner of my eye to see where she was and what she was doing. I was obsessed with her."
A Chris Harrison-approved love saga this is not. The two women journey from crush to resignation to heartbreak in Narrett's intricate tapestries, works that literally weave high and low cultures together in a series titled "This Meant Nothing." To complicate matters though, the pop culture-inspired story stars the very real faces of Lauren Morelli and Samira Wiley, one a writer on the Netflix original series "Orange is the New Black," the other an actress on the show. The two non-fictional people -- neither of whom have been to a televised rose ceremony -- famously began a relationship after Morelli left her husband and came out as gay. In a strange twist of threaded fate, they become the stars of Narrett's hybrid tale.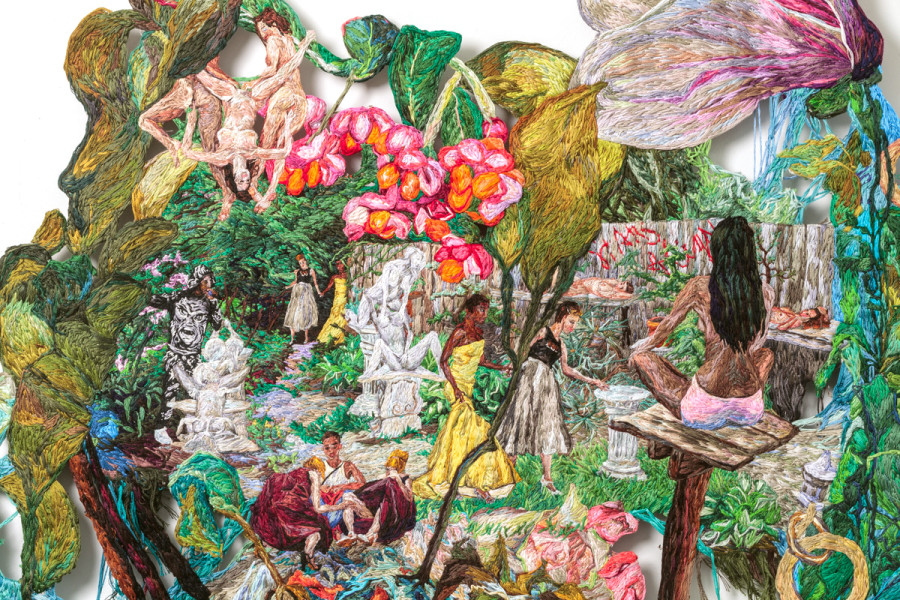 "For a few sweet days I thought I had a chance. Kendrick Lamar sang for us in the garden, 'I'll take your girlfriend and put that pussy on a pedestal.' I memorized almost everything she said. It seemed like maybe if she loved me I could find a way to believe in god. She was becoming my friend. I knew she was the only person I would ever love this much." (Stars Align, 2014, detail, Embroidery Thread and Fabric, 53 x 33 in)
How did these two segments of TV fandom fuse into a collection of gallery-ready art? Narrett watches about 50 to 70 hours of television a week, she explained to The Huffington Post. "I embroider looking directly at Photoshop collages, so while I sew I usually have another window with a TV show on next to or behind the image," she said. "I have a conflicted relationship to most of the shows. On some level I truly enjoy the narratives, I cry during proposals on 'The Bachelor,' and I'm sometimes embarrassed to notice myself actually smiling when someone says something sweet or funny. I also sit there and gag over the racist, homophobic and sexist subtexts of most of the dialogue and scenarios."
The week she began sourcing collages for "This Meant Nothing," she read about Morelli and Wiley's relationship. "Their story, which itself blends fiction and reality, seemed like a perfect way to both illustrate and expand the narrative I had designed [for the exhibition]," she added. So the two women take center stage in a whirlwind of creatures and landscapes reminiscent of the hedonistic scenes of Hieronymus Bosch. The supporting cast of images is similarly inspired by things Narrett sees in tabloids, softcore porn, fashion photography, or on social media.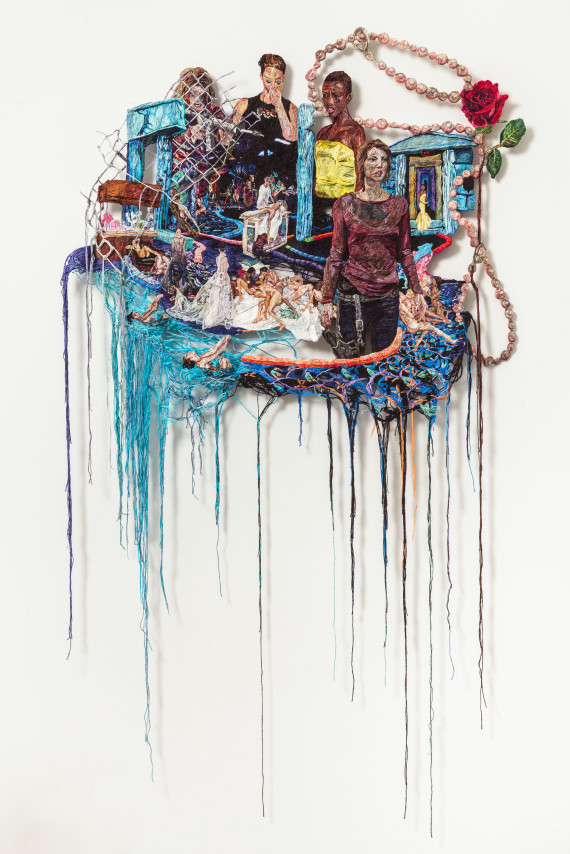 Things quickly got out of control and we fought a lot. I was desperate and I always said the wrong thing. One day we went backstage and accidentally intruded on a crew member massaging a dead contestant on top of an aquarium. The dead contestant's girlfriend was crying at her feet and trying to shoot him. I didn't know what was going on, or how to react, and I stared too long, so she left. I regret almost everything I did, and I wonder if there was anything I could have done to make her to stay." (Something Went Wrong, 2014-15, Embroidery Thread and Fabric, 35 x 53 in)
The barrage of both cryptic and familiar characters is purposeful. "I think every viewer will bring their own relationship to pop culture to the work," Narrett said. "If they recognize Kendrick Lamar, Katy Perry, a Valentino dress, Lauren Cohan, Lauren Morelli or Samira Wiley, those associations will inform the way they read the narrative. But I'm also interested in what happens when these figures are not recognized." Like Bosch's tryptic, "The Garden of Earthly Delights," the paintings encourage viewers to decipher Narrett's own hidden code, or merely revel in an allegory all their own.
As for the love story, fans might be saddened to hear that Narrett's fictionalized version of Morelli and Wiley's relationship fails to achieve a happy ending, hence the series' title. But the artificial drama is part and parcel of the show. "My work is fueled by fantasy, and a desire for love and beauty. In two senses this collapses. The simplest of which happens when there is a sad ending."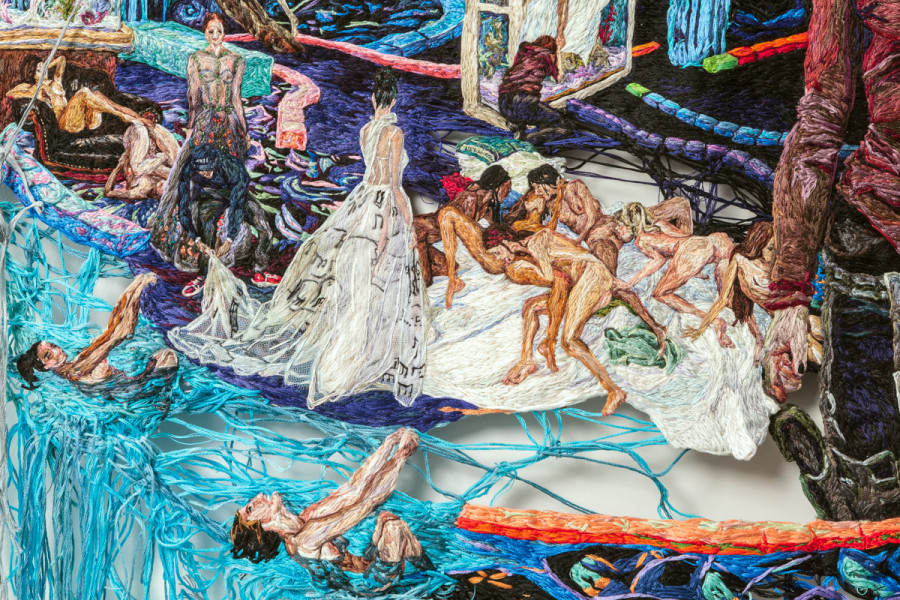 (Something Went Wrong, 2014-15, detail, Embroidery Thread and Fabric, 59 x 35 in)
Take a look at Narrett's paintings, created from embroidered thread and fabric and on view at New York's Art + Leisure until June 28. We'll leave you with the artist's stunning words on the significance of a reality TV staple:
"As cheesy as it may be, the artificial nature of ['The Bachelor'] expresses something real. Melodrama or exaggeration can sometimes be the most accurate way to convey emotions that seem too big to express. The girl crying on her way home in the limo may be sobbing hysterically about a man she knew for three days, but that's how it feels to have a crush.
"Also, on a deeper level she's really mourning the fact that she lost her chance to break away from whatever life she left behind for this summer camp/tv set/sorority house/temporary polygamous performance endeavor. Falling in love might have been a way to access meaning, and losing a possibility like that is devastating. The narrative of 'This Meant Nothing' is about searching for this kind of escape, although the women it follows are (eventually unsuccessfully) chasing this with each other instead of with the bachelor."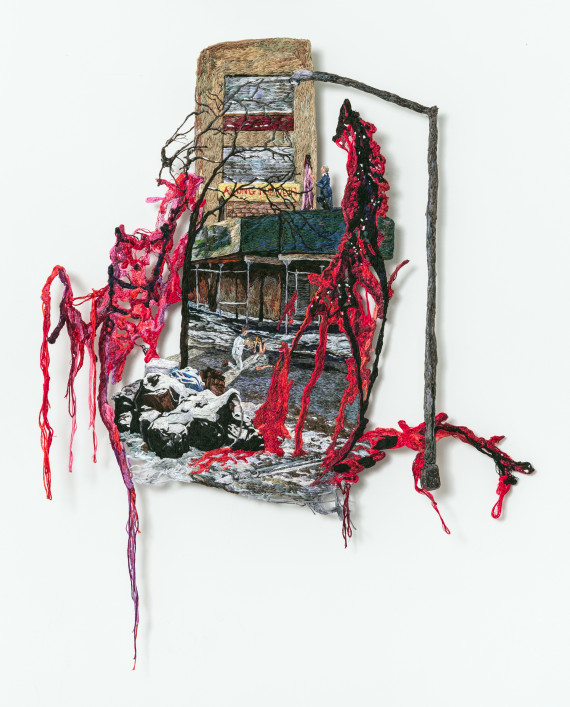 "When she disappeared, I slit my wrists. This is a sad ending. Everything continued on and the Bachelor proposed to someone else in front of me while I choked on my tears and felt like an idiot for being so melodramatic. My only grasp on reality was the chance that my feelings had a slight tone of sarcasm, like the cringe-worthy beauty of Lana del Rey, or the simplified exaggeration of an Instagram hashtag. This has all become ridiculous. The original dream doesn't even seem that great anymore, but I got here through a genuine surrender. The loss is real." (Along the Vein, Sophia Narrett, 2015, Embroidery Thread and Fabric)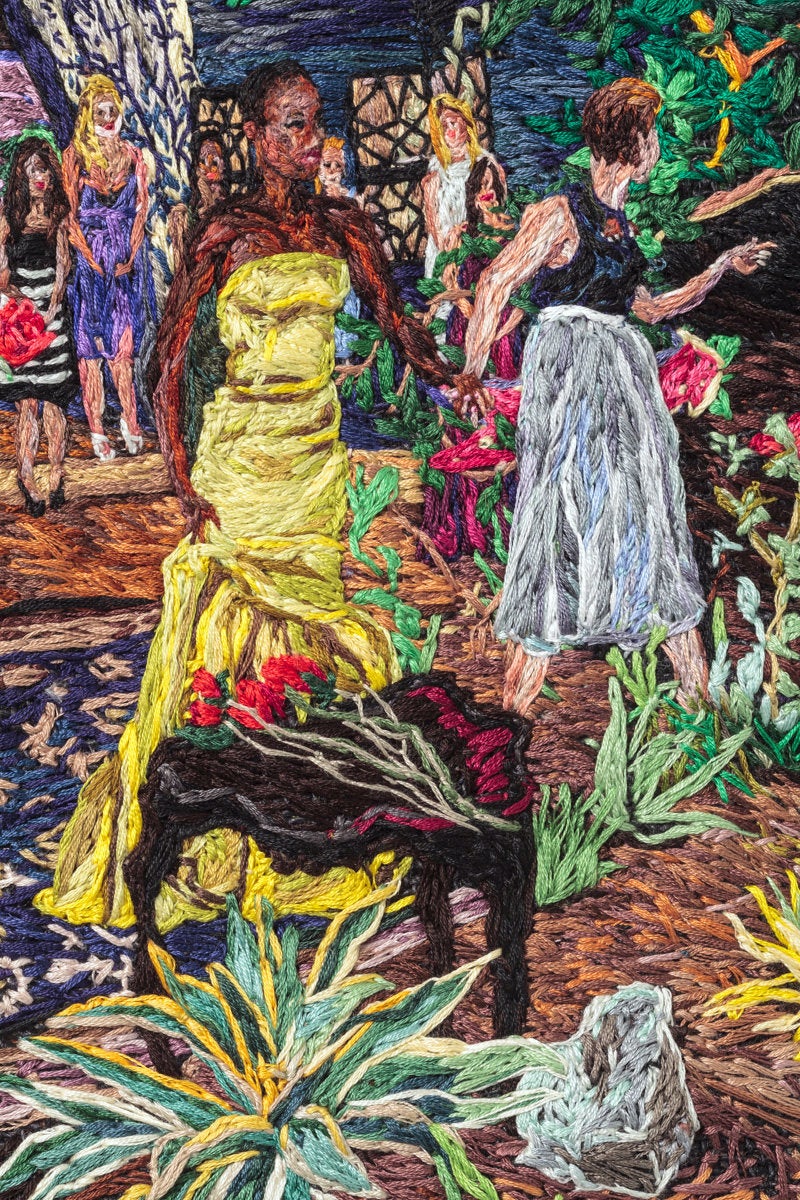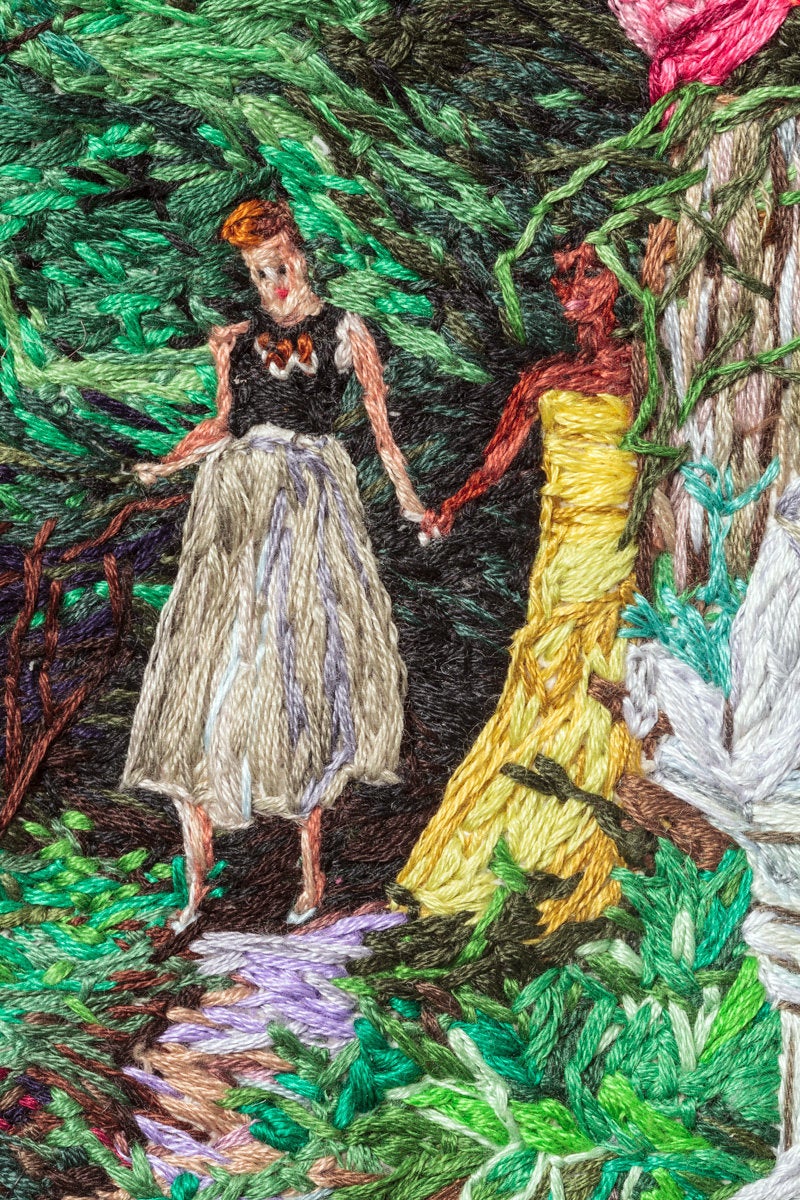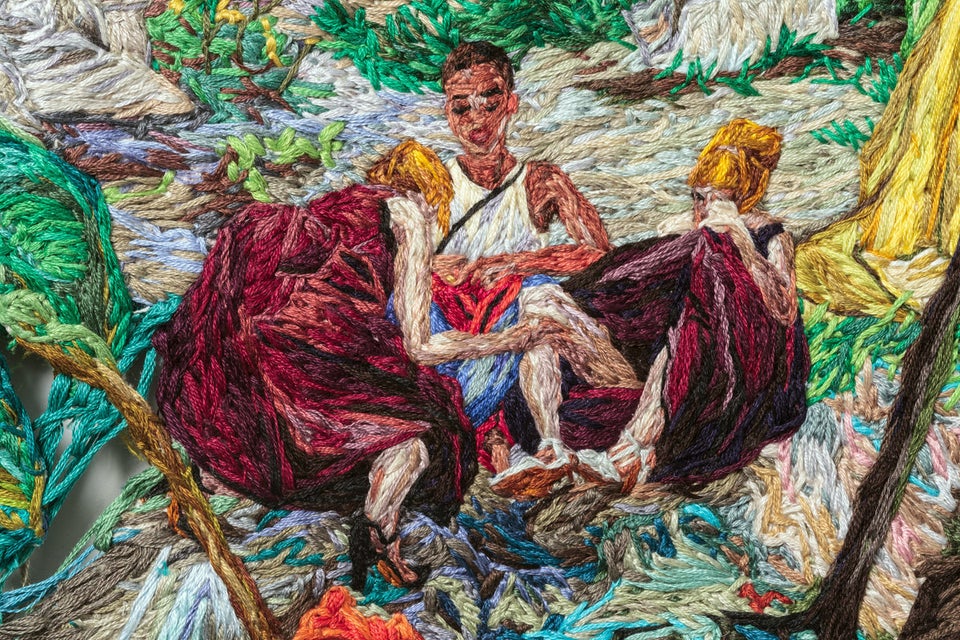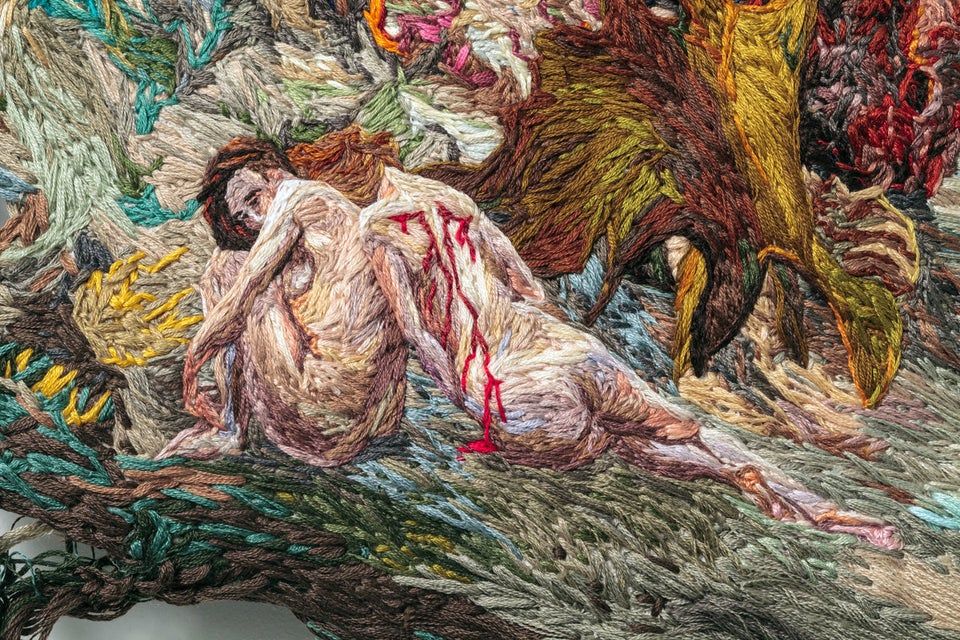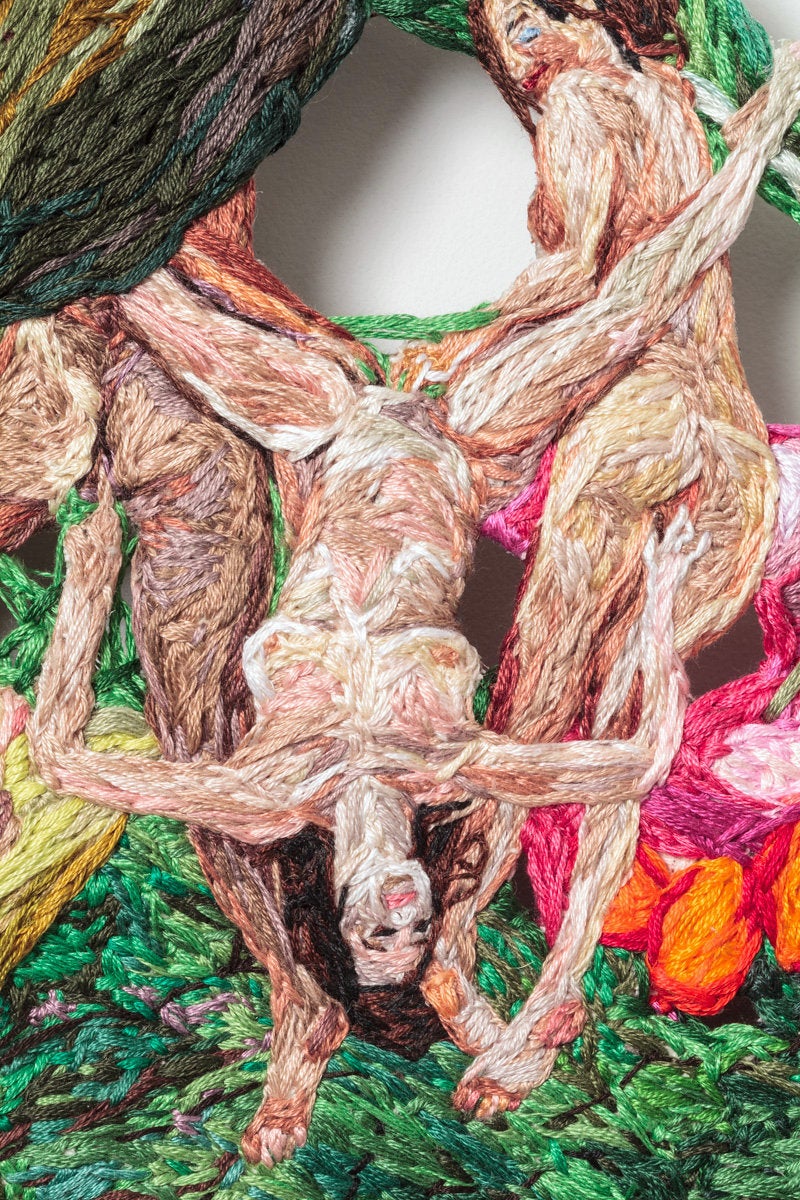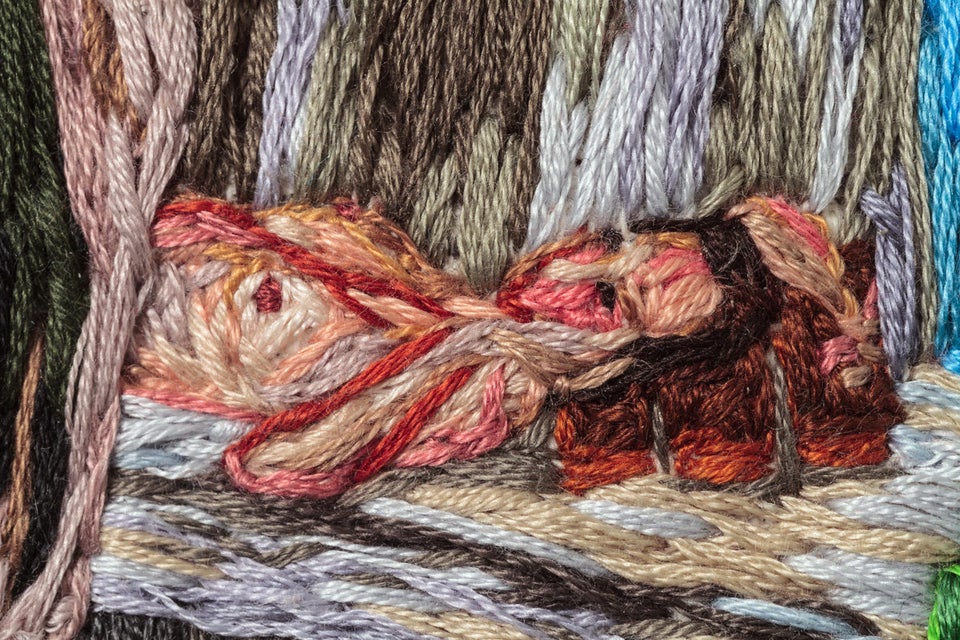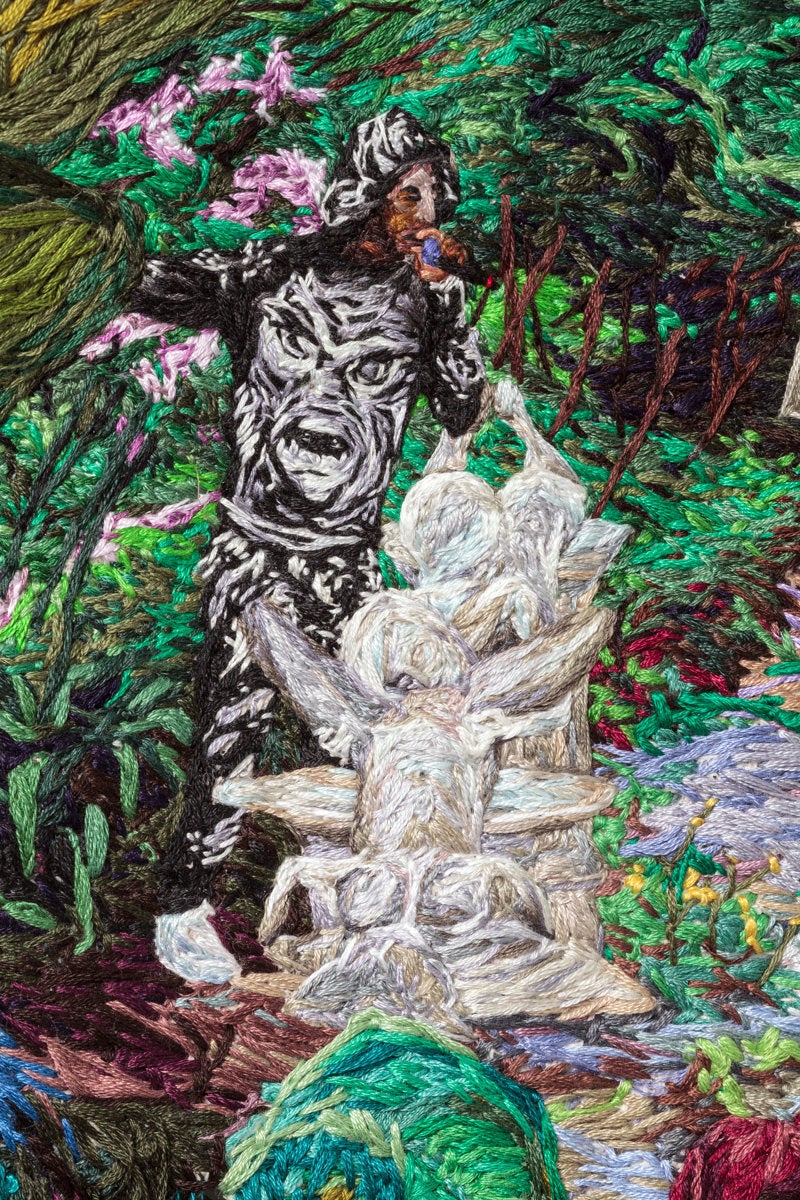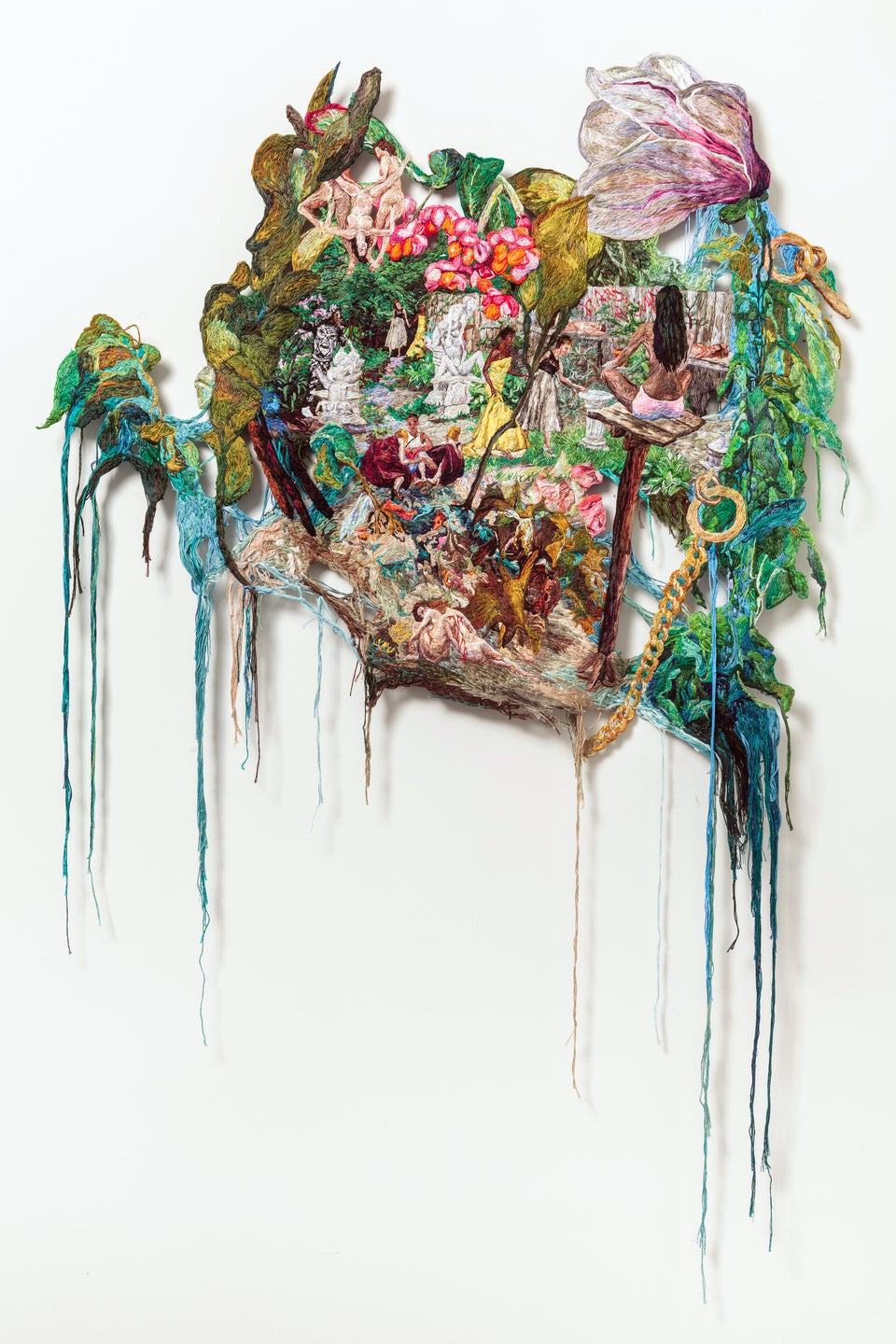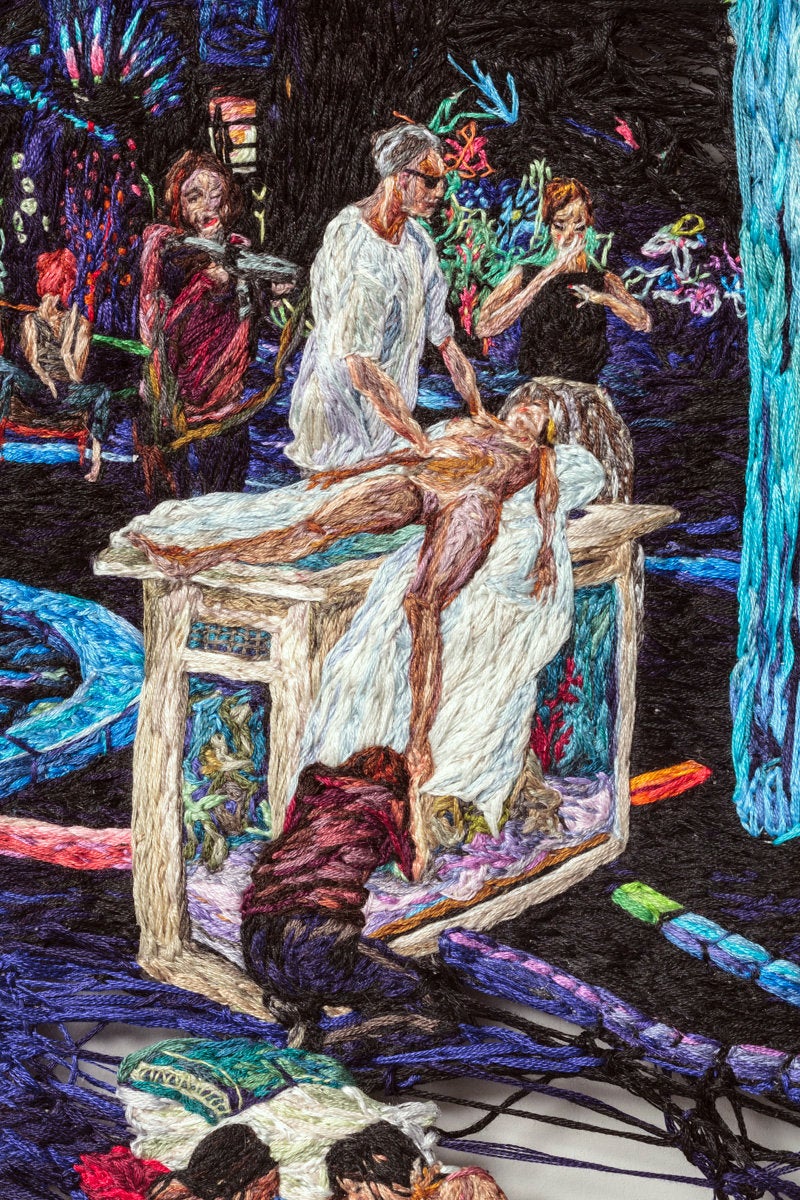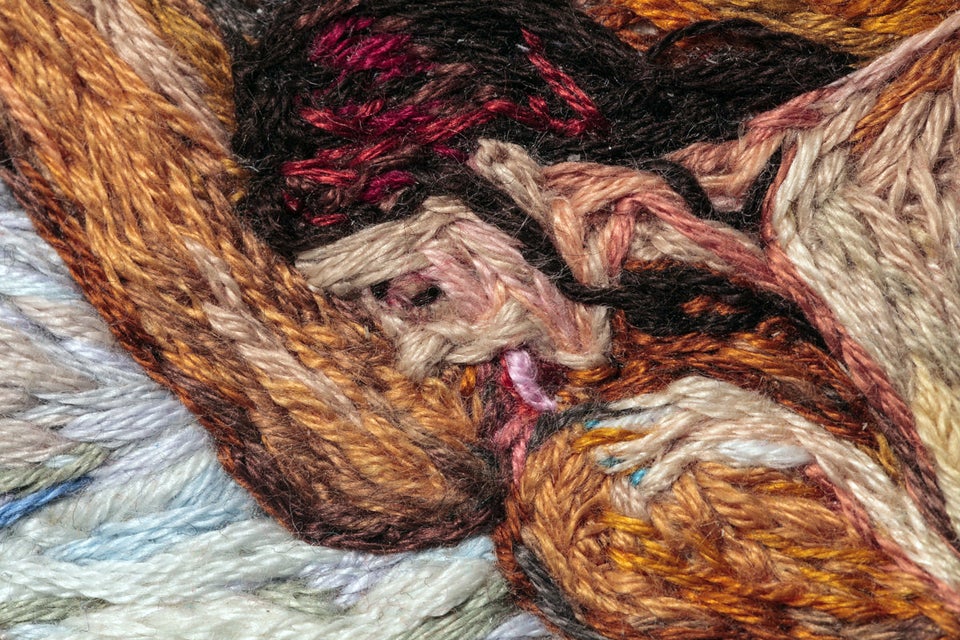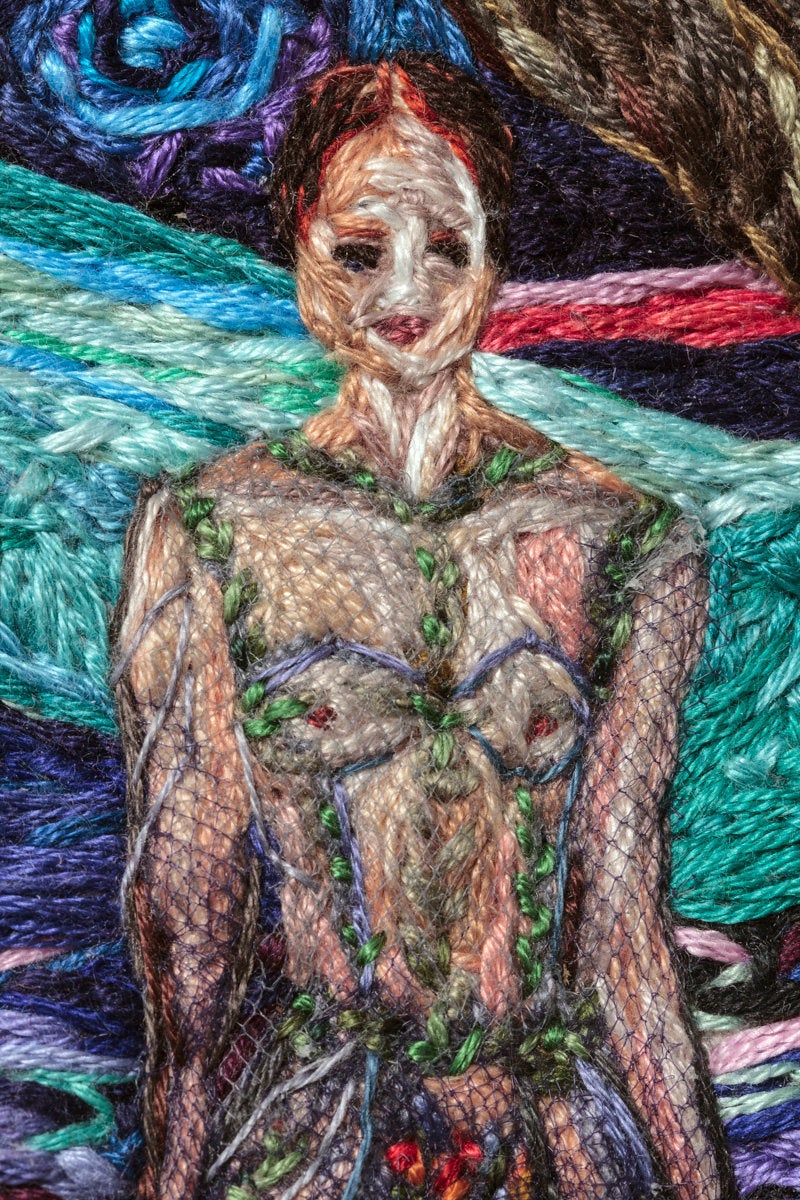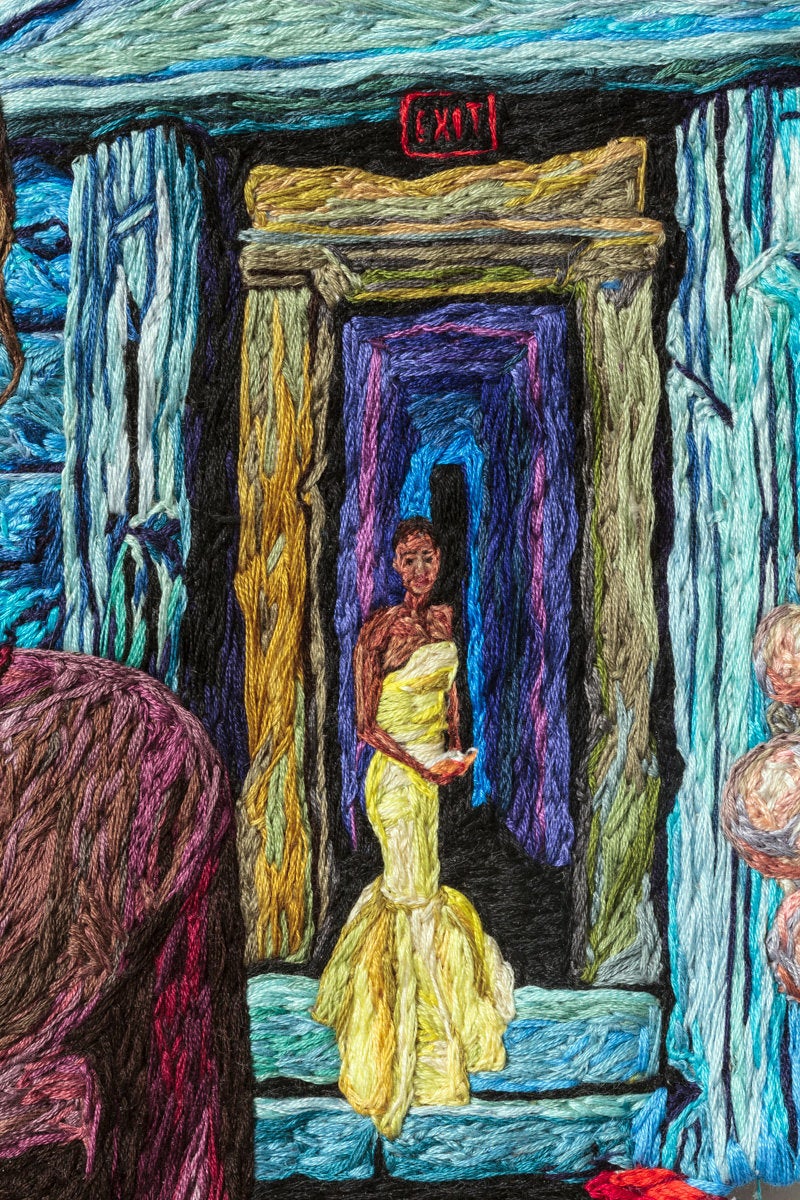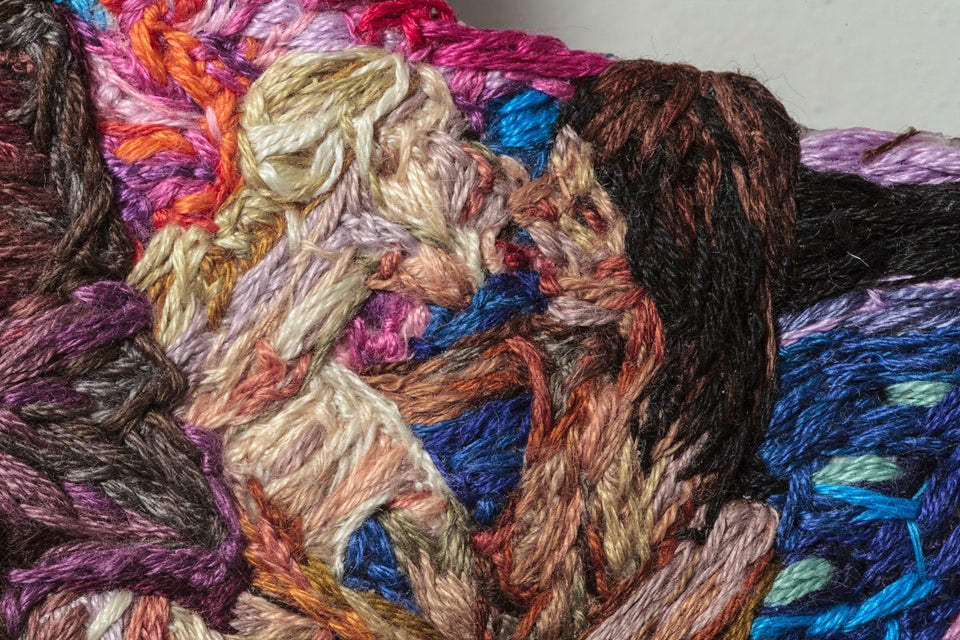 Something Went Wrong, 2014-15, Embroidery Thread and Fabric, 35 x 53 in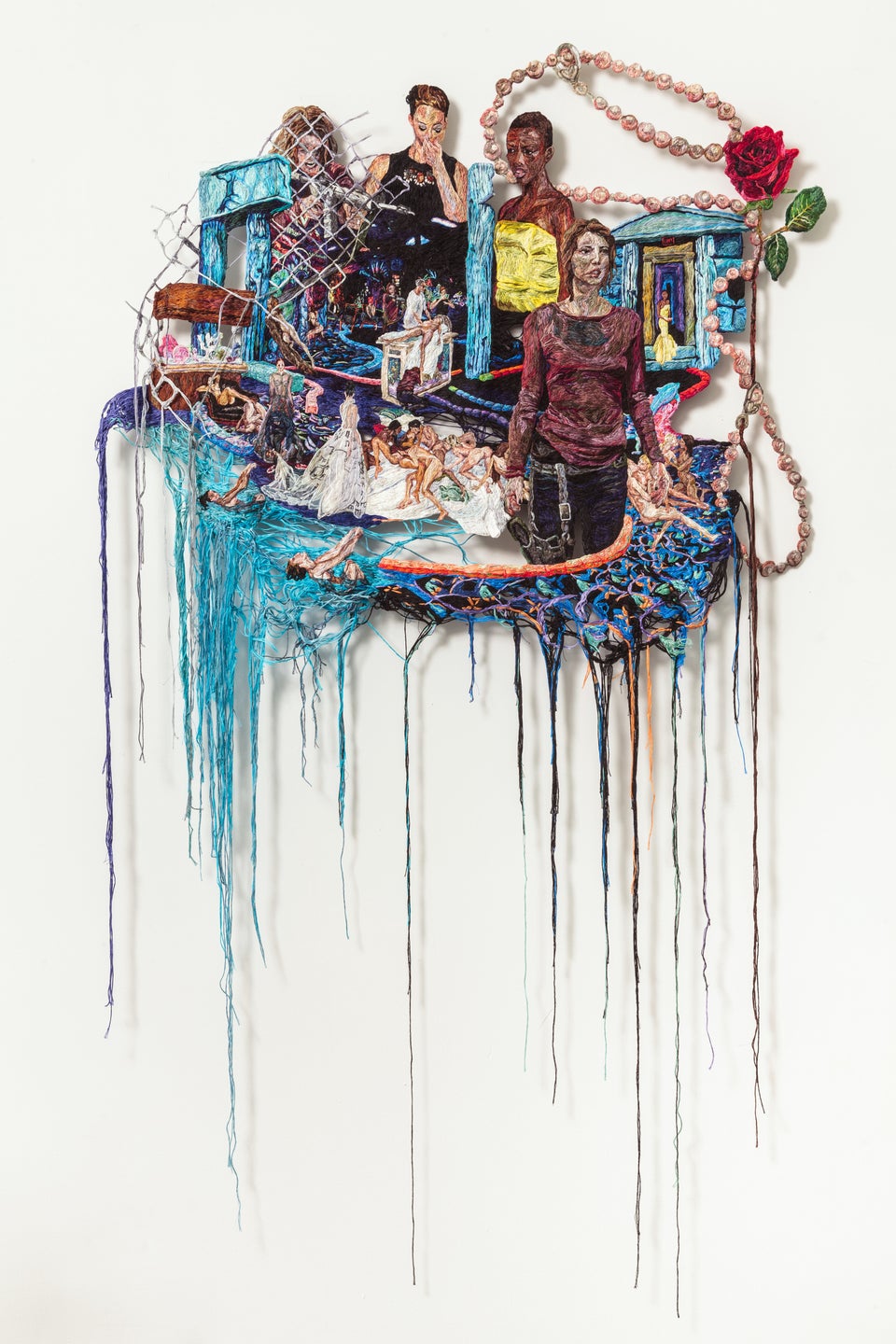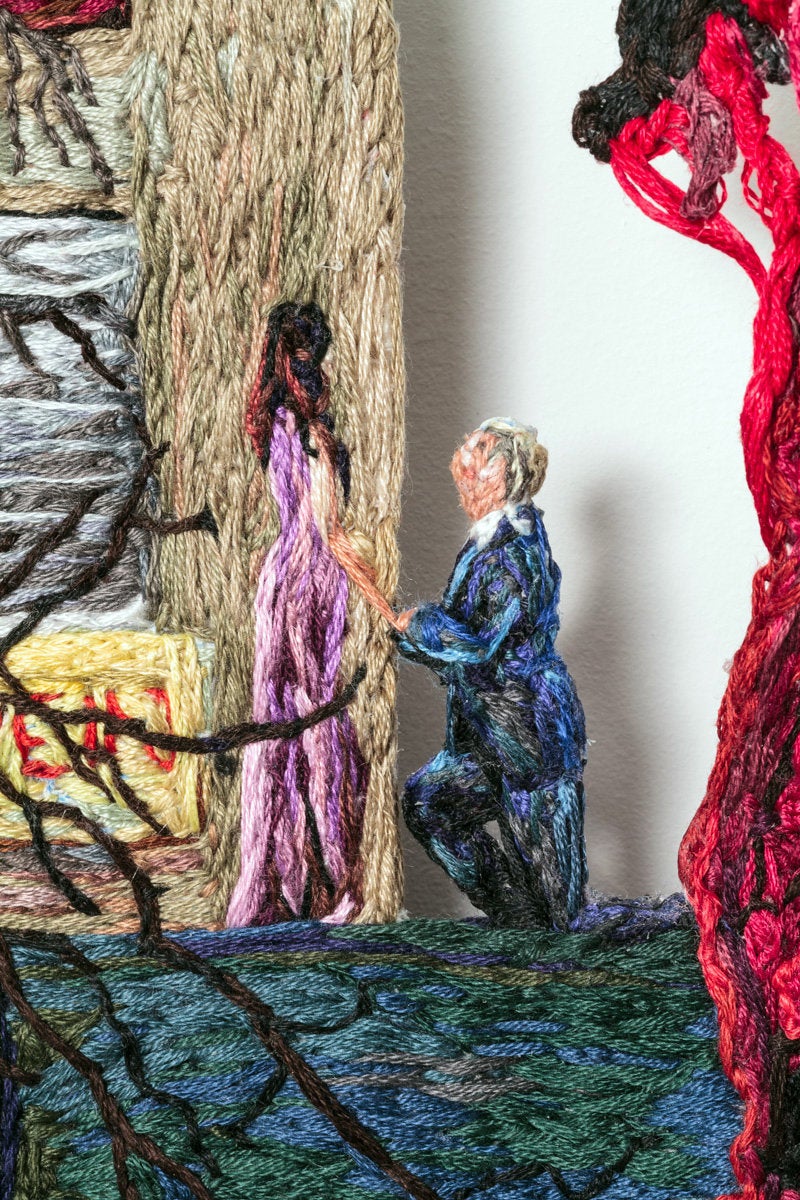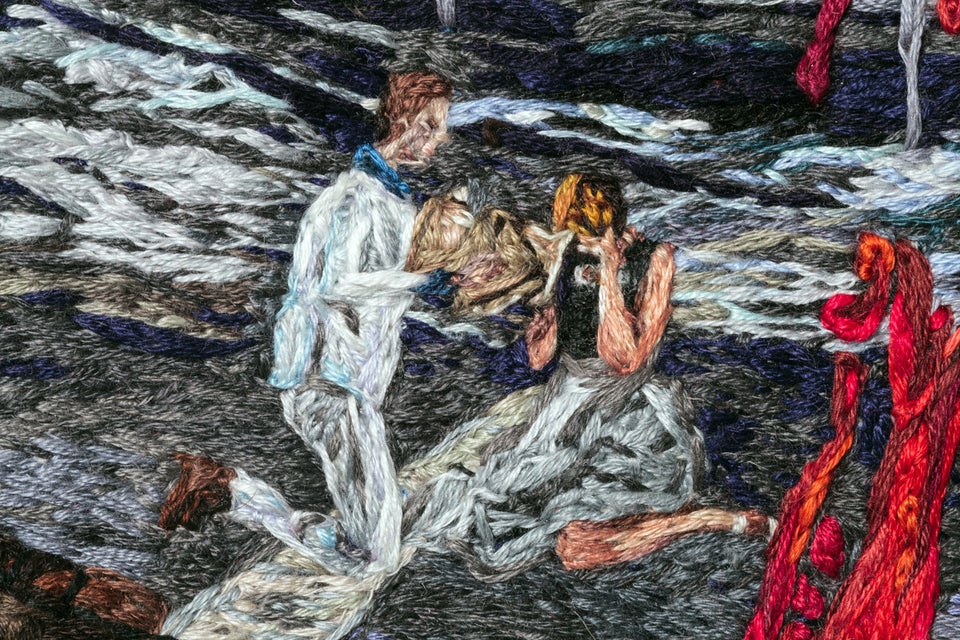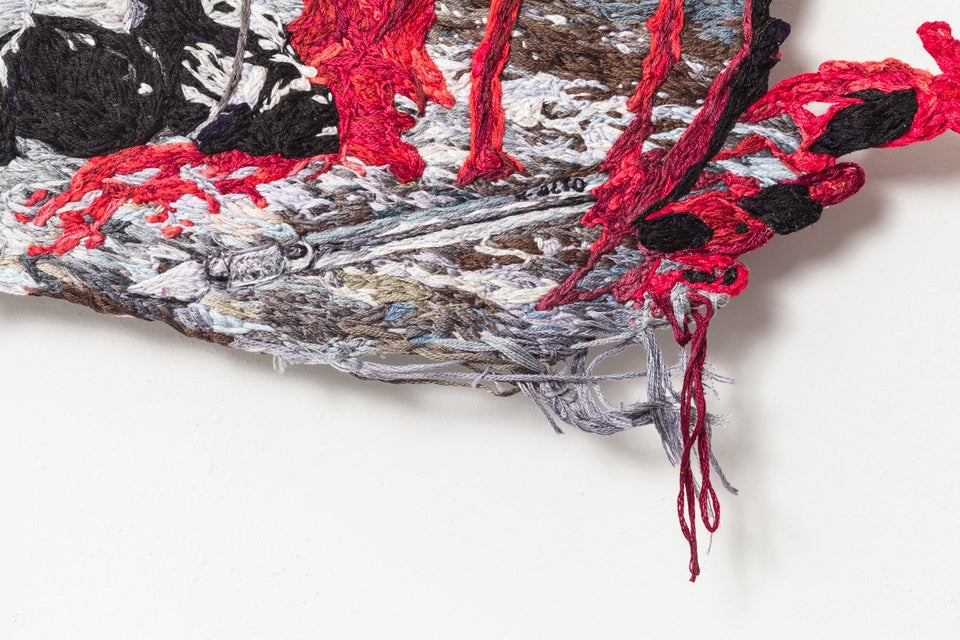 Related
Before You Go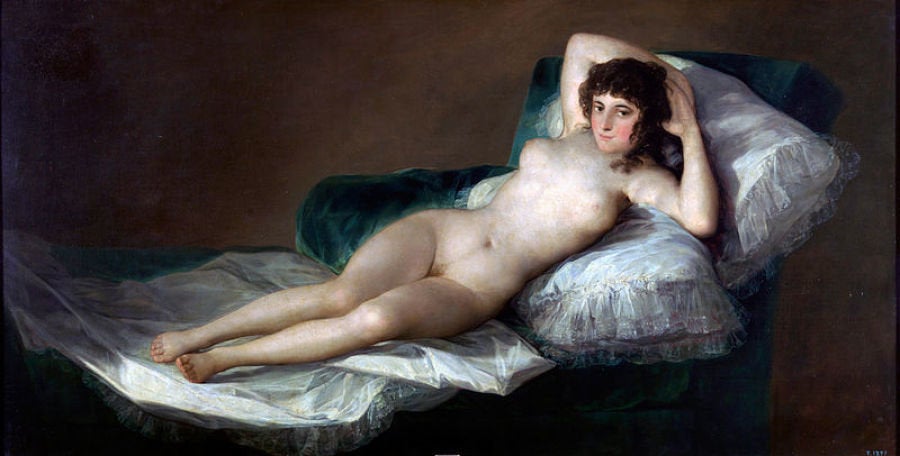 Art History's Most Erotic Artworks
Popular in the Community