Let Sophia Roe feed you. With her recipes. With her words. With her passion to make the world just a little bit better.
The Brooklyn, New York-based chef is midway into the second season of her show "Counter Space." The series uses food as a lens to explore today's news and culture. Roe, who hosts and produces the show, takes viewers on a journey through different culinary experiences by telling the stories of the people who make them directly. Season Two premiered on Tastemade on Jan. 17.
An advocate for sustainability and food accessibility, the James Beard Foundation Award winner has built an intentional space with her show — and her social media presence — to champion education about food systems and inequality.
With Season One of "Counter Space," Roe, who is of Black American and Japanese descent, became the first Black woman nominated in the culinary category for a Daytime Emmy.
"It's a show not about me, and I love that," Roe told HuffPost during a recent Zoom call. "I feel like I'm just this really cool vessel, this story steward, that gets to really share about all sorts of things ― not just where our food comes from, but I think a lot of us already know that there are a lot of problems, so I think the show really covers solutions, which I think is really what we need to be talking about."
This season of "Counter Space" explores how hunters in Appalachia are addressing food accessibility, the huge impact Jamaica has on the world, how climate change is affecting Turkish honey producers, and why it seems like everyone has a tequila brand now.
For "I Run This," Roe discussed her culinary journey from childhood, her work to fight food injustice, and her hopes for the future of the food industry.
Congratulations on Season Two of "Counter Space." Can you talk about how the show came to be, and how it evolved this season?
Season One, it was more newsy because it had to be, because we were in the middle of a pandemic. I mean, even making the thing, it was six of us, and I was the only person without a mask on, and I wasn't even allowed to take public transport at the time. It was so separate, and everything was over Zoom, and it was a very challenging show logistically to make.
Whereas Season Two, while we were still definitely in a pandemic, there were protocols put in place for safety. We understood what we're doing. And with that, we were able to travel. I was able to actually sit down with someone in person, which is really rad. And then I also think that the second season has a really cool culture piece.
I think it's important to talk about where our food comes from. Who are these people that are making our food? What are their names and where do they come from? Anecdotal evidence of people who grow our food ― we hear 'this many farmers,' but that is not storytelling evidence that these are actual real people.
So yes, there's the importance of where our food comes from. Yes, there's imagination. Yes, there's solution. But there's also a fair bit of pop culture stuff in there that I think is really cool and pretty sexy. I'm excited that we get to do that in the second season.
How did your own food journey help you and your team to really connect the dots for folks today who are watching your show, and who really only view food as coming out of a grocery store?
I mean, food does come out of a grocery store, and that is also a problem. We don't live in an agrarian society. We are so disconnected from our food because of that grocery store, and we don't really understand distribution. More than 60% of the food that we eat and consume in the United States comes from somewhere else.
I have a really beautiful conversation with [author and food historian] Michael W. Twitty in this season. He talks about origin in such a beautiful way, and using food as a means for these hard, difficult conversations. I think it is a really great entryway point.
I want people to consider their origin stories when they watch the show. I want people to consider why they need origin stories to be happy and good and kind. I know we want to feel warm and fuzzy when we think about our food. Most of our origin stories, in the United States in particular, are not good and not kind.
I grew up a very hungry kid. I grew up really confused about why I was hungry and why some other kids weren't, and why I live in Florida but there's boxes of oranges being shipped here from Mexico. What is going on? Very confused. My past is essential to the work that I do. I have to go back and reference it all the time.
On the show, Michael Twitty said: "On your quest to figure out who you are, be prepared to find out some things about yourself that you don't like very much." That is something that I consider all the time when I'm talking and thinking about food and thinking about the origin of this country and thinking about the origin of who has things and who doesn't.
How were you introduced to the culinary world?
Honey, it's white out there. It's gotten better, but I think for me it was desperation. I grew up very just enthralled and really excited about food, but I was a very pedestrian, regular-ass kid. I think it must have been a guardian angel. I was really unseen as a kid. I could just walk into an area and no one would see me or pay attention to me. I think that really contributed to me being pretty fearless.
Both my parents were drug addicts, so I was in and out of foster care, and so I was used to being around a lot of strangers. And I think that really was my superpower, because I'm really not scared to fail. I worked really hard in high school and then went to college, but I didn't have a car. I couldn't get to classes. I just didn't have much direction. I just needed a fucking job, because I just needed to survive. I just needed money.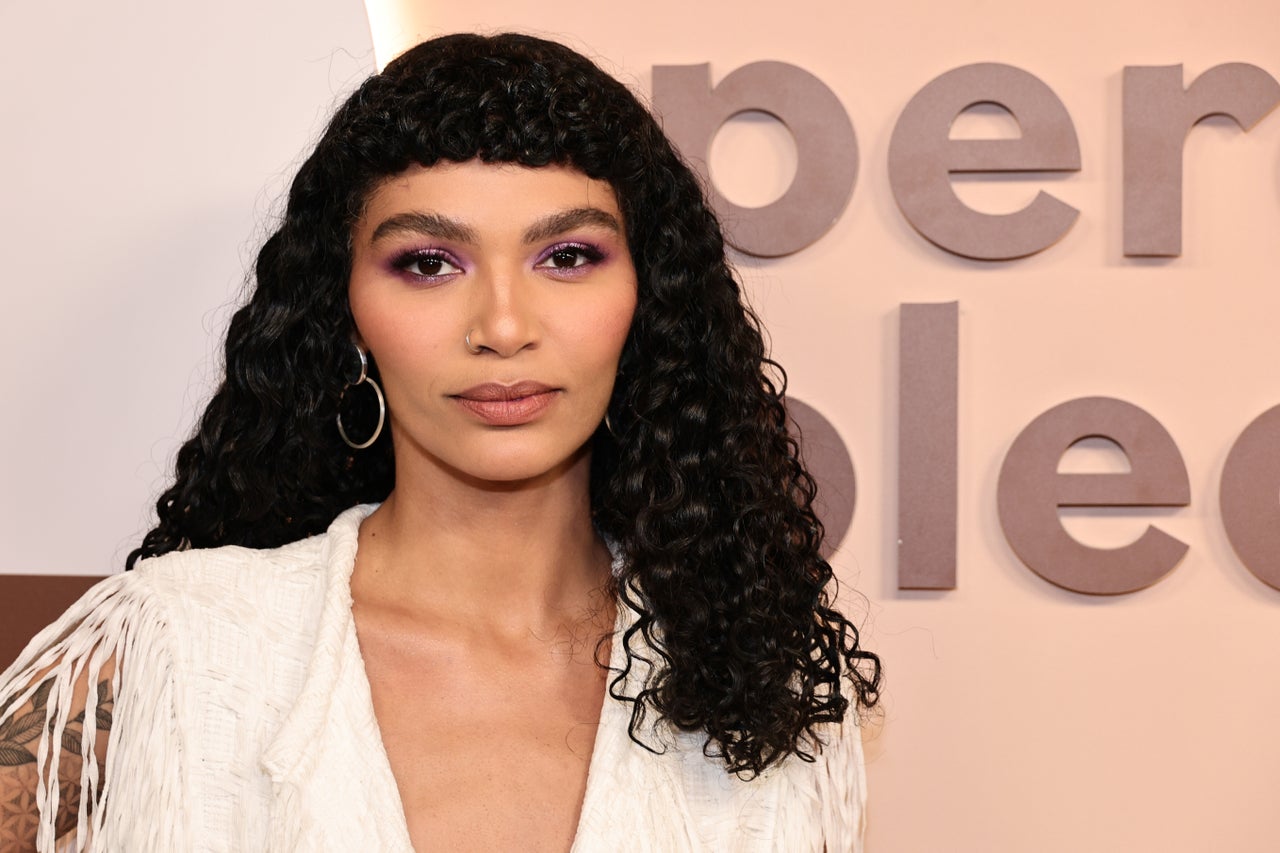 So there was this damn Vietnamese restaurant that was hiring. I didn't know anything about cooking. I was like, "They're hiring. I need a job." It was survival mentality. I went in there and I lied. I was like, "I can do this." I mean, I'm 19 years old. They found out quickly that I did not know what I was doing. But they taught me. The restaurant doesn't even exist anymore, but it became, "This is fun, I can do this. I'm going to do this. I'll just work in restaurants. Forget college, forget any of that."
Later on, I did decide to go to culinary school for a minute, but then got this really cool job. I dropped out of culinary school. I think I've definitely been in situations where I was told, "Don't talk much and don't tell anyone how old you are." I've definitely had my fair share of hair discrimination.
I bet. It's a damn shame.
The hair stuff is real. I mean, even now, I mean, I find it so interesting that Rachael Ray can make enchiladas with her hair down, but if I try to do it, I'm like a monkey. I've had comments on my YouTube comments, "What rainforest did you get her out of?" "Her hair is nasty." Oh my God.
YouTube comments are so ugly.
Crazy shit. Crazy. I think that at the beginning of my career, I didn't know how to handle it because I just felt lucky to be in the room, just like a lot of us do. We accept horrifying, insulting, discriminatory behavior from white folks who say things to us and talk to us in ways that are just horrifying.
What are your hopes for the culinary world? What do you hope changes, especially in the near future?
I want to acknowledge progress, because I feel like there has been a lot of progress in the last five years. I'm seeing way more inclusion. I'm also seeing younger people being acknowledged, which is really, really special. When we talk about inclusion, we cannot forget the younger, and we can't also forget the older.
I'm also seeing inclusion all across the board. Whether we're talking about the Indigenous population, or we're talking about, obviously here in the United States talking about Black people, or we're talking about what there is in the Black and Asian diaspora. So you're seeing a lot more acknowledgment of different people from different walks of life. But I also think what would be really cool is, I want to start seeing more money, more equity, more diverse restaurant owners and restaurateurs.
I want to start seeing more funding, not just hiring. Not just hiring Black chefs, but actually giving them equity in companies. I want to start seeing more of that, and I want to start seeing more Black-owned food-centric companies on a major large scale. I want there to be funding for Black farmers in a large scale.
I feel like work like yours really helps expand our minds in ways beyond our own comfort and understanding. What is the most rewarding part of this work that you do?
It allows me understanding and patience otherwise that I wouldn't have. I think it is so easy to feel so at a complete loss. You wake up every morning, you look at the news, you're like, "There's no way that I can make a difference." And I think that this show has allowed me to look at making a difference much smaller. And that's a good thing. You can make a difference in one person's life, and that matters.
I want to help change the world, but changing your block is just as important as changing the world. And in fact, that could be changing the world. We're always better and stronger in numbers. And so that's been really powerful for me.
What non-food thing is inspiring you right now?
I get some of my biggest food inspirations by non-food things. Which is really, really funny. I'm really inspired by nature. I'm a really big nature person. Nothing gets me wanting to cook [more] than a hike in the woods. I'm a really big fashion person. I love it deeply. There's nothing that just horrified me more in all the years I've been cooking than having to put on a stupid white chef coat that never fit right because they weren't designed for an actual woman's body. So I'm really inspired by color, and season, and nature, and fashion, so deeply.
What are your career bucket-list items that you're hoping is your next move?
Oh my God, I have so many of those. And I don't even know why I want them, but I want them. I would love to be a New York Times bestseller for a book that is culinary-focused, but isn't solely a cookbook. I would love to zhuzh up that genre a little bit, the sort of cookbook genre.
There's all kinds of things. I've been nominated for two Emmys. It'd be really cool to win one, one day.
I would love to explore other things. I love to cook, that's such an important part of who I am, but I would love to produce some things that maybe aren't food. It would be really cool to do a screenplay, to do an actual film, something that isn't 100% food-related, to maybe [do] something that isn't news or documentary. It would be really great to be able to write something creative like "The Bear," but from a female lens.
What you would call this era that you're in right now?
I think maybe I was under construction, [and] maybe now I'm in the architect phase where I'm really trying to design some things. I have a lot of really great silos. I have a lot of really great things, and I'm trying to connect them, connect some dots in my life for sure. I'm trying to connect my advocacy and my activism with my food, with creativity, with design, with fashion, with art, with film, all of it. I'm really just trying to create an amalgam of myself.
Yeah, I love that. What do you want your legacy to be at the end of the day, if you have any idea?
I just want people to know that if they were hungry, that I fed them in whatever capacity that that could be. So much more than "would you eat." I just want everybody around me to just feel full, you know, Taryn ― just full.
This interview has been edited for clarity and brevity.
Popular in the Community