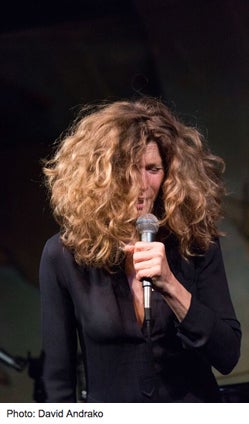 Sophie B. Hawkins is the real deal: she composes her own songs and sings her heart out. At Café Carlyle,she channels Janis Joplin, whipping her mane around for a medley of "Ball & Chain /Piece of my Heart," and goes nasal for Bob Dylan's "I Want You." Promising only one cover, she performs George and Ira Gershwin's "Someone to Watch Over Me," and gives the stage to John DeLay, for a piano solo, and a nod to the American songbook. But mostly, her brief Carlyle tenure features her new stuff, and it is well worth the trip.
Her own compositions—some written on Prince Street-- from "Mysteries We Understand," through "Mr. Tugboat Hello," "As I Lay Me Down," and "I Only Hungered for Love," to name a few, speak to the vagaries of love, especially the pairing of "I Can't Replace You" with "I'm Better Off Without You." Hawkins moves freely onstage, from guitar to drums to banjo, shaking off her flip flops, and for "Sweet Sexy Woman" climbs the grand piano to proclaim: "You all look good from here."
Hawkins' generous set rocks with life's lessons, and a self-effacing candor best seen in "Damn I Wish I Was Your Lover." Accompanied by Delay who often has to give the piano over to her, Peter Calo on guitar, and Gene Lewin on drums, Hawkins' message proves: the music will set you free.
Support HuffPost
The Stakes Have Never Been Higher
Related
Popular in the Community