Previously:
I've reported many exclusive details on the royal wedding, but the biggest scoop is undoubtedly the identity of Kate Middleton's wedding dress designer.
I can reveal that Sophie Cranston of the Libélula label is said to have won the coveted commission to make Catherine's wedding dress. You might recall that the royal bride-to-be stepped out to a friend's wedding in Yorkshire this January in a much-talked-about, vintage-inspired, Libélula black velvet dress coat with a diamante clasp -- the Dulwich coat, named after the area in South London where Cranston has her studio: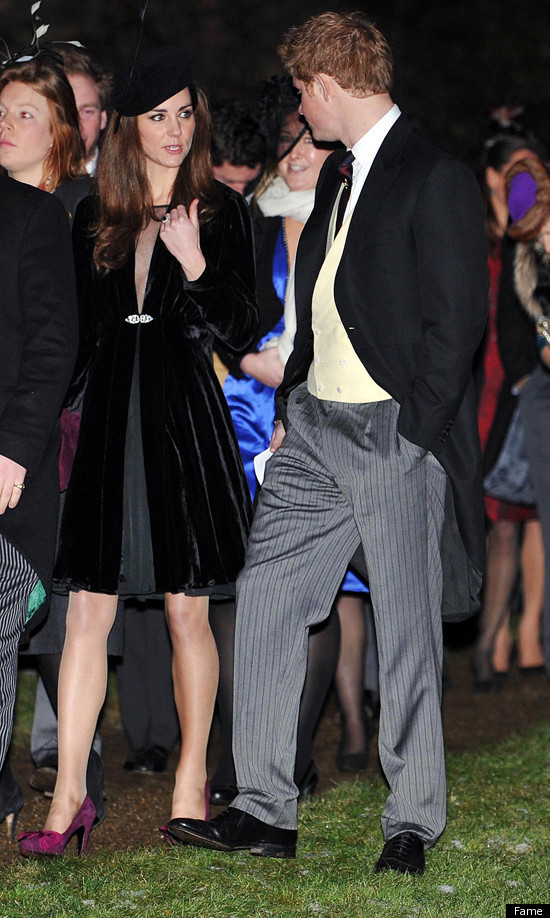 Through my insider sources, I've heard who was designing Catherine's wedding dress four months ago but kept it a secret in accordance with palace wishes, only divulging in my Huffington Post story last December that the designer is a young, relatively unknown British woman. At the time, everyone else was certain that Bruce Oldfield was the chosen designer. The relentless media speculation then moved on to a host of other names such as Alice Temperley, and even Victoria Beckham, before settling on front-runner Sarah Burton of Alexander McQueen.
A St. James's Palace spokesperson I talked to won't confirm or deny that Cranston had been selected, only saying, "We are not being drawn on any speculation on the wedding and cannot comment."
But something this big won't stay a secret indefinitely. Catherine's wedding dress is near-completion and with less than two weeks to go, there's indication that the designer's identity might soon be revealed, anyway. It's also likely that there is more than one dress made (by the same designer), much like Princess Diana's dressmakers, David and Elizabeth Emanuel, who had a "back-up" dress in case something happened to the first one.
From what I've uncovered, the reason the palace did not announce the designer's name (as they did with the Emanuels who were confirmed just one month after Diana's engagement) was to protect Cranston and her family from media scrutiny for as long as possible, and to allow her the freedom to create the wedding gown of Catherine's dreams without additional pressures and distractions. It's stressful enough to make an unforgettable gown that will be seen by billions around the world and which will be immortalized in royal and fashion history.
34-year-old Cranston is young but certainly not short on talent. As I've said before, this will be another Jason Wu-moment -- when a talented, previously little-known designer is launched and becomes a globally-recognized name.
Cranston won the Designer of the Year Award at London's Graduate Fashion Week in 1999 and then went on to hone her design skills under the tutelage of Alexander McQueen before going into business with Alice Temperley to create the Temperley label in 2000. A couple of years later, Cranston left for Andalusia, Spain to pursue her interest in flamenco and her time at Costa La Luz inspired her to create her own label Libélula, which means dragonfly in Spanish. The line is known for its feminine, figure-flattering silhouettes, luxurious fabrics, and vibrant use of colors and prints. There is also a small ready-to-wear and bespoke bridal collection, according to her website.
Since establishing Libélula in 2002, Cranston has gradually acquired a loyal and discerning clientele which includes Catherine and the Middleton ladies, as well as Emma Watson, Jerry Hall and writer Celia Warden who married fellow journalist Piers Morgan last year in a Libélula gown.
Coincidentally, the Libélula española is one of the first helicopters invented -- perhaps a subliminal nod to Prince William's job as a search-and-rescue helicopter pilot? Oh, the little clues!
That's all, for now, readers -- don't expect me to reveal the exact design of the dress. After all, Catherine should have her big moment when she arrives at Westminster Abbey and surprises William and everyone else with her spectacular gown fit for a future queen.
Related