One of the most daunting questions GOP nominee Donald Trump will face during Sunday evening's town hall debate could come from 6-year-old Sophie Cruz.
"I am 6 years old and an American citizen," Sophie wrote. "I have a 3-year-old sister who is also an American. My heart is very sad, because I'm scared that [Immigration and Customs Enforcement] is going to deport my undocumented mommy and daddy."
The website allows Americans to pose questions for Trump and his Democratic rival, Hillary Clinton, so users can vote on their favorites. The Open Debate Coalition, which operates the website, will announce the 30 most popular questions ahead of the debate.
"I'm scared that [Immigration and Customs Enforcement] is going to deport my undocumented mommy and daddy."
With nearly 17,000 votes, Cruz's question is currently ranked 20th and could be posed by debate moderators Martha Raddatz or Anderson Cooper if it stays in the top 30.
The website is not affiliated with the Commission on Presidential Debates, which oversees Sunday's faceoff between Clinton and Trump. But since members of the audience will pose half of Sunday's debate questions, it's possible Cruz's question will come up.
Celebrities like Def Jam Records Founder Russell Simmons and groups like FWD.us, an immigrant advocacy group co-founded by Facebook CEO Mark Zuckerberg, have urged people to vote for the 6-year-old's question.
"All immigrants, just like my dad, need this country," Cruz said in a video produced by Define American. "They deserve to live with dignity. They deserve to live with respect. They deserve an immigration reform, because it benefits my country."
Cruz made headlines last year during Pope Francis' visit to Washington, D.C., when she crossed a police barrier and ran to the pontiff. She was holding a shirt that read in Spanish, "Pope: Rescue DAPA so the legalization would be your blessing."
DAPA, which stands for "Deferred Action for Parents of Americans and Lawful Permanent Residents," is President Barack Obama's executive action protecting the undocumented immigrant parents of U.S. citizens from deportation. DAPA is currently stalled in the courts, since the Supreme Court declined to re-hear a case on it earlier this week.
Trump's presidential campaign has been defined, in large part, by his hard-line rhetoric about immigration and immigrants themselves. Announcing his candidacy last year, the real estate mogul called Mexican immigrants criminals and "rapists," and vowed to build a wall along the U.S.-Mexico border. He has also threatened to deport 11 million undocumented immigrants –- a pledge that is the foundation of Cruz and her family's fears.
Clarification: Language has been changed to reflect that the questions will be announced sometime before Sunday's debate.
Before You Go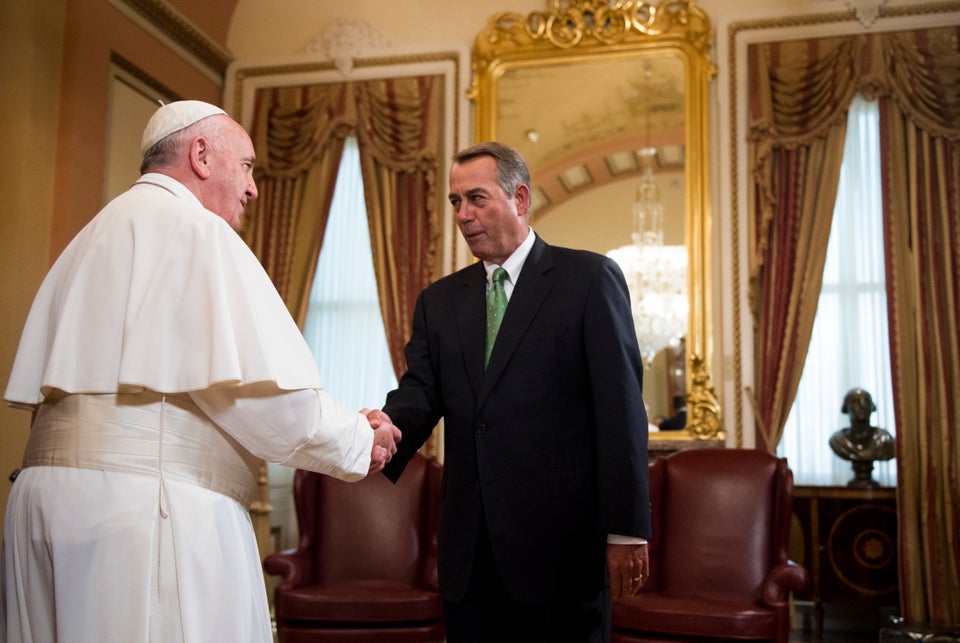 Politicians React To Pope Francis' Address To Congress
Popular in the Community