When asked why she wrote about food, M.F.K. Fisher responded, "When I write of hunger I'm really writing about love and the hunger for it, and warmth and the love of it and the hunger for it... and then the warmth and richness and fine reality of hunger satisfied... and it is all one." Sophie Dahl writes with such hunger in her books (both fiction, Playing with the Grown Ups, and nonfiction, Miss Dahl's Voluptuous Delights) readers have greedily devoured in a wolfish gulp. Dahl took a few minutes to chat about her latest cookbook Very Fond of Food: A Year in Recipes. She discussed her love of home cooking, her famous grandparents, and recent BBC documentary The Marvelous Mrs. Beeton.
Nicki Richesin: Congratulations on another mouthwatering cookbook, Very Fond of Food. You're such a beautiful writer your recipe descriptions are almost poetic. The reader definitely gets a sense of your abiding love for home cooking. What do you mean when you describe yourself as a "greedy writer"?
Sophie Dahl: Thank you! When I say I'm a greedy writer who likes to cook, I mean I'm not a chef. I think the term chef is thrown about pretty casually these days, and when someone like me (a greedy writer who loves to cook) is called one, it undermines the years of training and honing that a real chef has. I'm a home cook who likes playing in the kitchen and writing about it. I also write fiction.
NR: As with your previous cookbook Miss Dahl's Voluptuous Delights, you present your scrumptious recipes seasonally and encourage your readers to consume local organic food whenever possible. Which is your favorite season to cook and with which ingredients do you enjoy cooking most?
SD: I love autumn and I love the soups and stews and breads that go with it. I'll cook a lot with root vegetables, and things like chard, baked with Gruyere and brown rice. But I'm also a fan of early summer and a big table in the garden with lots of seafood and samphire and things you eat with your hands, so you've got me. I can't pick.
NR: Your grandfather Roald Dahl was a bit of gourmand and published cookbooks like Memories of Gipsy House and Revolting Recipes. You've clearly inherited his writing ability, but did he also influence your culinary expertise?
SD: From what I remember he was a pretty basic cook, (bacon and marmalade sandwiches being his specialty) but he adored eating, so I suppose I inherited that. I imagine he would be a little sniffy about my more crunchy granola recipes. "What the hell is spelt?!" He was also a chocolate fiend.

NR: You recently became a mother. How has motherhood changed your approach to cooking for your family?
SD: My daughter eats what we eat; she's currently pretty open to everything, so my cooking hasn't changed, if anything it's become more adventurous because it's so much fun watching her try new things. I imagine my smugness will be short lived and at three she's going to only eat white things.
NR: You include recipes for Beef Stroganoff and Chicken Kiev (dishes you describe as "nostalgic, naffish, retro food"). What is your favorite dish to eat when you're feeling nostalgic?

SD: Cauliflower cheese or rice pudding.
NR: I adored your story of baking the perfect soufflé as a child, only to be gutted when you tried it again as an adult for a dinner party and much to your embarrassment, your soufflé flopped. You wrote that you learned "not to be swayed by other people's experience, but to experiment with the coolness of a child." How do follow your own advice and experiment in this way these days?
SD: I try not to take myself too seriously, which is easy when I still occasionally make things that don't rise or that could be used as weapons.
NR: You dedicated Very Fond of Food to your late grandmother Patsy Louise, better known to the rest of us as the glamorous movie star Patricia Neal, who you note had "the courage of a lion." She accurately predicted that she wouldn't live to see your baby's birth. What would you like your daughter to know about her great-grandmother?
SD: Gosh, so many things. She had tremendous generosity of spirit and a vast sense of humour and she was a demon Scrabble player.
NR: You've written a short homage in Very Fond of Food to Isabella Beeton, the 23-year-old journalist who passed herself off as a knowledgeable Victorian cookbook writer with great authority on all manner of domestic issues. I understand you also wrote and presented a BBC documentary about her life. What inspired you the most about Mrs. Beeton?
SD: Her savvy. She was incredibly ahead of her time -- she was actually a young fashion journalist and her husband was a publisher and together they saw a gap in the market for a domestic how-to, for women who were members of the new "middle classes," born post the industrial revolution. Isabella provided a voice of matronly authority for generations of women whilst going off to see the collections in Paris and supporting her husband who was a bit of a liability. She's often imagined as a steel-haired matriarch but she was dead by 29. Her letters show her to be a soulful, bright woman who suffered a lot of hardship and whose story and accomplishments were largely unsung.
NR: If you could be reincarnated as a character from one of your grandfather's books, which one would you choose and why?
SD: None. I'd rather not be reincarnated; it sounds exhausting. I'm looking for either a long sleep, or to hang out somewhere beautiful with all of the people I've loved who are dead.
NR: What sort of voluptuous delights are you currently working on?
SD: I am trying to work on a fiction and a food book in between chasing a toddler around the kitchen. They might come out when I'm sixty. I also fantasize about owning a small hotel by the sea and having a line of linens.
NR: Thank you so much for your time and best of luck to you with your new book!
Recipes from Very Fond of Food by Sophie Dahl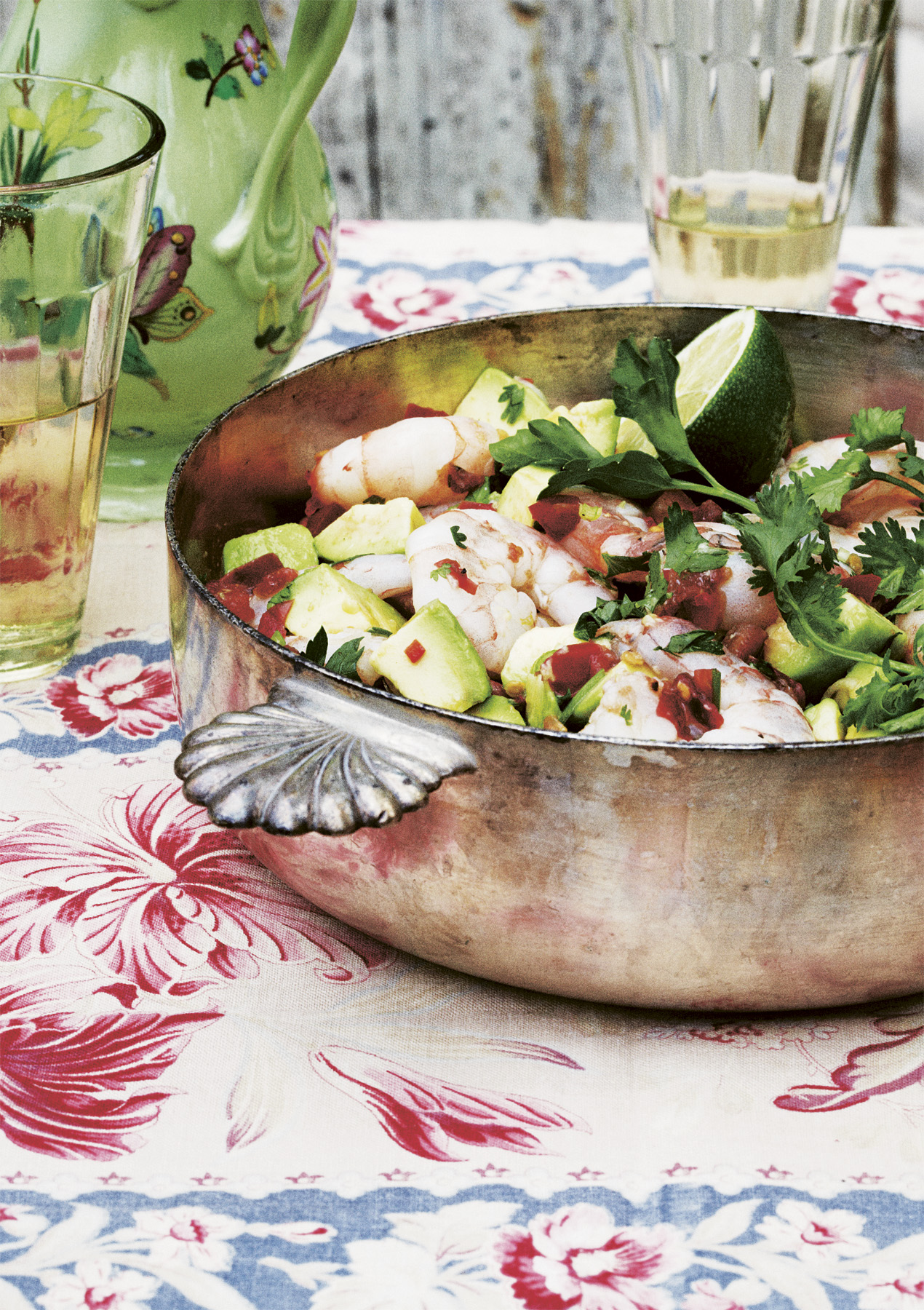 Ceviche with shrimp and avocado
SERVES 4
10 ounces/300 g peeled raw shrimp
Juice of 3 limes
2 ripe tomatoes, finely chopped
2 green onions, finely chopped
1 red chile, seeded and finely chopped
A pinch of dried red chili flakes
A small handful of chopped fresh parsley
A small handful of chopped fresh cilantro
2 ripe avocados
Place the shrimp in a large glass mixing bowl and squeeze the lime juice over them, mixing it all in to make sure the shrimp are covered in juice. Add the tomatoes, green onions, and fresh and dried chile. Add the herbs. Cover the bowl and refrigerate for at least an hour or so. Pit, peel, and chop the avocados and add just before serving so they don't get brown and raddled.
Rhubarb rice pudding
I used to pick rhubarb in my granny Gee-Gee's garden when I was about seven, with a bowl of sugar clutched in my fat little hand. The trick was to lick the rhubarb, dip it in the sugar, and crunch away. I would always do it to excess, which was a surefire way to aching guts, and Gee-Gee clucking over me with some milk of magnesia. Prepared this way, you have all the joy without the pain, and if you have access to a bumper crop, follow Mrs. Beeton's example and make some jam.
4 cups/1 liter milk, plus more as needed
3/4 cup/150 g basmati rice
1 cinnamon stick
1/4 cup/80 g agave nectar or honey
1 teaspoon orange flower water
For the rhubarb
12 ounces/350 g rhubarb, cut into 1-inch/2.5-cm lengths
1/2 cup/125 ml water
1 star anise
1 teaspoon rose water
2 tablespoons agave nectar or honey
First, make the rice pudding. Pour the milk and rice into a medium-sized saucepan, add the cinnamon stick, bring to a boil, and then simmer over very low heat, stirring frequently, for around 30 minutes. At this point, stir in the agave or honey and orange flower water and cook for another five to 10 minutes, adding more milk if the pudding starts looking dry.
In a separate heavy-bottomed saucepan, place the rhubarb, water, star anise, rose water, and agave or honey. Bring to a boil and simmer on low for about 10 minutes, turning once or twice, until you have a lovely tender pink softness. Plate the rice pudding and swirl the rhubarb through.
Nicki Richesin is the editor of four anthologies Because I Love Her, Crush, The May Queen, and What I Would Tell Her. She is a regular contributor to Daily Candy, 7x7, Red Tricycle, San Francisco Book Review, and The Children's Book Review. Find her online at www.nickirichesin.com
Recipes reprinted with permission from Very Fond of Food: A Year in Recipes by Sophie Dahl, copyright © 2011. Published by Ten Speed Press, a division of Random House, Inc.
Photo credit: Jan Baldwin © 2011
Calling all HuffPost superfans!
Sign up for membership to become a founding member and help shape HuffPost's next chapter