Warning: This post contains nudity and may not be appropriate for work.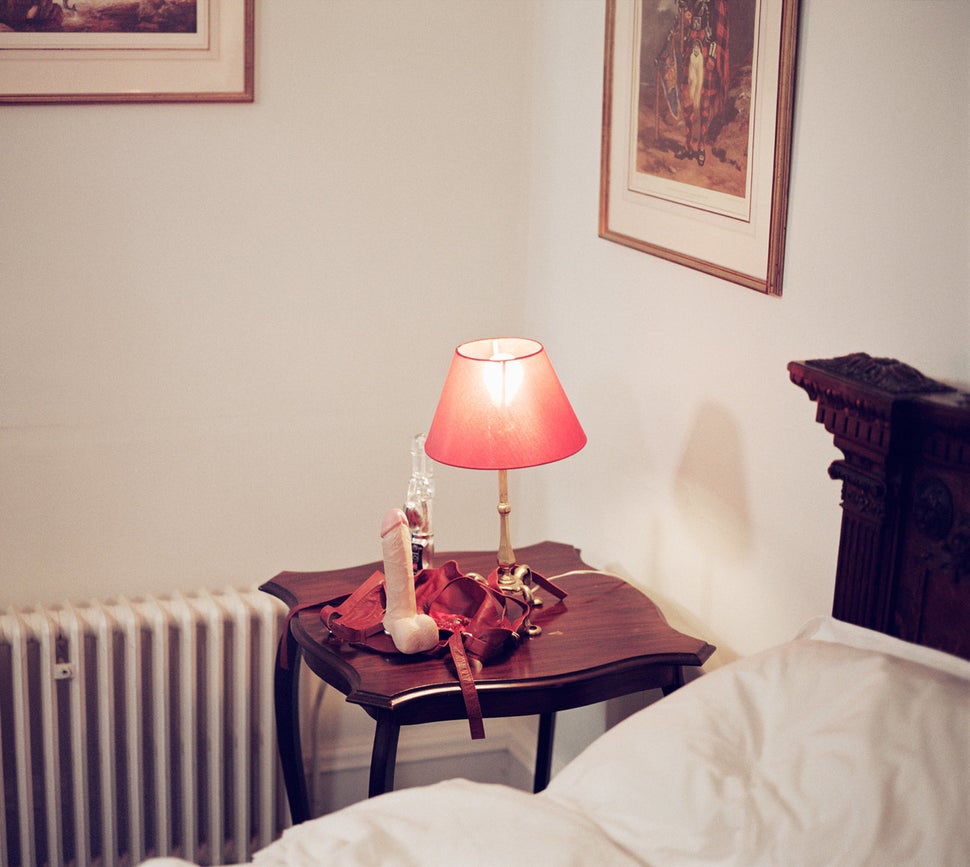 Porn. The one-syllable word likely strikes up a strong feeling in the gut, whether it's arousal, embarrassment, fascination or extreme discomfort. It sullies our laptops, informs our libidos, and shapes our desires. In the words of porn star Dylan Ryan: "It is the ultimate representation of human sexuality and the biggest way in which we incorrectly interpret human sexuality. Porn is us."
French photographer Sophie Ebrard, enthralled by the wildly popular and profitable market of pornography, resolved to dig a little deeper into its underbelly in order to reveal the business in a provocative new light. The question might arise: How does one capture a stimulating, unseen portrait of a genre that, by nature, exposes everything? Well, in her series "It's Just Love," Ebrard aims her camera at one thing often left concealed in your average porn shoot, no matter how dirty they may be. And that's tenderness.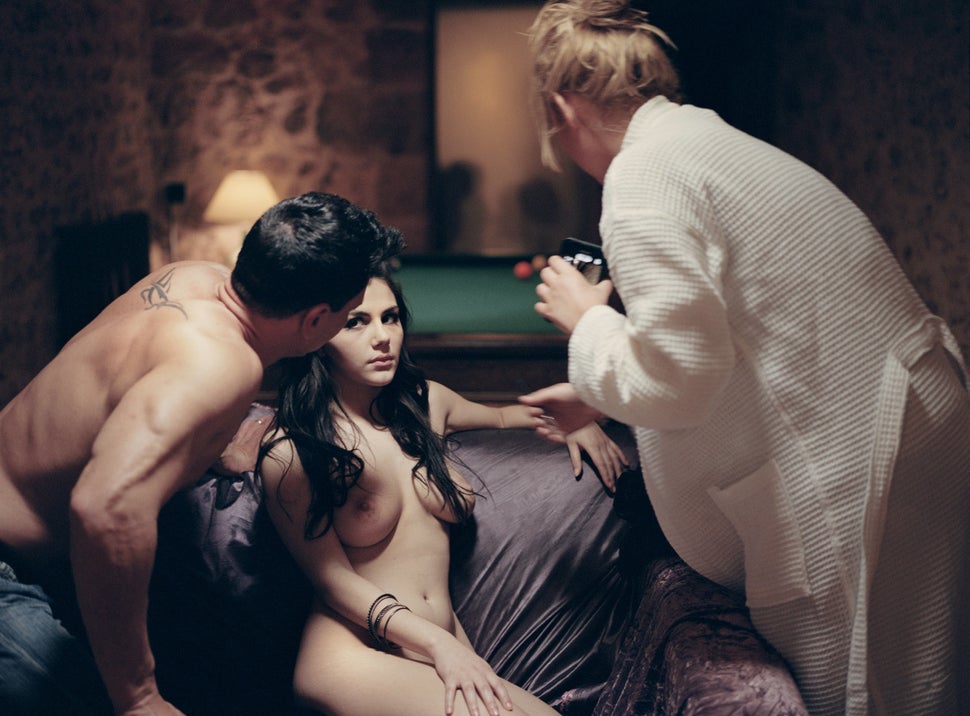 For four years, Ebrard followed porn director Gazzman to various set locations around the world, snapping photos not of deep penetration or tantalizing foreplay, but water breaks, banter amongst coworkers, costume adjustments and other playful, awkward in-between moments. The result, beyond the bouncing boobs and butts, is a humanizing portrait of like-minded people on the job, doing their best to make each other laugh and do their best work.
"Over the past decade and a half in particular, we've become increasingly desensitized, even numbed, by sex in imagery, because it has become increasingly explicit and present," explained Roderick van der Lee, who curated Ebrard's exhibition. "'It's Just Love' incurs much stronger emotions, such as tenderness, humanity and a sense of fun by going in the other direction, by not being explicit, and by not falling into the traps of the many cliches of portraying the industry." 
In one photo an actor irons his dress shirt while completely in the buff. In another, camera wires dangle above three women entangled in a lingerie-clad embrace. In many, the actors and actresses appear at times content, tired, playful, awkward, maybe a bit bored -- you know, like most employees. Just naked.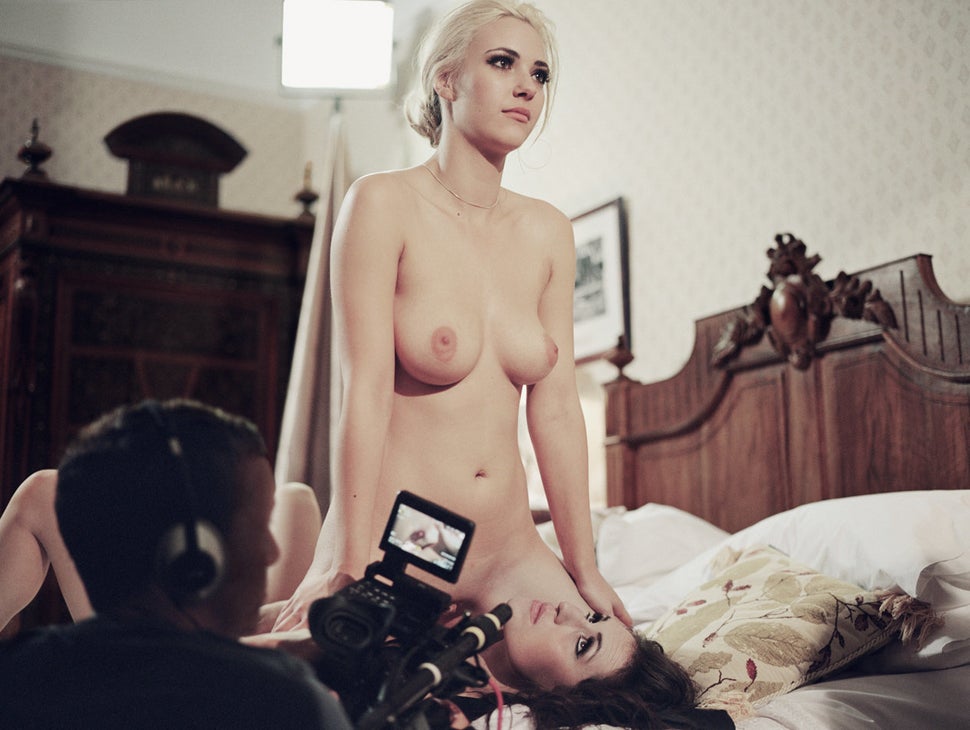 Ebrard is far from the first to be inspired by the pornography industry. Her project comes on the heels of buzzy Sundance documentary "Hot Girls Wanted," exploring exploitation in the industry. In the fine art realm, photographer Larry Sultan's "The Valley" juxtaposes the fantasies of desire with the realities of suburban life, documenting porn sets in the San Fernando Valley in the 1990s.
Stephen Irwin erased portions of vintage pornography in his art, leaving only select details like clasped hands or entwined tongues. And then, of course, there is Jeff Koons, whose "Made in Heaven" series featured explicit, romance novel-esque paintings of his then wife, Italian porn star Ilona Staller, also known as Cicciolina. 
For Ebrard, however, the goal was simple yet revolutionary: present a porn set as it is, no frills, no choreography, no judgment. In the artist's words: "Somewhat strangely, porn is ahead of the moral standoff: it's completely open about what it does and, whether you agree with it or not, it's actually creating something ... Any glimpses of nudity humanize, rather than objectify, the subjects."
"It's Just Love" will run until Sept. 25, 2015 at the Unseen Photo Fair in Amsterdam. The exhibition takes place, aptly, in Ebrard's own home. See a preview below. 
PHOTO GALLERY
Art History's Most Erotic Artworks
Calling all HuffPost superfans!
Sign up for membership to become a founding member and help shape HuffPost's next chapter