Ana Maria Martinez is a quintessential modern diva, juggling opera and concert dates along with her busy family life. Agile enough to do back flips in a recent Glyndebourne Rusalka, she's acclaimed for her rich, radiant, gleaming soprano and keen acting, which she has displayed at the world's top opera houses since the mid-90s. She has also served as a contributing editor at Classical Singer Magazine, offering advice to young artists about navigating "the life."
Ten years ago this month, Martinez made her debut at Washington National Opera as Liu in Turandot. This week she returns to sing another Puccini heroine, Madama Butterfly, the love-struck geisha in 1904 Nagasaki who is seduced, then abandoned, by the U.S. naval lieutenant she marries. Martinez admits that playing Cio-Cio San is a challenge.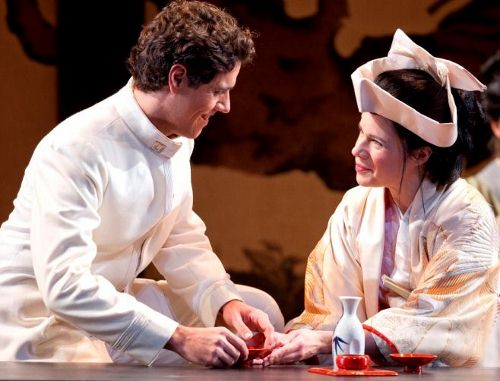 Thiago Arancam as Lieutenant Pinkerton and Martinez as Cio-Cio San
Photo by Scott Suchman for Washington National Opera
"A couple of things make the opera hard," she explains when we chat backstage at the Kennedy Center where she will open on March 1. "We enter a time and space where the culture dictates how a Japanese woman can behave: what she can and cannot say; what she can and cannot do; and how she can and cannot live. Then you add to the mix this composer with the most romantic, expressive music, trying to interpret a culture in which there are two default positions in which a girl can hold her hands. And it's such a contradiction. There is Cio-Cio San's repression contrasted with the amazing sweep of Puccini. This is one of the reasons that, before I first sang the role last fall at Houston Grand Opera, I used to cry in every coaching session with the wonderful Bethany Self [their associate conductor]--and thank God I was working with her because I felt safe within her studio."
As we talk in her dressing room, I notice Martinez is not wearing makeup, and with her long black hair, dark eyes, and lithe figure, it's obvious this stunning singer will make a believable teenager on stage. "I need to do Cio-Cio San justice," she adds. "Butterfly waits for [Pinkerton]. She is so convinced he is the love of her life. But at that time, a military man from Ohio could not bring home a Japanese wife, so how many women in her culture did commit suicide from the shame of being abandoned?"
Our meeting follows an afternoon rehearsal, and soon the soprano must dash across town to pick up her young son who's attending a Montessori program. It's a hectic schedule--and she wouldn't have it any other way. "I'm pleased to see that a lot of singers are taking the courageous route of becoming moms. I would say that if anyone has questions about it, you can have it all." She laughs. "Right now my son is here with me and then my husband [tenor Chad Shelton] will pick him up before the end of the run so he can resume school."
Martinez and her family live in Houston, a city that has loomed large in her success. She apprenticed at the Houston Grand Opera Studio during 1994-95 and that season made her main stage debut as Micaela in Carmen. She has returned to play Liu, Mimì (La bohème), Juliet (Roméo and Juliette), Adina (The Elixir of Love), and Butterfly. Martinez was never pegged as a soubrette, allowing her to demonstrate great versatility as the Countess in Mozart's Figaro at Bayerische Staatsoper in Munich, Fiordiligi in Cosi Fan Tutte at the Ravinia Festival in Chicago, Donna Elvira in Don Giovanni at the Royal Opera House in London, and Marguerite in Gounod's Faust at Lyric Opera of Chicago--just a few recent engagements.
The soprano's upcoming schedule includes Mimi at Sante Fe Opera this July, Rosina in The Barber of Seville in Houston this October, and Amelia in Simon Boccanegra at Los Angeles Opera next February, the first time she will sing an opera opposite Placido Domingo, though they frequently give concerts together. And in the future, at a company to be announced, she will also play opera's most notorious femme fatale, Carmen, a role she's dying to do.
Martinez has a special fondness for Bizet's opera because Carmen's young rival, the courageous Micaela, was her Met debut role in 2005. "The Met is the Met." she observes, "and it was such a dream come true. It's bigger than life and every singer dreams of singing there. It's a role I love; it's a role my mother did opposite Placido when I was five or six, and my debut was November 19, 2005, the anniversary of the discovery of Puerto Rico."
Martinez hails from Puerto Rico. She's the daughter of Evangelina Colon, an opera singer who is now an arts administrator, and Angel Martinez, a Cuban psychoanalyst who practices in Manhattan. The soprano mostly grew up in New York, but it was a high school production of Oklahoma!, staged in Puerto Rico and sung in English, that planted the seeds of performing. "Yes, that was my turning point. I thought, 'Ah, I feel so alive doing this, and I feel I can contribute my maximum.' Now this was a 15-year-old thinking these existential thoughts." She chuckles and mentions she subsequently enrolled at Boston Conservatory, hoping to sing and dance on Broadway one day. But her voice teacher, Mary Saunders, had other ideas, advising Martinez that her tone and timbre were made for opera.
After a summer of soul-searching, Martinez applied to Juilliard where she eventually earned both a Bachelor's and Master's degree. In 1993 she was a national finalist in the Metropolitan Opera National Council Auditions, and she won the 1995 Pepita Embil Award at Operalia II, Placido Domingo's international voice competition. She forged an instant bond with the tenor who is general director of both Washington National Opera and Los Angeles Opera, and Domingo became a trusted mentor. "His parents were singers, so it meant a lot to him to know my mother sang opera and zarzuela--we have this bond. We both came from touring parents in musical backgrounds, and I honestly have to say that the best advice Placido gives me is by example."
As her career evolves, Martinez feels deeply philosophical about her path, which is far different from her childhood hope of becoming a Catholic nun. "I later spoke about my singing to someone who made it as far as becoming a novice [in an order], and I told her, 'I feel that I have the calling,' and she looked at me and said, 'You do have it.' For me what I do is my vocation...Singing is a profoundly spiritual and co-creative experience with the almighty, with the audience, and with the composer of the music."
I ask how this introspective diva can portray a girl who commits an act that contemporary women might view as self-destructive. "Cio-Cio San makes the ultimate sacrifice," says Martinez. "She dies so her son may go to America with his father and stepmother. I think the reason I was crying so much [during coaching] was that I was outside of her, observing what was going to happen. But when you're really in her shoes, you feel her courage and her restraint. My great friend, the director Chia Patino...had breakfast with me, and she said, 'Yes, we meet Cio-Cio San as she says farewell to being a geisha, but she's also the daughter of a Samurai, and perhaps the warrior part kicked in.' I agree, and the wonderful thing about Puccini heroines is that they never pity themselves--not Liu, not Mimi, not Tosca, and certainly not Cio-Cio San. I never see them as victims. In fact, I like to empower them as I believe the composer intended."
To learn more about Ana Maria Martinez, visit www.anamariamartinez.com. She has recorded widely and you can listen to clips of her singing on her site.
Madama Butterfly will run at Washington National Opera through March 19. Soprano Catherine Naglestad shares the title role of Cio-Cio San; WNO general director Plácido Domingo and Philippe Auguin will conduct different performances. Ron Daniels is the director. For more details, visit www.dc-opera.org.

Popular in the Community