When Soraya Doolbaz was single and looking for love, the Iranian-Canadian artist received her share of penis photos from less-than-ideal suitors.
But instead of judging the men who sent her explicit dick pics, Doolbaz judged the photos on artistic grounds.
"Some were better than others," the 35-year-old artist told The Huffington Post. "Some had better lighting. I think it's better to stage a dick pic rather than just shoot it in a bathroom stall.
"I was really interested in camera angles as well -- I like a good POV -- but boner quality is also important. I can't believe some people send a picture of a limp dick."
Rather than getting mad at the lack of aesthetic value of the majority of sex organ cellphone snapshots, Doolbaz chose to take matters into her own hands in a rather ballsy fashion.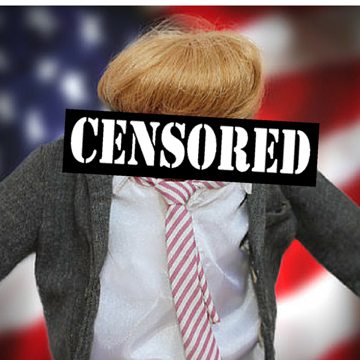 CHECK OUT THE SLIDESHOW BELOW FOR UNCENSORED TRUMP PENIS
"I found some clothes from a Ken doll that fit a penis perfectly," she said. 
With the help of a male model willing to donate his member in the name of art, Doolbaz took photos of the dressed-up dick.
After that, she was hooked and started collecting doll clothes and penises willing to wear them. But there are some strict protocols.
"I only work with couples, and the partner puts the clothes on the penis," Doolbaz said. "Each shoot takes about three or four hours, and the penis becomes a character. It's very desexualized -- especially when the penis is wearing a hat or sunglasses."
In the two-and-a-half years since Doolbaz started redefining dick pics, she has added 32 fashionably dressed phallus photos to her "dicture gallery." 
As a result, her designer dick pics have aroused attention from members of the art world. 
Starting Thursday, the complete collection will be displayed for two weeks at New York's 317 Gallery, and Doolbaz plans to unveil some penis portraits of history's biggest dictators: Dicks like Saddam Hussein, Adolf Hitler and Kim Jong-un.
PHOTO GALLERY
Soraya Doolbaz' Dicture Gallery
Doolbaz will sell the penis portraits for between $1200-$2000 a pop. The opening night event will raise money for the Testicular Cancer Foundation (TCF). 
As nutty as the dick pic art show might seem, members of TCF are supportive.
"It's an interesting way of expression," admits Foundation spokeswoman Jessica Karlsruher, who is aware that Doolbaz' portraits may inspire giggles.
"It is important to get the jokes out of the way in order to get to serious conversation about this disease, which is the No. 1 killer of men between ages 18 to 35."
Karlsruher thinks if Doolbaz' work opens up a dialogue about male health, that's a good thing.
Meanwhile, Doolbaz is imagining a future where she is surrounded by a lot of dicks.
"I never expected this to get big, but if it continues to grow and bring joy to others, I could see doing it for a long time," she said.
Calling all HuffPost superfans!
Sign up for membership to become a founding member and help shape HuffPost's next chapter