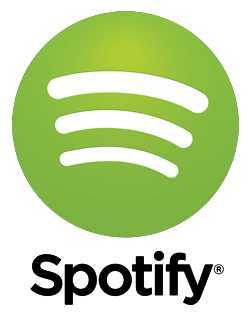 I felt like a complete dinosaur the other day. I was introduced to the astonishing magic that is called Spotify, the media platform that can access any recording by anyone from any time and play it for you immediately and at the best quality. I tested this by putting it through its paces and I must say it works supremely well (although I realize that there are criticisms still raging about payments to artists.) But putting that debate to one side for the present, I had to marvel at the way the whole thing has been put together, easy to use, clear, and very economical, an example of the technology age delivering 100% to the consumer. My dinosaur image really came to mind because I have always relied upon my "extensive" CD collection, amassed lovingly over many years of passionate discovery in various parts of the world. I suppose that now it's redundant and a veritable nuisance in taking up so much space at home.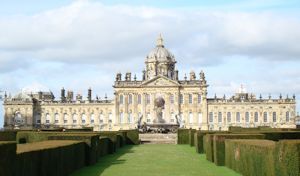 My experience with Spotify inspired me to re-examine my CDs with a view to a major clean up. So I looked at the impressive wall of more than 2,000 recordings and for some reason my gaze fell upon one, a box-set of an opera by Handel called Alcina. Written at the height of Handel's dramatic powers in 1735 and as his very last opera, the opera is about the unhappy love of a beautiful but aging sorceress for a young mortal. I put the recording on out of vague interest and then found myself, in the very first sounds of the overture, transfixed and speechless, rather like Evelyn Waugh's Charles Ryder rediscovering Brideshead . (Above, the estate that served as the model for the Granada Television series of Brideshead Revisited.)
I was returned to 1985 when I was running the City of London Sinfonia with Richard Hickox at the helm. Richard was enthusing about doing a Handel opera made famous by Joan Sutherland years before, which would make a devastating impact all because of an American soprano I had never heard of called Arleen Auger . The opera was to be directed by Joseph Losey, EMI was interested in recording it and we needed to raise boatloads of cash to make it all work. Hickox had a way with Handel so he was to be taken very seriously on this one.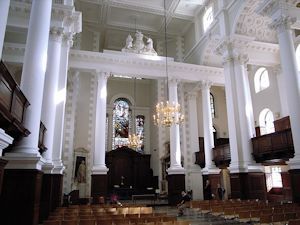 The project developed and we arranged for performances at the Spitalfields Festival in east London in the most beautiful Hawksmoor church I have ever seen, and at the Cheltenham Festival. The idea was to do the production with the audience surrounding the action and the orchestra, with the interior of the Spitalfields church as the inspiration for the most simple but dramatic of settings. (In photo, the church as it appears today, very much restored since the eighties when it was a magnificent but much deteriorated shell.)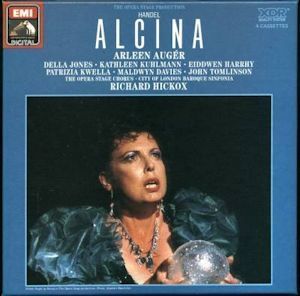 Then stuff happened the way it does with opera. Losey died and was succeeded by Frank Corsaro and EMI insisted on the orchestra being all-baroque which basically meant engaging a completely different group of musicians playing with a totally new sound and skill-set. We prevailed with all this somehow and it soon became time for the early rehearsals. I suppose I really didn't know what to expect with this new work and experience and then it happened. I heard Arleen Auger sing as Alcina. Her sound has stayed in my imagination ever since. The voice floated, was transparent at times, then full of the most intense colours. It could take on the dark qualities of the dramatic soprano and then the lightness of the coloratura. And there was this charisma, Auger's personality commanding the stage with hardly more than a gesture or a slow walk up stairs to a point of light where she extended her hand into what seemed like eternity. I saw her sing the role seven times (this included the dress rehearsal) and I couldn't wait for the next performance. Every time it was different. Every time she would improvise new runs and ornaments, often throwing them at the others members of the cast with almost violent force (I remember on one occasion she came up with a completely new set of runs in her last act duet which so surprised the mezzo that she failed to come in!)
She really was the sorceress Alcina, full of power and energy and yet powerless in the face of love. The opera was hers in so many ways. Her arias were all showstoppers (Auger, though, did not purloin Morgana's end of Act I barnstormer "Tornarmi a Vagheggiar" as Sutherland did in the early 1960's recording from Covent Garden.} The defining moment for me was her aria "Ah Il Mio Cor" where she expresses the depth of her tragic love. In the quiet hollow of the Hawksmoor Church with the transparent sound of baroque strings throbbing like her heart, Auger glided slowly into the arena of the performance. The lighting was so simple. Everything black except for intense spot lights on her, as she moved in her magisterial gown, so slowly to the central point of the set, a small twisting set of stairs leading to a platform high in the air. From there she commanded us with her voice and visage and took us to the molten cauldron of her grief. When it came time for the da capo repeat, the singing was even more intense, leaving the audience dazzled and exhausted. She defined for me the duende, that so rare ability to sing from the soul and to allow a connection to the earth through the sheer raw energy of passion. (More thoughts about duende...)
You might be thinking about who the other cast members were and they really were all pretty impressive too. John Tomlinson, Eiddwen Harrhy, Patrizia Kuella, Maldwyn Davies, Kathleen Kuhlman. Hickox was great as well, coaxing playing from the orchestra that was dramatic and beautiful. But the opera belonged to Auger and Alcina. The EMI recording captures some of the white heat from this production but you simply had to be there to hear the sounds and colours that obviously have stayed in my mind, like Charles' Brideshead, for all these years. Auger returned to work with the orchestra and Hickox again in Monteverdi's Coronation of Poppea, that musical celebration of one of the most evil women in all history. But I could only think of Alcina. We all expected Auger to be engaged by all the great opera houses of the world after this tour de force of Alcina but in the early 1990s she became ill and died of brain cancer at age 53, her passing as tragic a loss to art and performance as Kathleen Ferrier or Lorraine Hunt.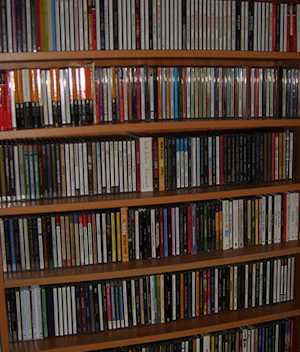 So where does this leave me and Spotify? Well I may become its greatest fan as Alcina with Arleen Auger is there for you to listen to. And what's more, the service is very inexpensive as well, either free or at a nominal monthly charge. By contrast, the original hard copy recording of Alcina is hard to get and costly as well, listed at $45 new on Amazon. So I commend Spotify to you and hope that you might find time to take a listen to something I found to be really quite inspirational. And as for me.........well after playing the entire opera I put the CD of Alcina back on the shelf of my collection and reflected that this was more than an acquisitive assemblage of old recordings. It is part of my life and in many ways defines me. Like Evelyn Waugh's Charles Ryder, I want to taste its rich memory of sounds and have that tactile sense of its belonging all over again. I feel the same about my book collection as well............
Calling all HuffPost superfans!
Sign up for membership to become a founding member and help shape HuffPost's next chapter