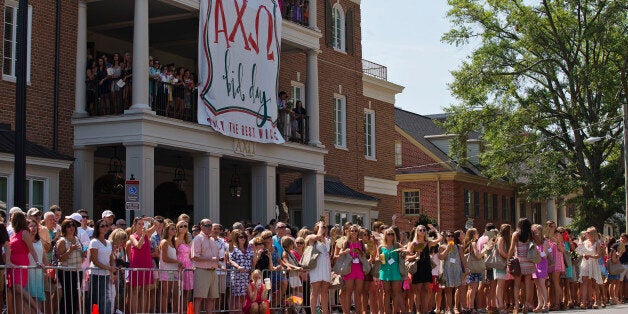 Almost every sorority in the country is forbidden from hosting parties with alcohol in its house, and two-thirds of women in America think that shouldn't change, a new Huffington Post/YouGov poll shows.
Dangerous behaviors among members of fraternities and sororities have received significant attention in recent years after reports of fatal hazing, drinking-related injuries and sexual violence in college have come to light. One proposal floated on various college campuses to combat these issues -- to change the national policy that blocks sororities from even having the option to host a kegger and gain control of social events -- has little support from the American public.
Fifty-eight percent of respondents said they agreed that "sorority houses should not be allowed to host parties that serve alcohol." Yet, only 50 percent of men in the poll agreed with the statement, compared with 65 percent of women.
Just 16 percent of female respondents think sororities should be allowed to host alcoholic parties, compared with 32 percent of men, the poll found.
Julie Johnson, Panhellenics Committee Chairwoman at the National Panhellenic Conference, a century-old umbrella group for 26 national sororities and women's fraternities, notes the standard is as old as sororities are. It was born in an a more Victorian era, but moved from tradition to policy over the years.
"Our facilities still remain alcohol free," Johnson said in an interview. "I don't know why it started as such. It is what it is. I think it makes sense because many of the women who lives in the houses are underage."
One of the complaints from people like Anna Winham, a recent Dartmouth College graduate and former sorority member who was an activist on social issues on campus, is that without a bar or club scene, all-male fraternities become the dominant social space for parties. "It's an example of structural sexism," Winham said.
Other sorority members express similar views but are often forbidden from speaking publicly due to organization policy.
Johnson conceded fraternities have a lot of alcohol and underage students, "but I can't speak on their behalf."
Even among 18- to 29-year-olds, 45 percent sided against letting sororities have booze at their parties, while 30 percent said they should be able to include alcohol, and another quarter said they are not sure. These trends held true across party lines, geographic location and race.
A 1998 resolution passed by the NPC reaffirmed the alcohol-free housing stance and declared that member-sororities would only be allowed to co-host social events with fraternities if they were substance free.
Of course, these rules aren't keeping sorority members from getting blitzed, either in their own outings or during hazing.
Women in sororities are more likely than girls without Greek affiliation to report problems with alcohol, according to one 2007 study of college drinking habits, published in the Psychology of Addictive Behaviors.
Similarly, sorority members are twice as likely to experience some form of non-consensual sexual contact than those not involved in Greek life, research produced this year from the University of Oregon found. Those statistics reinforce national data from the U.S. Department of Justice.
The concern from those who say the rules should be changed is that pushing drinking parties into frat basements creates unsafe conditions -- a concern that's reinforced by various news reports of sexual assaults linked to fraternities.
However, Johnson notes drinking in general can be a threat for women, regardless of their social affiliation or the location of the party.
"Any kind of environment could be risky for women," Johnson said. "And not just women, all kinds of students are vulnerable to harm."
As for changing the policy about allowing sororities to serve alcohol, that's not a discussion NPC plans to have anytime soon.
"I hate to say it, but I don't see that changing ever," Johnson said.
The HuffPost/YouGov poll was conducted Oct. 16-20 among 1,000 U.S. adults using a sample selected from YouGov's opt-in online panel to match the demographics and other characteristics of the adult U.S. population. Factors considered include age, race, gender, education, employment, income, marital status, number of children, voter registration, time and location of Internet access, interest in politics, religion and church attendance.
The Huffington Post has teamed up with YouGov to conduct daily opinion polls. You can learn more about this project and take part in YouGov's nationally representative opinion polling. Data from all HuffPost/YouGov polls can be found here.
Related
Before You Go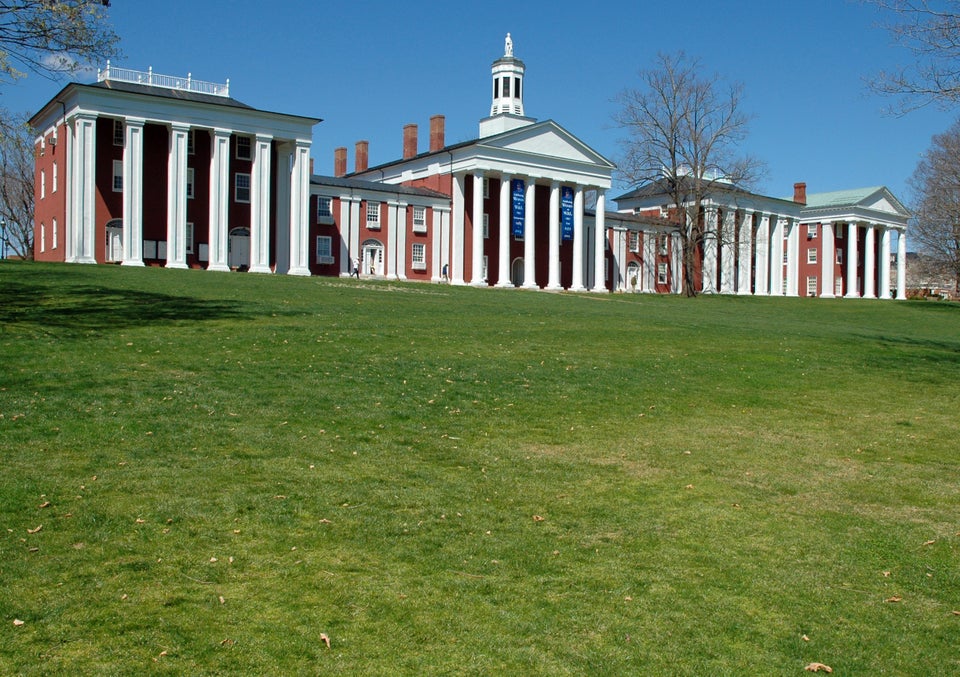 Colleges With The Most Students In Sororities: U.S. News & World Report Ranking
Popular in the Community