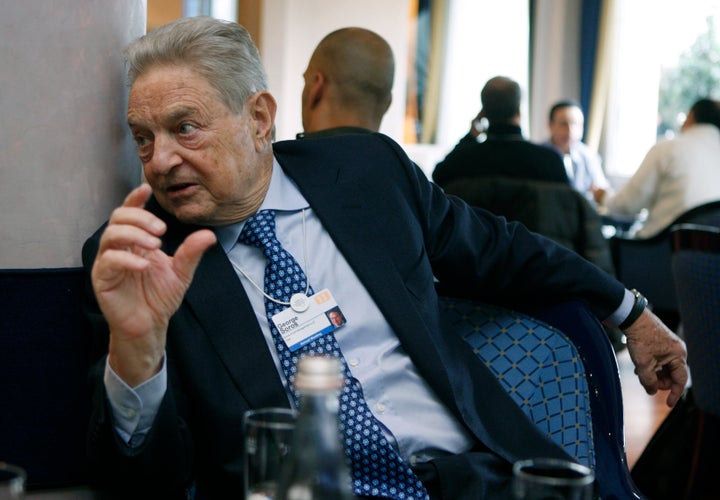 WASHINGTON -- The contributors to House Majority PAC, the new Democratic Super PAC, reads like a Glenn Beck fever dream. The list includes George Soros, a hedge fund billionaire and long-time backer of political efforts to elect Democrats, and a collection of unions, including the Service Employees International Union (SEIU) and American Federation of State, County, & Municipal Employees (AFSCME).
Super PACs are independent political committees that can receive unlimited contributions from individuals, corporations, and unions. These groups are allowed to raise these unlimited funds so long as they only use them on independent expenditures and do not make contributions to candidates. Super PACs were created after the Citizens United Supreme Court ruling, and the subsequent Speech Now vs. FEC ruling, opened the door to unlimited, independent corporate and union spending in elections.
The most notable contribution to House Majority PAC is Soros' $75,000 contribution. Soros previously stated that he had little interest in funding political efforts after his massive donations to defeat President George W. Bush failed in 2004.
"I made an exception getting involved in 2004," Soros stated before the 2010 midterm elections that wiped out the Democratic House majority. "And since I didn't succeed in 2004, I remained engaged in 2006 and 2008. But I'm basically not a party man. I'd just been forced into that situation by what I considered the excesses of the Bush administration."
Soros did not donate to any electoral efforts in 2010.
He did state that Republican control of the House of Representatives concerned him, "because I think they are pushing the wrong policies." Those policies may now have brought his wallet off of the sidelines.
The contributions were revealed in a Federal Election Commission (FEC) filing that was required after the group spent money on the special election in New York's 26th congressional district. House Majority PAC spent $487,372 to help elect now-Rep. Kathy Hochul (D-N.Y.) in a heavily Republican district. The victory has been hailed by Democrats as a rebuke to the policies of the Republican House majority, particularly the Medicare provisions in the budget proposal crafted by Rep. Paul Ryan (R-Wisc.).
Unions made up the bulk of the money going to the House Majority PAC with $300,000 in contributions.
It's not a surprise that AFSCME, the public employee union, was the biggest contributor with a donation of $200,000. Public employee unions have been under attack in states where Republicans won governor mansions and statehouses in the 2010 midterm elections and they have mobilized heavily in response to efforts to strip them of collective bargaining rights in Wisconsin, Ohio, Indiana and Florida.
Other union contributions include $50,000 from SEIU and $50,000 from Communication Workers of America. Another Super PAC, America's Families First Action Fund, backed largely with union money, also contributed $50,000.
Donald Sussman gave the most of any individual donor with $150,000 in contributions. Sussman is a hedge fund investor who has backed Democratic political efforts in the past.
Fred Eychaner, a Chicago businessman and major Democratic donor, gave $100,000. Last September Eychaner was appointed by President Obama to the board of rrustees of the John F. Kennedy Center for the Performing Arts.
The use of Super PACs by Democrats has fueled a contentious debate within the party. At the Netroots Nation conference, an annual gathering of Democratic and liberal activists, former Sen. Russ Feingold (D-Wisc.) excoriated the party for forming Super PACs like the House Majority PAC stating, "Creating those kinds of super PACs for Democrats is wrong. ... I think it's not just wrong, I think it's a dumb strategy. It's dumb because people will not believe us if we do this."
High-level members of the Democratic Party responded to Feingold's words by stating their support for the use of Super PACs. Democratic National Committee chairwoman Rep. Debbie Wasserman Schultz (D-Fla.) responded to Feingold, "Progressives shouldn't be unilaterally disarming."
This support comes as the FEC considers a request for an opinion on whether a lawmaker can solicit unlimited contributions for a Super PAC. That FEC request came from House Majority PAC and its sister organization, Majority PAC.
Calling all HuffPost superfans!
Sign up for membership to become a founding member and help shape HuffPost's next chapter