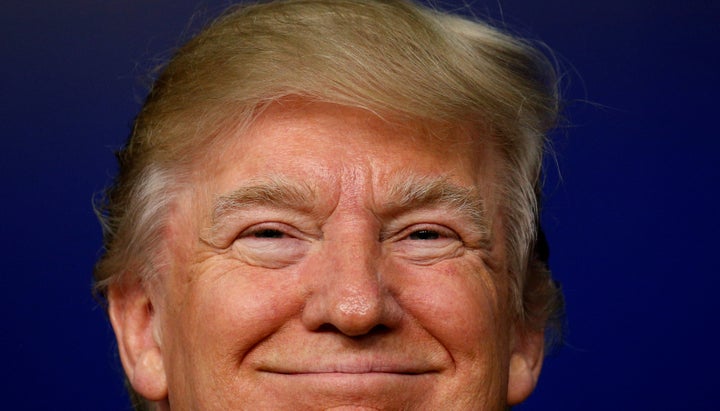 Is there anything more gauche than quoting yourself? Well, maybe starting an article with a rhetorical question is worse, but…
In any case, here is an excerpt from something I wrote last summer: "If there is one thing that the candidacy of Donald Trump has taught us, it is to never count him — or his followers — out."
Until just about everyone else in America says, 'Enough of this sh*t,' Trump's supporters are numerous enough to keep his wobbly, haphazard administration upright.
I was writing about the latest polls at that time, which showed that Donald Trump had as much chance of winning the election as Noam Chomsky did of landing a triple salchow to clinch the gold.
I mean, it was absurd to think Trump might capture the Electoral College — just ludicrous. Ha ha ha ha.
Yes, we're all still laughing five months into this monstrosity of a presidency. Our laughter is not joyous, of course, nor is it resigned or world-weary. It's more like the collective lunatic howling of the damned, which I guess still counts as laughter nonetheless.
Regardless, my point in that article was to be skeptical of all the experts who assured us that Trump would flame out in spectacular fashion and that America would never hand over the car keys to a man who isn't even qualified to be the assistant undersecretary in the Federal Bureau of Weights and Measures, much less the f*cking chief executive of the nation.
No, we were all a little too relaxed about the possibility of a Trump presidency. And I've written before about the liberal tendency to insist that this time — really, really, really this time — it's all over for Trump.
As you recall, he wasn't going to win the nomination, he wasn't going to win the election, rogue electors were going to deny him the presidency, he would get impeached on his first day, he would resign in disgust immediately, and so on and so on. He would this, that, and the other thing.
All of this would prevent us from living in a world where the president of the United States repeatedly insults an ally just hours after that ally has suffered a terrorist attack, or makes America the undisputed bad guy in the history of climate change, or just in general resembles an evil, sputtering old man planning to slip razor blades into apples next Halloween.
And just today, we have confirmation of what we all knew, which is that this president is even more corrupt than Nixon and thinks "obstruction of justice" is some kind of fancy French dessert.
Well, here's the truth: None of this really matters, because Trump's base doesn't care about any of this.
Hell, white supremacists and conspiracy nuts and right-wing hatemongers are all for the man, more than ever. And until just about everyone else in America says, "Enough of this sh*t," his supporters are numerous enough to keep Trump's wobbly, haphazard administration upright. The alt-right and the bigoted will not be dissuaded. They are a multitude of furious fire ants keeping the anthill from toppling over, even after repeated sprayings from the flummoxed homeowner.
And so, none of these scandals are nearly enough to end our nightmare.
REAL LIFE. REAL NEWS. REAL VOICES.
Help us tell more of the stories that matter from voices that too often remain unheard.
BEFORE YOU GO