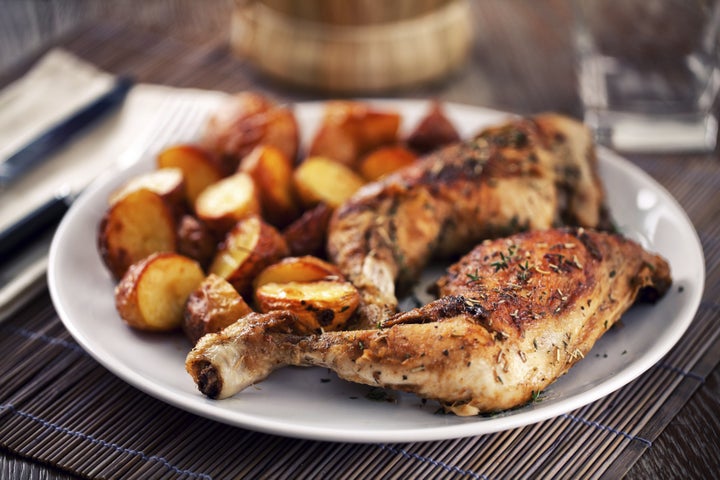 Oxfam America recently released an eye-opening study that details how chicken has skyrocketed in popularity -- and profits -- in the U.S., but how conditions for workers in the industry have only worsened over time. The comprehensive report found that poultry workers in the $50 billion industry earn near-poverty-level wages, face increasing health risks in the workplace and have minimal job security, but are often too fearful to speak out.
The report, which calls on the four major players in the industry to reform their policies, includes accounts from more than 1,000 former and current industry workers, along with interviews with attorneys, medical experts, analysts and others who are involved in the community.
Oxfam reached out to Tyson Foods, Pilgrim's, Perdue and Sanderson Farms -- which together own 60 percent of the market -- but only Tyson Foods responded.
The organization pointed to the major grievances workers decried and outlined a plan to improve the companies' practices.
Companies Pay Unlivable Wages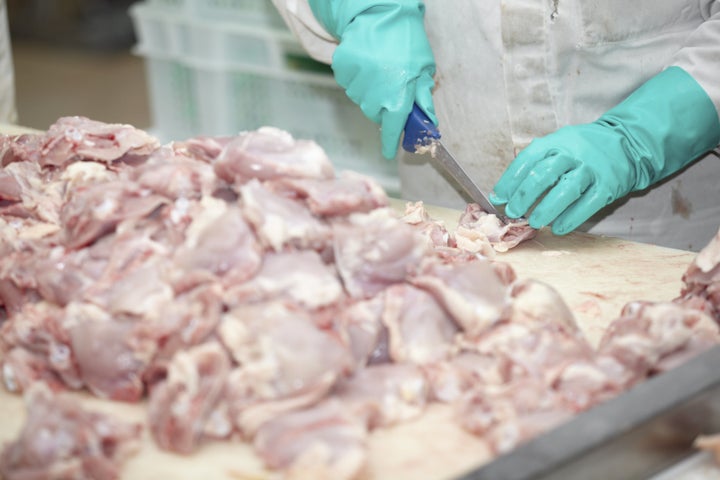 Workers typically put in more than the standard 40-hour workweek, earn about $11 an hour and often aren't paid overtime. The average annual income for a poultry worker comes in between $20,000 and $25,000.
The wages are so low that the average full-time poultry worker with two children qualifies for a number of federal benefits programs, including Head Start, SNAP and the National School Lunch Program.
Compounding the issue is the fact that the industry is known to deprive workers of compensation owed to them.
And, a 2000 Department of Labor study found that 100 percent of companies neglected to compensate for lunch breaks and for the time it takes to put on and take off safety equipment.
Pilgrim's and Tyson paid out settlements in two separate cases, and Tyson told Oxfam that it pays its workers "appropriately." The company added that it commissioned a wage survey and concluded that it pays wages that exceed those of its competitors. Oxfam, however, couldn't verify the results of the survey.
Oxfam's proposals: The aid group is urging companies to pay its workers fairly, be more transparent in their policies and commit to "core labor rights."
Workers Incur Debilitating Injuries And Illnesses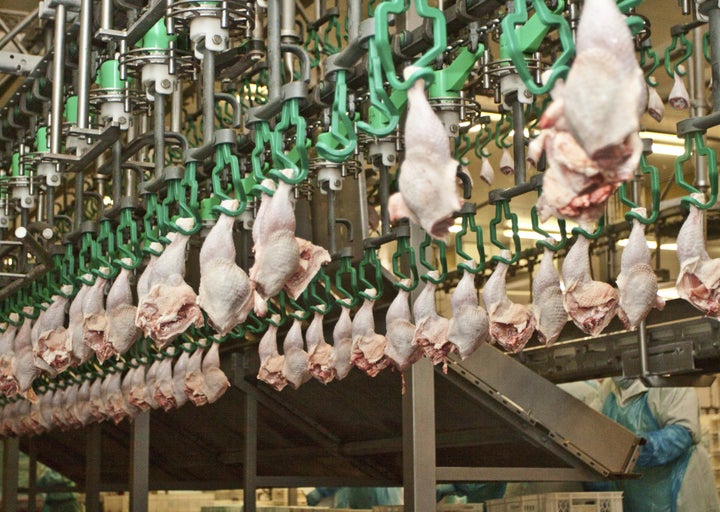 Due to the nature of the work and the speed at which employees are expected to produce, workers in the meat and poultry industry face one of the highest rates of injury and illness.
The most common reported ailment is the development of musculoskeletal injuries, which are due to repeating the same motion. The risks increase when workers are forced to produce at a faster pace, which has been the trend across the industry.
In 1979, the upper limit for line speed was 70 birds per minute. That figure has since doubled, according to the Oxfam report.
Some employees noted that even as the day wears on, so does the speed at which they're expected to work.
Juanita, who worked the night shift at a Tyson plant in North Carolina, said that after the first shift left, the line would speed up and the process would "get hard."
"You can't stand the pain on your shoulders, your hands, because of that repetitive movement," she told the interviewers. "That's when you start hurting, rotating your hands and using the scissors in one hand and using the other for another thing. It is just too much."
These injuries are often exacerbated by the cold temperatures and humidity inside the plants.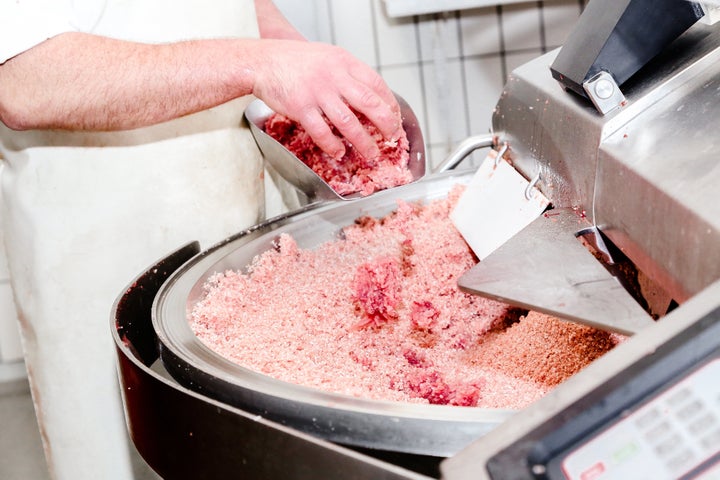 But even when workers speak up about injuries, they say they aren't met with proper care.
When workers seek help, they're often referred to medical personnel who work on site, may not have the skills to address the injury at hand and have the companies' interest at heart. Plants and insurers often challenge their claims for workers' compensation, with companies arguing that the problems aren't work related.
Other common injuries include cuts and lacerations. Some workers have reported losing the tips of or entire fingers. They face respiratory hazards due to exposure to dust and dander from live chickens, animal waste and ammonia from the cleaning process.
Workers also say they are prone to developing infections due to the fact that they're deterred from taking bathroom breaks. The issue is that there aren't enough workers who can stand in for employees when they step away from the job.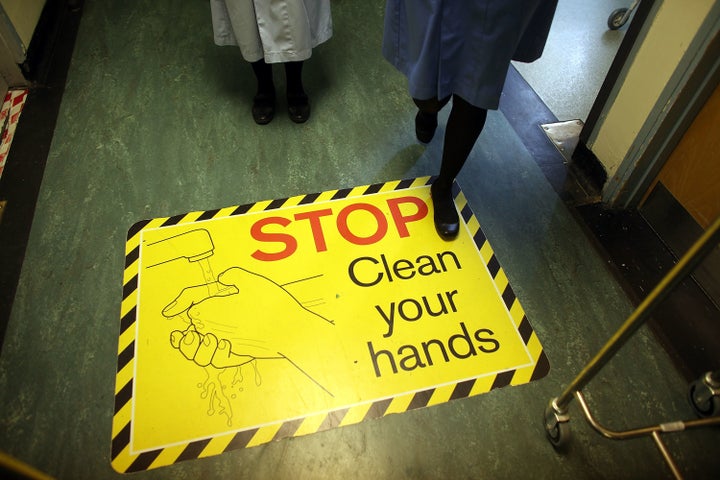 Most women poultry workers say they have suffered from urinary tract infections, which they attribute to not being able to go to the bathroom when they needed to, according to the Western North Carolina Workers' Center.
Pedro, who worked at the Tyson plant in North Carolina, said he developed a problem with his prostate because he would have to wait between four and six hours to go to the restroom. He eventually cut back on his water intake to keep from having to go to the bathroom. Pedro told Oxfam many other workers faced similar struggles.
"There's a lot of people peeing on themselves because they would not let them use the bathrooms," he said.
Tyson told Oxfam that the corporate policies require rest breaks and employs staff to help injured employees receive proper medical care. But Oxfam said its research indicated that these policies are not implemented into practice.
Oxfam's recommendations: The aid organization is urging poultry companies to maintain a pace of work that doesn't inflict damage on employees. It's also calling on them to pay heed to the National Institute for Occupational Safety and Health's recommendations for rest breaks for workers at risk of musculoskeletal injuries and to ensure that there are enough floaters to substitute when workers need to take those rest breaks. To minimize injuries, Oxfam is encouraging companies to rotate workers among different positions and make sure equipment is properly maintained.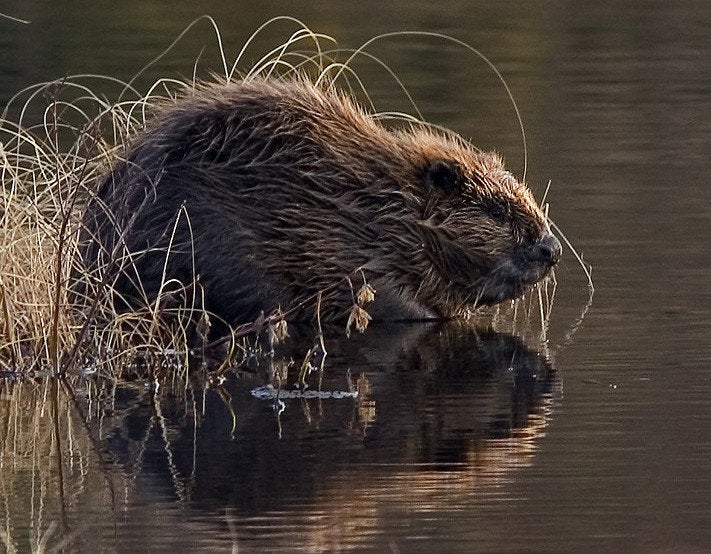 Gross Ingredients In Processed Foods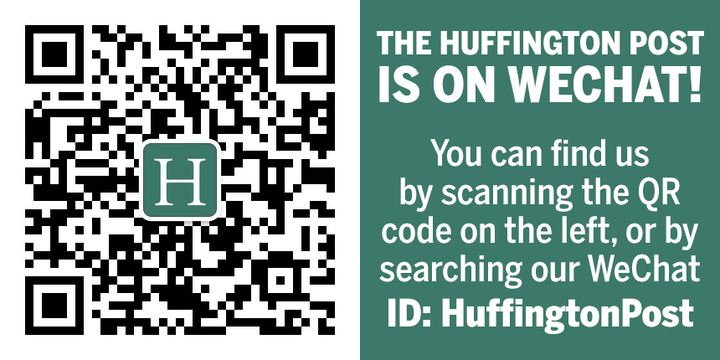 Related
Popular in the Community