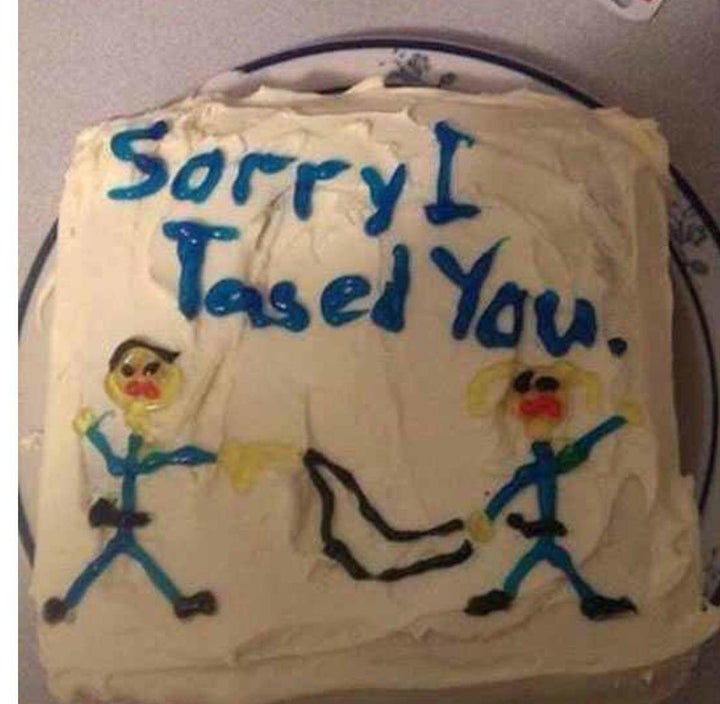 Stephanie Byron in May filed a civil lawsuit against Wohlers for using excessive force against her, violating her civil rights, committing battery against her and causing hardships such as physical injuries, monetary loss and medical expenses, the Pensacola News Journal reports. 
The suit also alleges Wohlers caused Byron humiliation and mental anguish when he sent her a photo of a cake he said he had baked. It featured a frosting drawing of stick-figure cop tasering a woman and the phrase "Sorry I Tased You." 
But a little internet sleuthing revealed this week that Wohlers probably didn't bake that cake after all.  
The photo dates back a full year before the alleged incident took place in June 2015, according to BuzzFeed writer Jon Passantino. He said the original photo was posted to Imgur in 2014.
Byron's attorney, Alistair McKenzie, released a statement on Friday clarifying that his client had never seen a real cake, only the photo.
"Shortly after the incident, my client received a text message from then deputy Wohlers stating he had baked her a cake and providing her with a picture of the supposed cake he wanted to give to her.

My client was never in physical possession of the cake and did not take the photograph. My client at all times believed this picture and cake to be real and this information was reported to law enforcement by her shortly after the incident."
Wohlers and Byron were reportedly friends when the deputy decided to visit Byron at an apartment complex where she worked after he got off his patrol shift.
The Pensacola News Journal reports:
"The suit alleges when Wohlers arrived at the apartment complex, he 'used his apparent law enforcement authority to intimidate, harass, and threaten plaintiff ... about her personal life.'

"Because Wohlers did not like how Plaintiff failed to respond to his show of authority, Wohlers became increasingly aggressive toward employees at the apartment complex's office, including with Ms. Byron."

"The complaint claims Wohlers took Byron's sweet tea from her and refused to give it back. When Byron approached Wohlers to retrieve the drink, he allegedly discharged the stun gun into her chest and throat. The complaint also alleges when Byron fell to the ground, Wohlers 'jumped onto Ms. Byron, kneeing her in the chest' and 'forcefully removed the Taser prods.'"
At first, Wohlers didn't notify the sheriff's office of the incident. He told a training officer he had accidentally discharged the stun gun against a pillow, according to documents obtained by the Pensacola News Journal.
Wohlers only told his trainer what really happened after Byron told him she was planning to file a formal complaint.
McKenzie said Wohlers attempted to apologize via text message by stating he had baked Byron a cake and wanted to give it to her. Wohlers attached a photo of the "Sorry I Tased You" cake.
Wohlers resigned from the sheriff's office last year while under an internal affairs investigation for a variety of charges including untruthfulness, failure to complete an accurate report, and use and handling of weapons.
He was given one year of law enforcement probation in August, which bars him from working with any Florida law enforcement agency.
Calling all HuffPost superfans!
Sign up for membership to become a founding member and help shape HuffPost's next chapter
BEFORE YOU GO