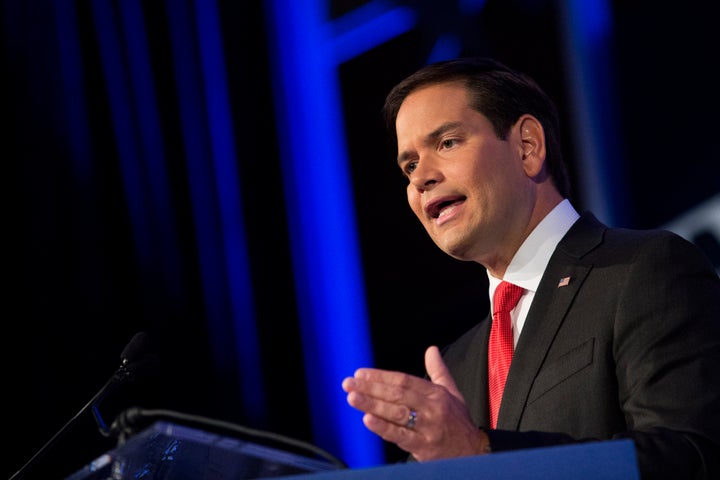 Republican presidential candidate Marco Rubio on Friday hailed the importance of paid family and medical leave. Then he offered a proposal that would do very little to make it more available.
It's a sign of how far the cause of expanding paid leave has come politically, but also how far it still has to go.
In every other developed country, workers can leave their jobs temporarily -- while receiving pay -- in order to recover from birth or to deal with a medical problem, or to take care of a newborn or ailing family member. American workers have no such guarantee. A 1993 law, the Family and Medical Leave Act, provides up to 12 weeks of leave. But it applies only to companies with more than 50 employees and makes no provision for replacing lost wages, which means the availability of paid leave is at the discretion of employers.
According to the most recent data from the U.S. Department of Labor, just 13 percent of workers have access to paid leave from employers. About 40 percent have access to some kind of employer disability insurance that can provide income for illness in some circumstances. Low-wage workers are the least likely to have access to paid leave, even though they are the ones who can least afford to lose their paychecks.
Labor unions, public health experts and progressive activists have long called for the U.S. to establish some kind of paid leave law. And in just the last few years, those calls have generated a response, at least from Democrats.
President Barack Obama endorsed paid family leave in this year's State of the Union address. In Congress, a bill from Sen. Kirsten Gillibrand (D-N.Y.) and Rep. Rosa DeLauro (D-Conn.) called the FAMILY Act would guarantee 12 weeks of paid leave to all workers, regardless of firm size, and use a small payroll tax to fund it. It includes among its many co-sponsors Sen. Bernie Sanders (I-Vt.), who is running for president. Former Secretary of State Hillary Clinton has mentioned paid family leave repeatedly on the campaign trail, and plans to introduce a detailed plan of her own.
As a model, these Democrats frequently cite a California paid leave law that took effect in 2004. As an official report to the U.S. Department of Labor by several leading scholars later concluded, that law dramatically increased low-income parents' ability to stay home with newborns, with clear benefits for children, and with no adverse effects on employers.
On Friday, in a speech before the Values Voter summit, Rubio, a Republican senator from Florida, echoed the call for helping workers who want to spend more time with newborns or infirmed relatives, crediting his own success in life to the "constant presence" of his parents. But Rubio also called the Democratic proposals "outdated" schemes that would burden business with taxes and regulations -- and instead offered a proposal to support paid leave by giving a tax break to companies that offer it. Such an approach, Rubio vowed, would "support workers, not hold them back."
Alex Conant, a Rubio spokesman, later told The Huffington Post via e-mail that "we believe it would move the needle in the right direction without raising taxes/imposing new mandates."
But those taxes are what finance wages for workers on leave, and those mandates are what force companies to provide the benefit in the first place. Without them, the needle might not move much, if at all.
Under the Rubio proposal, companies would be eligible for a tax credit worth just 25 percent of the money they spend on wages for employees taking leave, up to $4,000 per employee. In other words, for every four dollars in wages that companies paid out to employees on leave, they would get just one dollar back from the government.
"It's just not a lot of money," Elaine Maag, a senior research associate at the Urban-Brookings Tax Policy Center in Washington, told The Huffington Post. "People who don't have access to paid leave now, their employers are not typically ready to jump in and provide a new benefit just because they can get a very small tax credit for it. It's just not how they do business."
"It's a small carrot -- a baby carrot."
Sarah Glynn, director of women's policy at the Center for American Progress, likened the incentive in Rubio's plan to a "small carrot -- a baby carrot. … There may be a tiny amount of movement. It might push firms moving in this direction already. But my suspicion is that mostly it's going to be a nice credit for companies that already have these policies in place."
Maag, Glynn and other experts noted that the tax code already contains some small incentives designed to affect firm behavior -- specifically, to encourage hiring of welfare beneficiaries and people with disabilities. A Tax Policy Center report on those tax breaks concluded that "the programs are vastly underutilized and have not had a meaningful effect on employment rates among the disadvantaged."
Of course, Rubio's endorsement of paid leave, even at the rhetorical level, represents a change of sorts. As ThinkProgress journalist Bryce Covert noted on Friday, outgoing House Speaker John Boehner once dismissed the existing family leave act, the one that guarantees only unpaid leave, as "yuppie empowerment."
That may explain why longtime advocates for paid leave, such as Heather Boushey, executive director of the Washington Center for Equitable Growth, tempered their criticisms just a bit. Boushey, an economist who has advised politicians including Clinton, agreed that a policy like Rubio's would do little to expand paid leave. But she also said, "It's great that he sees this as a big problem for families."
CORRECTION: This article originally stated that the maximum wage subject to the tax credit was $4,000. That is actually the maximum credit a company could get, though it would need to pay out $16,000 to get it.
Support HuffPost
The Stakes Have Never Been Higher
Popular in the Community