 NEW YORK -- Rich in world-class offerings of Abstract Expressionist and Pop Art, Sotheby's contemporary evening roared to the tune of $375,205,000, the highest total for any evening sale in its long history. It eclipsed the mark set in May 2008's $362-million contemporary art sale and also clobbered last November's $315.8-million evening.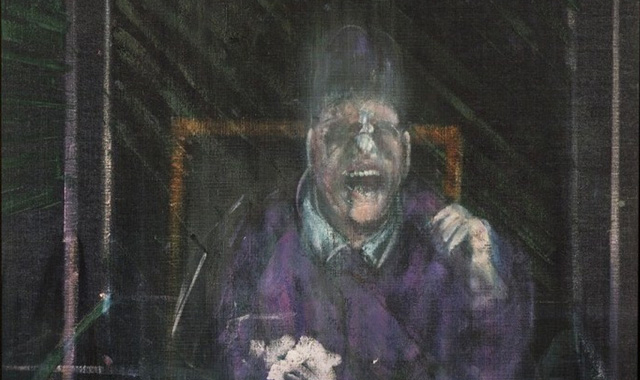 Courtesy Sotheby's
Only eleven of the 69 lots failed to sell for a buy-in rate by lot of 16 percent and five percent by value. Seventeen works made over five million, seven over $15 million, and 43 of the 58 lots sold for over a million dollars. Five artist records were set including for a small but sublime Jackson Pollock oil-, enamel-, and aluminum paint-on-canvas, "Number 4, 1951," which sold to a telephone bidder for a record $40,402,500 (est. $25-35 million).
The drip painting has a rather long sales history, including the time in November 1963 when it sold through the Leo Castelli Gallery for $22,500. It was one of eight prime Abstract Expressionist works from the collection of Sidney and Dorothy Kohl that overall achieved $101,348,000, compared to pre-sale expectations of $84-115 million. The Pollock was backed by a so-called third-party "irrevocable bid," meaning it could not fail to sell.
Other Kohl entries included Franz Kline's brawny "Shenandoah" (1956), which sold to an unidentified buyer in the salesroom for a record $9,322,500 (est. $6.5-8.5 million). The Kline last sold at auction here at Parke-Bernet Galleries, the forerunner of Sotheby's global enterprise, for $19,000 in October 1965, a time before the buyer's premium was even introduced.
Additional high-achievers included Willem de Kooning's handsome oil-, enamel-, and charcoal-on-card "Abstraction" (ca. 1949), which sold to a telephone bidder after determined bidding (including New York dealer Dominique Levy), for $19,682,500 (est. $15-20 million), as well as Clyfford Still's dark and richly impastoed oil, "1948-H," which fetched $9,322,500 (est. $9-12 million). The Still was backed by Sotheby's own financial guarantee, an unusual happenstance these days when the big houses often prefer to pitch guarantees to wealthy third parties outside the bottom line of the auction houses.
The Kohl trove set the mood for the hard-fought contest ignited by Mark Rothko's magisterial abstraction, "No.1 (Royal Red and Blue)" (1954), which eclipsed expectations, selling to an anonymous telephone bidder for $75,122,500 (est. $35-50 million). Bidding opened at $29 million and marched onwards at a million dollars a clip to around $66 million when it "slowed" to a $500,000 bidding increment.
Auctioneer Tobias Meyer told the phone bidder, "I have all the time in the world." Patience paid off as the widely exhibited and written-about painting from the collection of Anne and John Marion became the second most expensive Rothko at auction, trailing "Orange, Red, Yell" (1961), which sold at Christie's New York last May for $86.8 million.
Its impressive history included the artist's first museum exhibition at the Art Institute of Chicago, where it showed alongside eight other Rothkos in 1954, in what was then a contemporary artist showcase. Most of the other examples are now housed in museums, including the Guggenheim Bilbao and the Whitney Museum of American Art.
After the colossal price for Rothko, Joan Mitchell's "Untitled" abstraction from 1961 seemed downright cheap at $5,122,500 (est. $4.5-6 million), selling to New York dealer Lucy Mitchell-Innes of Mitchell-Innes & Nash. It last sold at auction at Christie's New York in November 2004 for $903,500.
Other star postwar lots included the brutally iconic and snarling Francis Bacon "Untitled (Pope)," also, like the Rothko, painted in 1954. It sold to a telephone bidder for $29,762,500 (est. $18-25 million), with at least four other bidders in pursuit. It last was auctioned at Sotheby's Parket-Bernet in London back in December 1975 for £65,000.
Though he hails from a later era -- not to mention East Germany -- Gerhard Richter's massive "Abstraktes Bild (712)" (1990), sold to a telephone bidder for $17,442,500 (est. unpublished, but in excess of $16 million). It was one of five works carrying a financial guarantee, in this case backed by a so-called third party.
With kudos assured for the likes of Pollock, Rothko, and Bacon, there was also deserved applause for Andy Warhol, whose wide-ranging sweep of Disaster paintings made a big impression on buyers, accounting for $54 million of the evening's take. Topping that impressive list was "Suicide," Warhol's unique silkscreen print on paper -- yes, not canvas -- from 1964, depicting an appropriated newswire photograph of a figure jumping from a high-rise building. Measuring just 40-by-30-inches, this grim work elicited explosive bidding. It finally sold to New York private dealer Philippe Segalot for $16,322,500. It last sold at auction at Sotheby's New York in November 1992 for $132,000.
Asked about the price it fetched tonight, Jose Mugrabi, in his typical Warhol fan way, said, "People are looking for trophies and this was a super-trophy. What can I tell you? It's one of the best works of Andy Warhol."
Another Warhol, "Cagney" (1964), featured the titular tough guy screen legend brandishing a machine gun, which sold for $6,578,500 (est. $4.5-6.5 million) to New York/London dealers Eykyn Maclean. The dealer duo also underbid Warhol's "The Kiss (Bela Lugosi)," another unique silkscreen print on paper from 1963 that sold for $9,266,500 (est. $4.5-6.5 million).
Those meteoric prices on paper made Warhol's early Disaster painting, "Green Disaster (green Disaster Twice" (1963), listed in the artist's catalogue raisonne as the first of the so-called car crash paintings, a relative bargain at $15,202,500 (est. $6-8 million). It sold to storied collector Peter Brant.
Buttonholed outside the salesroom, Brant observed, "There was a lot of work by Warhol offered tonight and there seems to be great demand for it." Asked about the price he paid for the phthalo green disaster painting, which features the driver of the smashed convertible hanging horribly outside the passenger side, Brant said, "I didn't think that was too expensive either."
(Ironically, another early Warhol, "Troy," featuring the serial visage of one-time tv/movie star Troy Donahue, from 1962, was withdrawn before the sale, apparently the victim of sparse market interest [est. $15-20 million].)
Speaking of growth spurts, Takashi Murakami's billboard-scaled "The Castle of Tin Tin" (1998), included in his traveling retrospective "©Murakami" in 2007-08, sold to a telephone bidder for $4,226,500 (est. $4-6 million). It was priced at approximately $25,000 when it sold to tonight's consignor at Blum & Poe in Los Angeles in 1999.
Another of the sale's limited casualties: Ed Ruscha's darkly mysterious "Ship Talk" (1988), featuring a wide-angled view of three old-fashioned sailing ships, flopped at a chandelier bid $850,000 (est. $1-1.5 million). It last came up and sold at Christie's London last February (2012) for £769,250 ($1,206,855).
In the relatively sparse terrain of sub-million-dollar lot property, Wade Guyton's brushstroke free, Epson ink jet printer on linen manufactured abstraction, "Untitled" (2007), sold for a record $782,500 (est. $500-700,000). Guyton is currently featured in a mid-career survey at the Whitney Museum of American Art. No doubt that temporary limelight has enhanced his market stature.
The evening action continues Wednesday at arch-rival Christie's with what is expected to be another evening of art market fireworks.
Prices here include the buyer's premium tacked onto the hammer price: 25 percent up to and including $50,000; 20 percent up to and including $1 million; and 12 percent above $1 million.
More of Today's News from BLOUIN ARTINFO: