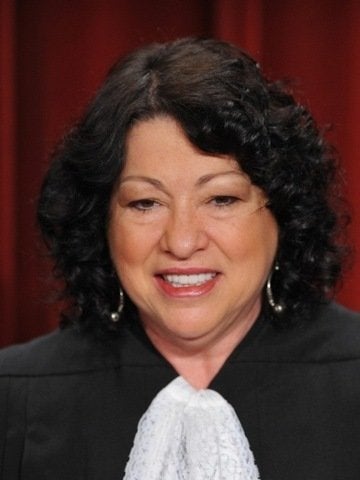 Justice Sonia Sotomayor, the court's newest member, delivered the Supreme Court's first opinion of the new term. The unanimous decision was noteworthy for a couple reasons: Sotomayor used the phrase "undocumented immigrant" for the first time in the Court's history, and her opinion drew a testy concurrence from Justice Clarence Thomas.
And the New York Times highlights Thomas' retort to Sotomayor. Sotomayor wrote that immediate appeals of federal trial-court rulings concerning the lawyer-client privilege would cause undue delays and burden the system. Although he agreed with the ruling, he added that she had "with a sweep of the court's pen" substituted "value judgments" and "what the court thinks is a good idea" for the text of a federal law.
The justices ruled against carpet manufacturer Mohawk Industries Inc. in a suit by an employee who says he was fired after telling a human resources manager that the company was employing illegal aliens. Mohawk says it fired the worker, Norman Carpenter, because an attorney-led investigation concluded that he had violated immigration laws.

The question for the court was whether Mohawk could appeal an order to provide Carpenter with documents and other information about the investigation. A trial judge said the company had waived its right to attorney-client privilege, and a federal appeals court said it lacked jurisdiction to review that ruling. The justices today upheld that decision.
REAL LIFE. REAL NEWS. REAL VOICES.
Help us tell more of the stories that matter from voices that too often remain unheard.