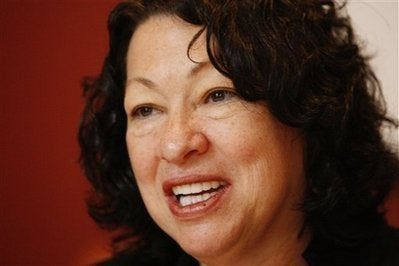 The Senate Judiciary Committee has released a schedule for the confirmation hearings for Judge Sonia Sotomayor, which start Monday morning. The full week:
MONDAY, JULY 13, 2009

The hearing is scheduled to begin at 10:00 a.m. in Room 216 of the Hart Senate Office Building. Guidelines for the media have been released and are available online.

Each Committee member will be permitted to deliver opening statements up to 10 minutes in length. Senator Chuck Schumer (D-N.Y.) and Senator Kirsten Gillibrand (D-N.Y.) will provide the introductions of Judge Sotomayor. Chairman Leahy will then administer the oath to Judge Sotomayor, and she will be invited to make an opening statement. Her statement is expected to begin around 1:30 p.m. The Judiciary Committee will recess for the day following Judge Sotomayor's statement.

TUESDAY, JULY 14, 2009

The hearing will resume on Tuesday, July 14, between 9:00 a.m. and 10:00 a.m. Questions in the first round of questions will be 30 minutes in length, and will begin with Chairman Leahy, followed by Ranking Member Sessions, and will then alternate between Democrats and Republicans. The Committee is expected to take periodic breaks, and will recess for a longer lunch break in the early afternoon. The Committee is NOT expected to complete the first round of questions before it concludes its session for the day, and will likely recess late in the day.

WEDNESDAY, JULY 15, 2009

The hearing will resume on Tuesday, July 15, between 9:00 a.m. and 10:00 a.m. The first round of questions is expected to be completed by late morning or early afternoon, at which time the Committee will move into closed session. It is routine for the Committee to hold a closed session with Supreme Court nominees. Following a lunch break, the Committee will resume open session, and will begin the second round of questions. Questions in the second round are expected to be 20 minutes in length.

THURSDAY, JULY 16, 2009

The hearing will resume Thursday, July 16, between 9:00 a.m. and 10:00 a.m. If the Committee does not complete its questioning of Judge Sotomayor on Wednesday, it will do so Thursday morning. The Committee will then hear from panels of outside witnesses announced earlier today.

FRIDAY, JULY 17, 2009

If the Committee is unable to receive testimony from all outside witnesses by the end of the day Thursday, it will reconvene on Friday.
Calling all HuffPost superfans!
Sign up for membership to become a founding member and help shape HuffPost's next chapter