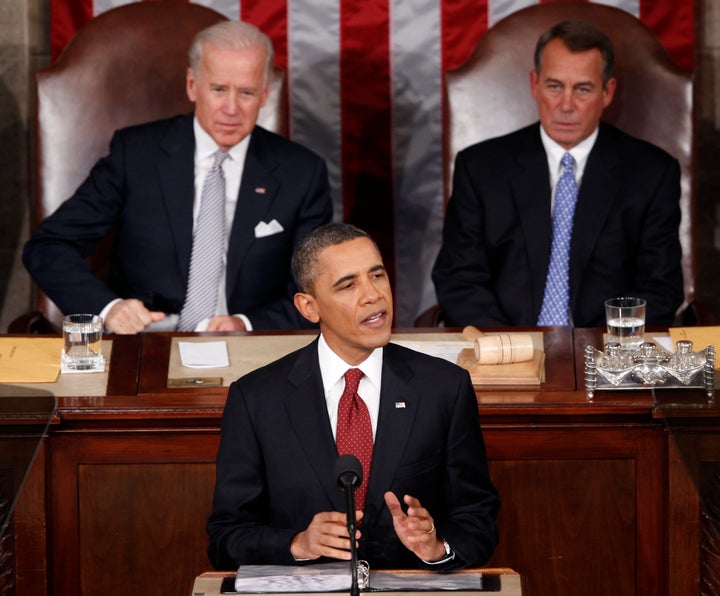 President Obama's emphasis on creating manufacturing jobs in his State of the Union address on Tuesday sounded just right to union leaders.
But even these most ardent supporters expressed doubts that his proposals would do much to alleviate unemployment, agreeing with economists and business leaders contacted by The Huffington Post Tuesday night that the speech offered little that would move the needle in the jobs market.
"If you do exactly what he's asking for, it would make almost no difference," said Dean Baker, co-director of the Center for Economic and Policy Research.
In December the unemployment rate fell to 8.5 percent and many economists expressed hope that the nation was beginning to emerge from its jobs crisis. Economists and business and labor leaders said after the speech, however, that the president's proposals would not have a real impact on the jobless rate. For some, his proposals were just a reminder of how ineffectual the president's jobs plans have been through the Great Recession and nascent recovery.
In contrast to what Obama said in his speech, Baker said, lower taxes abroad are not the reason why jobs are going overseas. China's cheap currency has played a much more important role in bringing manufacturing jobs to East Asia. Commenting on Obama's suggestion that cracking down on piracy in China would play a major role in creating jobs in the United States, Baker said, "It's kind of a joke."
Baker was skeptical of Obama's claim that higher-paying, high-skill manufacturing jobs are bountiful in the United States and just waiting for Americans to be trained for them, he added. The fact that new manufacturing jobs generally do not pay better than the old ones is proof that not many such jobs are available, he said.
"I also hear from many business leaders who want to hire in the United States but can't find workers with the right skills," Obama had stated in his speech. The president stressed the importance of a rebound in manufacturing jobs to the future of the U.S. economy and asserted that the manufacturing industry is on the upswing.
Yet, many of the new jobs don't pay the old middle-class wages: While auto workers once earned a basic wage starting at about $28 an hour, new hires now start at wages at about half that amount.
"The lines on manufacturing are silly," Baker wrote in an email critiquing Obama's speech. "Jobs in the sector are barely increasing (125,000 over the last year)." Added Baker: "This is not much to boast about, we are down by 2 million manufacturing jobs since the recession began."
Kevin L. Kearns, president of the Business and Industry Council, agreed that Obama's specific proposals would have too small of an impact. He also pointed to a need for reform of China's currency policy. If the president pushed for that, it would be a far stronger move, Kearns said, than "saying, 'I saved 1,000 jobs in the tire industry by imposing the tariffs on pirated Chinese tires.'"
And as far as Obama's proposals for re-educating the workforce, Kearns said, "The best retraining program is called a job."
Union leaders were the most upbeat about Tuesday night's speech. Damon Silvers, policy director at the AFL-CIO, said the speech exceeded his expectations. "His rhetoric was spot-on, and it described the real scale of the country's needs," he said.
But Silvers acknowledged that Obama's specific policy proposals amounted to either policies that Obama could pursue without Congress' cooperation or ones that would make obstructionist Republican lawmakers look "really extreme, because they are."
"We would like to see the rhetoric more fully fleshed out," Silvers said. "But it's understandable given that it's clear that this Congress this year will not act in the national interest."
Ultimately, Silvers said, the economy needs a $4 trillion public investment program over 10 years -- with investments focused on education and infrastructure -- to make the economy competitive enough to support a strong middle class in the long run. While Obama's speech did not outline such a large-scale project, it did highlight the scale of the country's problems, he said.
"It's about a choice as to whether we're going to invest in people or are going to continue to grow the 1 percent in this country," said Mary Kay Henry, president of the Service Employees International Union. "We have to insist on responsibility from everyone."
Congressional Republicans are currently blocking Obama's $450 billion jobs bill, the American Jobs Act, which economists estimate would create from 1 million to 2 million new jobs. The bill includes more than $250 billion in tax incentives for small businesses and employers, along with a plan for infrastructure spending, state spending, unemployment insurance and neighborhood rehabilitation.
"Getting the American Jobs Act is really the most critical thing right now," said John Arensmeyer, chief executive of Small Business Majority, a small business advocacy organization.
Though U.S. economic growth has started to gain momentum, even at this pace it would take until 2019 for the economy to get back to full, pre-recession employment, economists say.
In his speech, Obama stressed that the United States has created 3.2 million jobs in the last two years. But over that same period of time, the public sector lost half a million jobs and appears poised to continue shedding positions. When population growth is accounted for, the jobs deficit left over from 2008 and 2009 is still well over 10 million jobs.
Lila Shapiro contributed research.
Calling all HuffPost superfans!
Sign up for membership to become a founding member and help shape HuffPost's next chapter
BEFORE YOU GO