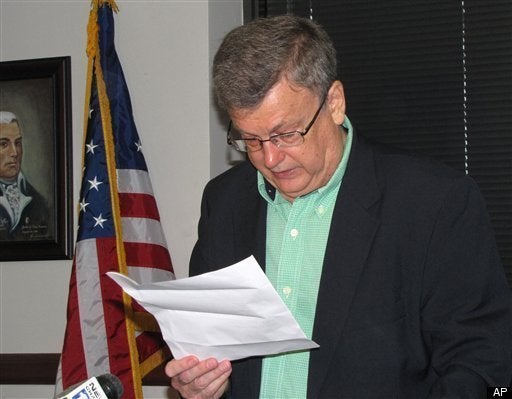 As most people know, the District of Columbia, along with being the home to everything political, is a city filled with monuments, museums, a subway that shuts down five hours too early, confusing diagonal streets named after states and a bunch of perilous traffic circles that some people say are designed to bedevil and confuse Tory invaders from the 18th century.
But what you probably don't know about Washington is that the whole city was designed by Masonic warlocks who laid out pentagrams and symbols all over the city in order to create a black-magic engine of pure animal sexuality to bewitch the minds of otherwise decent people, turning them into godless slaves to their horniest of impulses.
This is all coming to light, thanks to the resignation of America's Prince of Abstinence Education Mark Souder, who was caught in the District's sexy trap. He makes this glancingly clear in the retina-searing all-caps section of his resignation note, which will be remembered as this century's "Letter From A Birmingham Jail," where "Birmingham" is "Washington" and "Jail" is "my part-time aide's vagina."
IT HAS BEEN ALL CONSUMING FOR ME TO DO THIS JOB WELL, ESPECIALLY IN A DISTRICT WITH COSTLY, COMPETITIVE ELECTIONS EVERY TWO YEARS I DO NOT HAVE ANY SORT OF "NORMAL" LIFE - FOR FAMILY, FOR FRIENDS, FOR CHURCH, FOR COMMUNITY.TO SERVE HAS BEEN A BLESSING AND A RESPONSIBILITY GIVEN FROM GOD. I WISH I COULD HAVE BEEN A BETTER EXAMPLE. I SINNED AGAINST GOD, MY WIFE AND MY FAMILY BY HAVING A MUTUAL RELATIONSHIP WITH A PART-TIME MEMBER OF MY STAFF. IN THE POISONOUS ENVIRONMENT OF WASHINGTON DC, ANY PERSONAL FAILING IS SEIZED UPON, OFTEN TWISTED, FOR POLITICAL GAIN. I AM RESIGNING RATHER THAN TO PUT MY FAMILY THROUGH THAT PAINFUL, DRAWN-OUT PROCESS.
Right! Best flee from the 202, and its "costly, competitive elections" before you put your family through some sort of "painful, drawn-out process!"
Those of us who have worked with Mark over the years know him to be a kind and thoughtful legislator. If Mark Souder is capable of sexual misconduct, it could happen to anyone. The frat house environment on Capitol Hill does nothing to encourage accountability. Most Members do not live with their families while they are working in D.C. during the week and have even ditched common rules of etiquette that even major corporations follow such as office doors with windows or careful examination of employee/boss interaction.
Less than a week before the Republican primary election, anonymous callers phoned some of the Republican candidates running against Souder, with allegations that he was regularly meeting a girlfriend for romantic trysts in state parks. One alleged that he and a staffer went together late at night to the remote and heavily-forested Robinson Lake boat launch in Whitley County.
Now, I've lived in these parks for a long time and have never heard of this "Whitley County" place. Luckily, Alex Pareene fills me in: "It was the "frat house environment on Capitol Hill" that forced Rep. Mark Souder to have sex in Indiana state parks with a woman who lives in Indiana and works at his district office, in Indiana."
Anyway, maybe some Concerned Women should get concerned about some awful, hypocritical people instead of some improperly maligned geographic location.
Popular in the Community