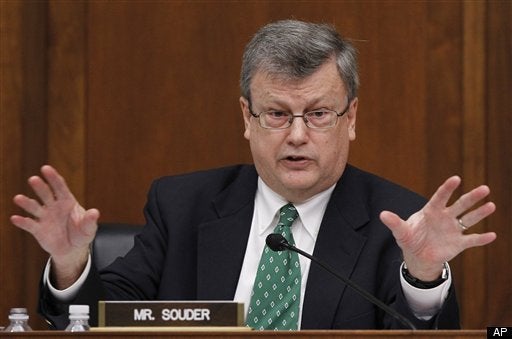 Mark Souder resigned his congressional seat on Tuesday, confessing to an affair with a staffer and ending an eight-term career as a Republican from Indiana.
In stepping down, he asked God for forgiveness in a rambling, all-caps public statement. "I SINNED AGAINST GOD, MY WIFE AND MY FAMILY BY HAVING A MUTUAL RELATIONSHIP WITH A PART-TIME MEMBER OF MY STAFF," he wrote. "MY COMFORT IS THAT GOD IS A GRACIOUS AND FORGIVING GOD TO THOSE WHO SINCERELY SEEK HIS FORGIVENESS AS I DO."
Forgiveness, however, is not a quality that Souder shares with his Lord. No Republican has been more outspoken in Congress in his moral condemnation of Americans who use illicit drugs. In order to punish such sinning, Souder championed and vigorously defended perhaps the least forgiving law on the federal books: the denial of federal student aid for any student convicted of drug possession, no matter how minor.
Souder's drug-war passion fueled his rise to the chairmanship of the Government Reform Subcommittee on Criminal Justice, Drug Policy and Human Resources, which had jurisdiction over domestic and international anti-drug efforts and had oversight of the White House Office of National Drug Control Policy, otherwise known as the drug czar's office.
Souder was chairman of that subcommittee between 2001 and 2007. During those years, nearly 200,000 students were denied college aid for drug violations, according to data unearthed by a Freedom of Information Act request filed by Students for Sensible Drug Policy (SSDP), a longtime nemesis of Souder. (Here's Souder complaining the student group "harassed" him in his home district.) In Souder's own state, 8,903 students were denied aid during that time.
Opponents of Souder's law argued that it would be difficult to craft a more counter-productive public policy. Souder responded by calling those opponents -- largely teachers organizations and church groups -- a "small but determined coalition of drug-legalization groups."
Souder's harsh judgment extends to those whose mistakes are much milder than his. In an abstinence video that Souder produced with the aide with whom he was having sex, he condemns an AIDS victim who had argued against his abstinence-only approach. "I was particularly offended when two young people were added to the supposed scientist table," Souder says of a recent congressional hearing, "and they said, one had AIDS and he said, if it hadn't been for an abstinence program that didn't give him instruction on how to put the condom on correctly, he wouldn't have AIDS. In other words, it's everyone's fault but his."
In resigning, however, Souder put some of the blame on "Washington" for his decision. "IN THE POISONOUS ENVIRONMENT OF WASHINGTON DC, ANY PERSONAL FAILING IS SEIZED UPON, OFTEN TWISTED, FOR POLITICAL GAIN. I AM RESIGNING RATHER THAN TO PUT MY FAMILY THROUGH THAT PAINFUL, DRAWN-OUT PROCESS," Souder complained.
Souder is not one who takes criticism lightly. While this reporter was writing for Politico, Souder twice wrote letters to the editor to complain of his previous work for the Marijuana Policy Project.
Now that Souder's career is over, his opponents in the drug-policy reform community are left with the last word.
"Personally, I really don't care what Mark Souder does in his private time," said Tom Angell, a former senior SSDP official who's now with Law Enforcement Against Prohibition. "But now that he's made a big mistake of his own, I hope he'll begin working to undo the harsh drug laws he has championed and that have prevented people from moving on with their lives after making mistakes. I'm sure that the more than 200,000 students who have lost college aid under Souder's Higher Education Act drug penalty would be glad to have his lobbying help now that he'll have some more free time."
WATCH Souder and his mistress preach abstinence:
Popular in the Community