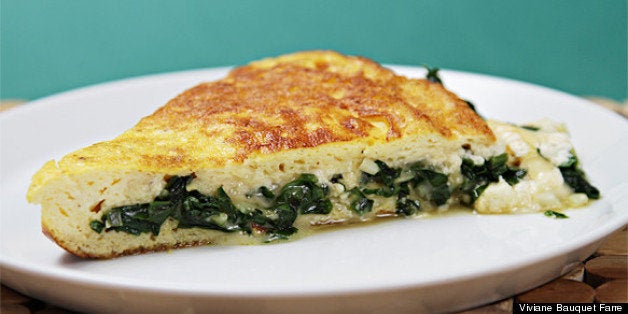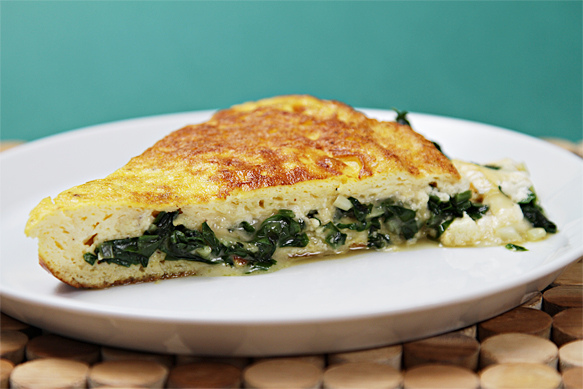 Ramps are one of spring's most wonderful rewards -- indeed, these wild leeks are some of the first shoots to poke out of the ground after winter's thaw. The whimsical little vegetables resemble scallions, but with wide, flat leaves... Their flavor, however, doesn't resemble that of any other member of the onion family. Ramps can best be described as a cross between green onions and garlic, but there's a wildness to them that's hard to pin down.
Here the wild leeks find their way into a soufflé omelet that's as airy as a cloud and incredibly moist. The Robiola cheese that dots the omelet melts very quickly and melds perfectly with the frothy eggs and the pungent ramps.
This omelet is incredibly festive and is perfect for brunch. But I also love to serve it for a light weekday dinner, along with a green salad and these irresistible pan-fried smashed potatoes.
Note: You can find ramps at your local farmers' market or online at Melissa's Produce.
Soufflé Omelet with Robiola and Sautéed Ramps
Serves 4
Active time: 30 min
For the ramps
2 tablespoons unsalted butter
8 oz (225 g) ramps (or scallions) - root ends trimmed, stalks and leaves cut in 1/4" slices (4 cups)
1/8 teaspoon sea salt
Freshly ground black pepper to taste
For the omelet
1 tablespoon unsalted butter
8 extra large eggs - separated
1/4 cup heavy cream
1/4 teaspoon sea salt
Freshly ground black pepper to taste
4 oz (115 g) Robiola (or young Camembert or Goat's Milk Brie) - cut in 1/8" slices
Step 1: Heat a large heavy-bottomed non-stick frying pan over medium-high heat and add the butter. As soon as the butter is melted, add the ramps. Stir well and sauté for two to three minutes until the ramps are wilted and have turned a shade darker. Add the salt and pepper, stir again and transfer to a bowl. Set pan aside until ready to make the omelet.
Step 2: Place the egg yolks, cream, salt and pepper in a large bowl and whisk until well blended. Set aside.
Step 3: Place the egg whites in the bowl of an electric mixer and beat at high speed until soft peaks form. Add the egg whites to the egg yolk mixture and carefully fold them in.
Step 4: Reheat frying pan over medium-high heat. When the pan is hot, add the butter. When the butter is melted, add the egg mixture. Reduce heat to medium/medium-high and cook the omelet for 2 to 3 minutes, until the eggs begin to set. Place the Robiola slices on top of the omelet and sprinkle the ramps evenly over the whole surface. Cook until the cheese begins to melt and the eggs are cooked to your taste (either runny or firmer), another 2 to 3 minutes. Gently fold the omelet in half and transfer to a serving platter.