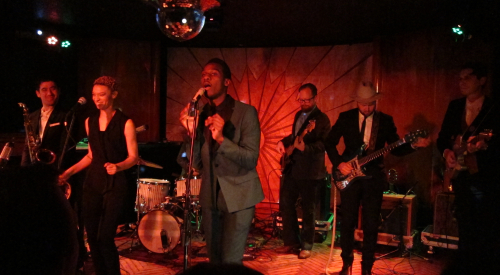 Going inside one of Detroit's best jazz clubs Cliff Bell's is always a bit of an escape into an air of the past. Beautifully restored from an era very far removed, it's history always kind of feels engrained within the walls. For that, it's a great place to see someone like Leon Bridges, a new face in soul music from Fort Worth, Texas who's style and sound is something out of the chitlin' circuit of the 1950s and 60s. At the ripe age of 25, has only been writing music for a few years now, but has an innate timeless quality about him that is genuine.
The crowd at Cliff Bell's wasn't necessarily eclectic, but more so ranged from your older folks who probably grew up listening to their parents 45s of music quite similar to Bridges to your tattooed millennials who found out about Bridges virally online.
Leon Bridges ran through an amazing set with his 6-piece band including "Coming Home" and "Lisa Sawyer", a couple of the songs already released that have lead to his huge online buzz, along with songs from forthcoming full-length album due out June 23rd. Bridges comfortably understands those simple everlasting virtues that music can have and delivers it marvelously with such tenderness. He'll sing you a ballad one moment, and then take you to church the next; all with a real smoothness that never feels kitschy.
Bridges' sudden rise has been because of the Internet, and when you walk to the show this past Thursday evening that has been sold out in advance, you can only wonder who are these people that had enough sense to buy a ticket in advance. There's an anomaly in Detroit sometimes where the people are actually involved in the music scenes are starkly behind and oblivious to new exciting artists that hit the radar. Shit, I'll be honest in saying that I didn't even know whom Leon Bridges until this past week, but he really only has been buzzing for a short time now. That's the beauty of the Internet though; the underdogs of music can find their own lanes. Even in the crowd, the girl next to me was asking the guy she was talking to how he came across Leon Bridges' music and he said through some blog he visited.
Leon Bridges has the talent for longevity, whereas his material is already strong enough that he can go through a whole live performance without loading it up with a bunch cover tunes; something that might be a typical move for other artists with nostalgic qualities about them. He rests on the idea of looking and sounding sharp at all times, and that is his winning ticket.
For more information on Leon Bridges, visit leonbridges.com, and check out this commercial presented by Beats By Dre featuring Leon Bridges' song "River":
REAL LIFE. REAL NEWS. REAL VOICES.
Help us tell more of the stories that matter from voices that too often remain unheard.