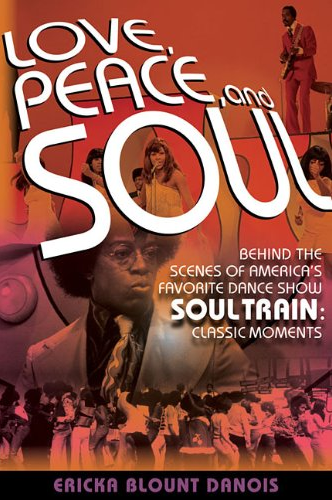 In her new book, Love, Peace and Soul: Behind the Scenes of America's Favorite Dance Show, Soul Train, author Ericka Blount Danois does more than a pop-chronology or even a look behind the scenes. She gets deeply into the history and sociology of a man and a media movement that reshaped how America looked at race, self-expression, and culture.
Soul Train's impresario Don Cornelius committed suicide in 2012. Today (September 27th, 2013) would have been his 77th birthday.
I got a chance to ask author Ericka Blount Danois how and why she so deeply explored Soul Train and Cornelius' life.
Your book includes vivid and visual detail of Don Cornelius' early days in Chicago; his heyday; and his decline. How did you as a writer go about capturing the spirit and scenes of the book? What was your research process, and what did you choose to achieve with this book?
I actually physically went to a lot of the scenes that I mentioned to get a feel for them (though many places have changed), I interviewed over 100 people -- people who worked on the show in Chicago, people who went to school with Don, partied with him, family, old friends, dancers, artists on the show, etc. I had people with great memories to re-create scenes. I read everything about Soul Train and Don and books about the time period. I read books about the artists. I watched episodes, many that are not licensed to air as re-runs, (but I wish they would get them on-air because they are fantastic!). A few months after I got the contract, Don committed suicide and I covered the funeral and interviewed people there. I interviewed the detective that covered the suicide. I just became immersed in the world of Soul Train for a little over two years. Soul Train has such a rich, nearly 40-year history that the learning process is ongoing. After gathering all of the information, I then reconstructed the story using a narrative, non-fiction approach.
I wanted to begin to uncover the reasons why Soul Train had this lasting cultural impact around the world. What was it about the show that allows it to continue to resonate for so many different kinds of people? And what was Don's personal story -- how did he persevere as a black pioneer in television? Who was he behind the cool pose we witnessed on television? How did these two things -- Don's personality and the phenomenon of Soul Train -- come together to create the longest running first-run syndicated show in television history? And how did it come together to create a lasting cultural phenomenon?
There are many pivotal moments, but one is where Cornelius' trusted secretary turns out to be embezzling. Much later in his life, and in the book, the scene where Don Cornelius won't pay towards Lil Joe Chism's headstone is heartbreaking. What do you think he owed his dancers? Do you think his trust issues (and generosity issues) extended past business travails into something more internal?
Great question. On the one hand I believe spiritually that to whom much is given, much is expected and a few hundred dollars to pay for the headstone for a loyal dancer that helped to build the success of the show would have been easy to do. The dancers, most of whom came from the same circumstances that he did, also looked up to him and many just wanted recognition from him that they were a huge part of what made the show tremendously popular.
Dick Clark didn't have the same kind of expectations in terms of helping people -- particularly the dancers -- that Don did. But Don was a pioneer. A black pioneer in a television industry that was not very welcoming. So I think there is definitely a different set of responsibilities that comes with that. There is the responsibility in giving back in more ways than are just financial. The debate with Belafonte and Jay Z speaks to this -- can collective advancement come from one's own personal advancement? I personally don't think we've arrived at that point yet.
I think for Don personally the burden of celebrity may have eventually affected his psyche. Maybe he thought the only time that people turned to him was for money. Maybe he started feeling used.
Don Cornelius, with the persona he created for the show, seemed to try to create this distance between him and the world. I think that persona prevented him from making a lot of personal connections. Maybe that's the way he wanted it. Maybe personally, he felt imprisoned, as many celebrities do, because he had to constantly be on. It's possible, from a purely business perspective, that he felt that he gave dancers an opportunity, a platform, to showcase their talents and that exposure was its own reward. Personally, maybe the price of taking on the persona of Don Cornelius was that he became indifferent.
He was very complicated. You mentioned his generosity at the same time as his refusal to pay for a headstone for a few hundred dollars. When he believed in someone there was no price he wouldn't pay to have them succeed as I detail in the book about some of the artists he managed. Maybe he didn't want to lose money on people he didn't bet on -- a very narcissistic way of thinking. But no one that I talked to made the claim that he was a nice, warm person -- it was quite the opposite. Most talked about him as a private person with this Dr. Jeckyll, Mr. Hyde personality. He kept a lot close to his chest, including the Soul Train brand. He refused to name one of the theme songs for the show, MFSB and the Three Degree's hit, "TSOP", after the Soul Train brand. He regretted it after the song became a huge hit, but that's how protective he was of the brand and that translated to his personal life as well.
The show gave life to an era. What is your favorite on-air moment, and why?
I have many! But there are two that stand out.
One is the episode with Marvin Gaye on February 16, 1974. This was his first televised appearance since his hiatus from touring after Tammi Terrell died. Marvin Gaye was explaining to the Soul Train dancers that were gathered around him why he hadn't toured in so long and how he had lost a close friend. Tammi had multiple surgeries to correct a brain tumor, and there were questions looming about royalties that Gordy had promised the family that potentially could have offset costs. Gaye was becoming wary of Motown and had become a recluse. He was struggling personally, his finances were in disarray and his marriage was crumbling. He was melancholy and consumed with the war and social issues of the day. But he seemed genuinely thrilled to be in the company of the dancers and for Soul Train to be his re-entry back to show business.
The other is one that most people only saw on its first run. It was one of the shows devoted to a national dance contest. Soul Train execs flew in dancers from all over the country -- small towns in Alabama, inner-cities, country towns. It was really amazing to see the diversity of the dancers and the various regional dances. These were literally kids off the street who likely had never been on a plane before. Probably the most amazing soul train lines I have ever seen.
I have danced in Soul Train-style lines at everything from weddings to the NABJ (black journalists') conference. It endures. Why do we still want to capture that moment in time?
Well, before television we were dancing in soul train lines in basement parties. It's been part of the culture for awhile. But I think that the Soul Train line has endured for so long and spread to so many different cultures because of the power of television and television's power to form memory and ritual and legitimacy. Soul Train captured what was already going on and spread it to "people all over the world," as the theme music reiterated.
Popular in the Community