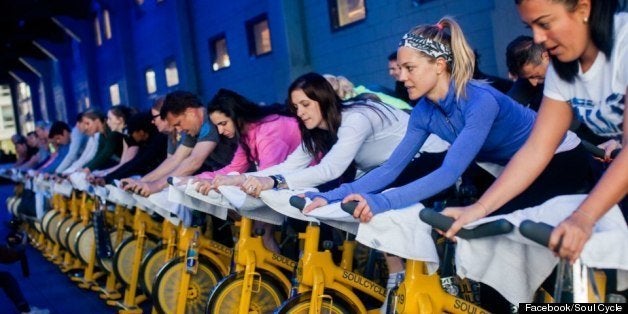 The owners of the hippest sweat spot in town are in the hot seat.
Nick Oram, former SoulCycle master instructor, filed a class action lawsuit Friday against the exercise chain for allegedly violating California and New York wage laws by failing to pay its instructors for the extra work they spend on corporate training programs, developing routines, marketing, communicating with customers and compiling playlists, according to Thompson Wigdor, the firm representing the instructors.
SoulCycle markets itself as having the "best instructors and staff, trained to deliver unique services and personal attention to all levels of riders" but then only pays instructors for the 45-minute, $32-per-person workout, the lawsuit alleges.
SoulCycle counts among its customers celebrities including Jake Gyllenhaal, Kelly Ripa, Olivia Wilde, Katharine McPhee, Chelsea Clinton and Katie Holmes, according to the Examiner.
The company was founded in 2006 by Elizabeth Cutler and Julie Rice, has 14 locations across the country and plans to open an additional 60 studios around the world by 2015.
The complaint alleges that the company's unlawful wage practices are consistent with its mistreatment of customers as it does not provide any reimbursement to customers who are unable to attend classes they sign up for (unless they cancel the class by 5 p.m. the night before).
When we started SoulCycle, we worked the front desk, got to know each rider personally, knew how many towels they needed during class, what temperature they liked their water -- that personalized service has not changed and will not change as we grow -- knowing and caring for each rider has been the true key to our success. We have learned more about SoulCycle handing out towels and water at the front desk than we could have ever learned sitting in an office.
UPDATE: SoulCycle emailed the following statement to HuffPost, "We strongly believe that the compensation and benefits we provide to our team are amongst the best in the industry and that we are in full compliance with the law."
Related
Popular in the Community