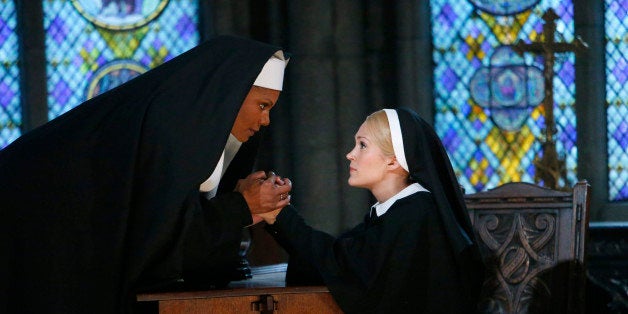 Well, I just finished watching The Sound Of Music: LIVE. I'm on the West Coast and in summation: the hills are certainly still alive. (Unfortunately in one respect there is way too much "wood.") Sit back, please. This is not brief.
First and foremost, and the reason to see this adaptation when it becomes available on December 17, 2013 nationwide and by pre-order now on Amazon can be summed up in two words: Audra McDonald. If this woman does not receive an Emmy for her performance in this, there is something severely wrong with the world. She simply shines. Her rendition of "Climb Every Mountain" is exquisite! She is a performer of the highest caliber. Miss McDonald is the standout star of this enjoyable, yet flawed, musical outing.
I loved the live on videotape aspect! Fabulous! The fun of live television, watching people lose their footing on fake stage shrubbery, the shadow of the boom mic sailing across the Mother Abbess and her fellow nuns during the opening number, watching an actor hide beside a window pane prior to an entrance, Frau Schrader having the train of her ball gown stepped on by another actor and simply having to make it a part the moment... these are all of the wonderful things that make for live theater. In the moment, no retakes, working without a net.
The Von Trapp children are adorable. Michael Nigro as "Friedrich" is probably going break a lot of hearts both female and male as he gets older. I see a young Darren Criss there. I found Ariane Rinehart's Liesl sweet enough but lacking in warmth and not nearly as lovable as Charmian Carr. There is also little conveyance of the young girl on the brink of womanhood.
Stephen Moyer is everything a Captain Von Trapp should be (well, for the musical version; in real life he was actually a pussy cat). He is very reminiscent of Christopher Plummer while creating his own and very solid performance of the Von Trapp family patriarch. His moment of revelation upon hearing the children sing brought tears to my eyes, as did his heartbreaking rendition of "Edelweiss," guitar in hand, surrounded by swastikas -- a symbol of his world crumbling around him.
Michael Campayno as Rolf: breathtakingly handsome, beautiful voice, an honest to goodness leading man. Michael, please come by my house and "deliver telegrams" anytime you want. *Please feel free to wear your act one costume including the socks. I think it was a clever move to not bleach his hair. Not all Nazis were blonde-haired and blue-eyed, even if Der Führer wanted it that way.
Laura Benanti: (She was a wonderful Cinderella in the Into Woods revival.) Stunning as always (I could see her playing Vivien Leigh), a strong stage presence and great comedic timing -- "A nun!!!!" For a supporting player she came off as a leading lady... and I guess there is no avoiding that subject.
At the risk of those I am about to offend, in my personal opinion , Carrie Underwood is just not up to par. I went in with a very open mind, wanting to like her, and while she has a pleasant voice, even with lower keys, Underwood doesn't seem to be up the score. Much more obvious, she just does not seem to have real acting chops of any kind. Her Maria is one-dimensional and worse than that oftentimes gives the impression of a simpering victim. For those who have done their homework and read up on the subject, "victim" is NOT a word that would never be synonymous with the real life matriarch of the Von Trapp family. God love her... but even Pinocchio wasn't as wooden!
My choice for Maria? I kept thinking "Kristin Chenoweth." She would have blown the roof off the songs and the girl can act. And to anticipate what some of you TV minds might be saying... "Well, it's all about a Q rating/score" (insert namby pamby voice), I am sure Chenoweth's Q rating is equal to Underwood's. I reckon she would have brought the much-needed spunk that was so much a part of who the real Maria Von Trapp was -- something that many people do not give Julie Andrews enough credit for. Andrews' performance is not sugary sweet. She delivers a Maria with moxie. From her introduction to the Captain to their confrontation on the terrace when she really loses her cream cheese and gives him a good "what for?!" -- her Maria had balls.
The direction of this production seemed very stilted. With two directors, perhaps it was one director too many? The sound balance often seemed off, especially at the beginning, as if the actors were straining over the orchestra. Only Miss McDonald and Miss Benanti seemed to be able to hold their own against that technical difficulty.
Costume police: What the hell was up with Maria's wedding dress? Bad, just bad. The girls' bridesmaid dresses in comparison looked like the character actors you see walking around Long Island's Milleridge Colonial Inn or Los Angeles' Lawry's Prime Rib. As for hair... yes, if you look at Maria Von Trapp's hair it was very much that silly braided European look of the time. However, what was with the 1960s Patty Duke/Cathy Lane bob complete with a headband when Maria returned to the Captain??!
I want to go back and read the original Broadway book, which seemed a little creaky, though I believe it said in the credits it had been adapted. And, by the way, Mr. Book Adaptor, you robbed so many of us a particular moment that has given fans of TSOM a predicated giggle for decades. Simply by changing the Mother Abbess' line from "Maria, what is it you can't face" to "cannot"... y'all know what I am referring to.
It is easy to see why the creators of the original 1965 film made the changes that they made. Though Sound of Music was a hit on Broadway and won Mary Martin a Tony Award over Ethel Merman's Mama Rose ("Well, ya just can't buck a nun!" -- La Merman's response). That being said, Robert Wise and the creative team infinitely improved upon the show with their motion picture version, which is rarely the case when Hollywood adapts a Broadway musical.
Happy that they restored most of the music, though "How Can Love Survive?" is not the best of the R&H collaborations. "No Way To Stop It," on the other hand, works very well, and it still applies politically in this day and age. Replacing "An Ordinary Couple" (referred to by Robert Wise as "ordinary") with "Something Good" from the Andrews movie was smart.
Lastly, let us hand it to Mr. Rodgers and Mr. Hammerstein. These two were the cream of the crop of their kind. Their legacy and vision still hold up. Their beautiful music and its timeless philosophy will always endure. In those final moments at the festival and at Nonnberg Abbey, we recall one of the most horrific times in world history. And sadly that kind of prejudice and radical thinking is still very much a part of our world. Those who sat through the final moments of this special with McDonald's reprise of "Climb Every Mountain" and did not cry... check yourselves for a heartbeat (or a heart).
So, does this (not quite lackluster, yet lacking) kind of a remake scar the memory of the movie and image of TSOM that we all know and love? I suppose not. It is doubtful. If anything, it will probably only enhance it. But here is some food for thought: If this was someone's introduction to the story of the The Sound of Music, it might turn them off or make them think twice before watching the perfection of the 1965 film. No.
I cannot and will not say that I hated The Sound of Music Live. It doesn't warrant that. I think it had a great many things going for it like some wonderful performances, art direction, and a score that will always with hold the test of time. What it did suffer was poor direction, a creaky adaptation of the book, and a leading lady who (while she may have tried her best) was simply not up to the challenge. I would love to see NBC have another go at this kind of venture. I would also like to see a film company tackle a real, honest to goodness biopic of what really went on within the Von Trapp home. Though Merman lost out to Martin, Maria Von Trapp was the one cracking the whip: "SING OUT, LIESL!!!" Talk about drama!