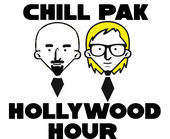 Chillpak Hollywood Hour
Epi500: Touring Forest Lawn
This past week the show that drew me to the world of soundcasting dropped its 500th episode. I first heard the Chillpak Hollywood Hour some eight years ago, hosted then as it is now by Dean Haglund and Phil Leirness. (Haglund is best known for his recurring role as Langley in TV's The X-Files and its spinoff series The Lone Gunmen; Leirness has directed a number of films, including Specters, Karl Rove I Love You, and The Truth Is Out There, a documentary he and Haglund collaborated on delving into a variety of conspiracy theories.)
Even Haglund's move to Australia last year hasn't slowed the steady release of Chillpak every Monday, as the two host continue to collaborate through Skype to pull off the show. Leirness takes advantage of the occasional trip back to America that Haglund makes to try to do something special with the show and the solution this time -- just in time for the show's 500th episode -- was to do a field trip to someplace weird and wonderful.
The destination was the famed Forest Lawn Memorial Park in Glendale, just outside of Los Angeles proper. The last resting place of many stars and celebrities over the years, Forest Lawn is also an amazing array of various artistic and architectural attractions thanks to the original owner's belief in "a joyous life after death."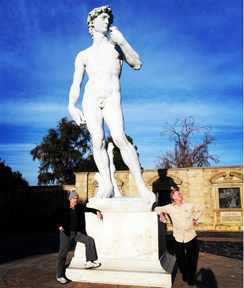 After kicking off the show from "a certain historic building in Los Felix", and armed with a digital audio recorder, the hosts enter the gates of Forest Lawn. One of the regular features of Chillpak Hollywood is their Celebrity Deaths segment, where they honor recently passed stars and luminaries, so this sojourn -- last resting place to over 250,000 people, is very much in keeping with that tradition as they recount some of the stars interred in the cemetery.
Their description of the grounds, the features and the artwork on display makes the place sound part museum and part amusement park. The banter which is at the heart of the show Haglund and Leirness have been producing for over a decade is in full display and they move from one part of the cemetery to the next with their combo of facts and jibes running non-stop along the way.
At under an hour, our audio tour is over too quickly but it certainly leaves one feeling like Forest Lawn should be a "must see" when touring the Southland. One hope that the hosts wandering through a cemetery isn't foreshadowing anything dire -- surely Chillpak Hollywood has at least another 500 episodes yet to go.
In addition to his weekly contributions to This Week In Comedy Podcasts for Splitsider.com, Marc Hershon is the host and executive producer of Succotash, The Comedy Soundcast Soundcast, featuring clips from comedy soundcasts (née podcasts) from across the Internet as well as interviews with podcasters, soundcasters, comedians, and assorted show biz folk.
REAL LIFE. REAL NEWS. REAL VOICES.
Help us tell more of the stories that matter from voices that too often remain unheard.