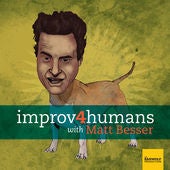 Improvisational comedy on podcasts. A few years back, that idea – live comedy based on suggestions from a live audience – would have sounded about as crazy as putting ventriloquist Edgar Bergen and his puppet Charlie McCarthy on the radio did back in the 1940s. but that worked then (for 30 years, from 1937 to 1956) and improv works now, in large part due to the way that Matt Besser, creator and host of Earwolf's improv4humans, figured out how to tame the improv beast in an audio setting.
Besser just dropped the 300th episode of his popular show and when I spoke to him recently he told me the most exciting installments for him to work on lately have been the three episode narrative story, The Mopes.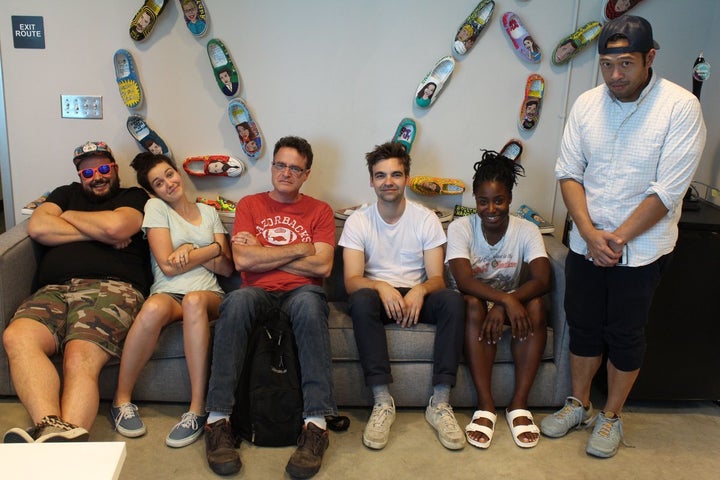 The Mopes is, as improv goes, a bit of a hybrid. Because although the dialog and action are being created "in the moment", Besser and his actors have spent some time in advance creating the baseline for the story. "It's the old having-to-earn-the-inheritance storyline," explains Besser. And his main actors — Eugene Cordero, Jessica McKenna, and Jon Gabrus — worked with the show's creator to establish the characters that they play in the three-part story.
So how does the improv fit into this puzzle? Let's go back a bit…
Besser started out in the improvisational mecca of Chicago, learning to do longform improv at the feet of the master, Del Close, at ImprovOlympic. Besser considers that Close "pretty much invented longform improvisation or at least took it to the next level." He pioneered one form that's done around the world called The Harold, for instance. Another longform structure was to create, in essence, a movie on stage over the course of a half hour.
Besser's move from Chicago to New York is the best known part of his story, as he joined with fellow improvisors Amy Poehler, Ian Roberts, Matt Walsh, Adam McKay, Rick Roman, Horatio Sanz and Drew Franklin to form first the Upright Citizens Brigade comedy troupe, and then the theatre and school that bears the same name.
When UCB headed west (leaving a sizeable contingent in New York, where there are still two UCB sites – one in Manhattan, the other in Chelsea), Besser came with it, bringing a slightly different improv and sketch comedy philosophy than students were learning at the LA-based Groundlings and at the Second City school that had also started in Chicago.
Scoot Aukerman's Comedy Death Ray was an original improvised sketch show of sorts that ended up finding a home at the first UCB location in LA (there are two now), and he was an early entrant into the soundcast game with that show, which later was re-titled to Comedy Bang Bang. Besser credits Aukerman with goading him into trying a soundcast of his own.
"I didn't really even know what he was talking about," says Besser.
When Besser started improv4humans, he drew from that movie form mentioned earlier in order to start setting up scenes and describing the action that was going on because it was the only way the listener could begin to picture what the characters were doing.
He was essentially re-inventing what had been done in narrative form for old time radio drama 75 years earlier. Only now he was plugging in the secret sauce — suggestions from the audience that would power the scenes — and then acting as a kind of ringmaster for the proceedings.
"As the host of the show I'm kind of like the point guard. Some of these people we have on play with each other in other groups but some don't," Besser points out. "So you need to have that one person who is looking at the long game. I'm the player-coach inviting people in to play my format."
Having nailed down the format over the course of a couple of hundred shows, Besser started wanting to find a way to keep things freshened up. "Two years ago we did this narrative format with a story called "Fat Crackers". It was an apartment building setting with different characters, and it was also a trilogy."
With that experience sorted and figured out, Besser brought back several of his stronger performers, ran some rehearsals to find the characters as he wrote out the throughlines for the story, and The Mopes was born. At this point, two of the three chapters of the trilogy have dropped, with the third slated to appear this week.
The set-up for the story is simple: A pair of twins, brother and sister, are also a couple of mopes. They seem to have no capacity to hold a job, let alone earn a living. Which concerns their bazillionaire step-father, in that they stand to inherit his riches when he expires which, given his rapidly failing health, won't be long. He challenges them to get 50 jobs in 50 weeks, or they won't get the money, and saddles them with his personal assistant, Gene, to try to keep them on the straight and narrow.
The suggestions for the jobs and situations came from Twitter. "For the first episode we asked people for their worst job," explains Besser. "In the second episode we asked for people to describe jobs they just found interesting, not necessarily the worst, and then for the third episode we asked people to describe employees or customers or bad bosses that they've had to deal with in their jobs."
The jobs vary wildly. In the first installment alone, the twins and their watchdog get work with Seaworld, a fondue restaurant, a car factory, and more. The most important thing? The show are really funny pretty quickly. "The actors are just so fast," share Besser, clearly impressed. "I'm not that fast any more. These guys are really in their prime."
(You can hear my interview with Matt Besser in its entirety in episode 155 of my Succotash soundcast, available via iTunes, Stitcher, SoundCloud, YouTube, iHeart Radio, the Laughable app or my homesite, http://SuccotashShow.com)