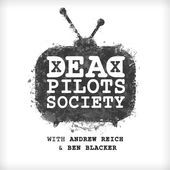 Dead Pilots Society
Epi2: Only Child
One of soundcasting's new scripted series features scripts not intended for the medium. Dead Pilots Society, created and presented by TV writers Andrew Reich (Friends, Worst Week) and Ben Blacker (The Adventures of Puss In Boots, Thrilling Adventure Hour), offers us live readings of television comedy pilots that were bought or optioned but never produced.
This bottomless well of material benefits by having some amazing comedians and comedic actors reading the words of some equally amazing comedy writers. A great case in point is the second installment, Only Child. Written by (and intended to star) the hilariously dry and droll John Hodgman in a show about a hilariously dry and droll John Hodgman, age 14.
Hodgman showed up at last January's San Francisco Sketchfest to read the part of himself written by himself and, after an interview with producer Blacker about how the pro0ject came about and why it went away, he and a cast read the pilot from beginning to end.
The visual premise of the show, impossible to capture via audio, is that Hodgman, the only child of a Boston area couple, would appear as himself - a mostly full-grown adult man -- playing his 14-year-old self.
As in the first episode of this series, Blacker manages to tap a number of his Thrilling Adventure Hour alumni to fill out the cast -- Janet Varney, Mark Gagliardi, and Hal Lublin, as well as Josh Malina and Blacker's production partner Ben Acker.
It's quite an enjoyable listen and one can easily believe that this series could go for quite some time, while giving life to some wonderfully funny projects that might not have otherwise have seen the light of day.
While some might take umbrage with his self-proclaimed title, The Smartest Man In The World, there's no denying Greg Proops remains one of the funniest, most well spoken, and best-read comedians around.
His soundcast crackles with the energy that can only be had from a comic mind holding its own for an hour or more every episode. No guests. No scripts. Just a man and his brain.
Usually there's an audience for the show at Bar Lubische in Los Angeles but this episode is apparently done at the Proops homestead (AKA "The Fortress of Proopitude"), so other than some occasional laughter from whomever was hanging out with him, and the tinkle of ice in vodka, it's a barebones ride through the whirlagig observations and imagination of the host.
He covers a variety of topics, as usual -- books, film, baseball, Mike Pence, performing, and possums -- but halfway through the episode Proops lasers in on the latest object of his most withering derision: Donald Trump.
"A bloviating scanty-haired yam," is one of his kinder descriptions of the Republican candidate for president in the upcoming election. And once he breaks the seal on the subject, watch out -- there's a well-deserved lambasting of the grandest proportions in store.
So if you're a Trump supporter, woe be unto you. Proops' meticulous deconstruction of the Man Who Would be President is lengthy and detailed. The laughs are fewer and farther between in the back half of this episode but the analysis is right on the money and worth the listen.
In addition to his weekly contributions to This Week In Comedy Podcasts for Splitsider.com, Marc Hershon is the host and executive producer of Succotash, The Comedy Soundcast Soundcast, featuring clips from comedy soundcasts (née podcasts) from across the Internet as well as interviews with podcasters, soundcasters, comedians, and assorted show biz folk.
REAL LIFE. REAL NEWS. REAL VOICES.
Help us tell more of the stories that matter from voices that too often remain unheard.