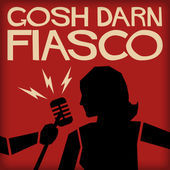 Gosh Darn Fiasco
Epi14: The Zoo
If you enjoy soundcasts about role playing games, you should check out Gosh Darn Fiasco. If you're a fan of soundcasts featuring improv, you should check out Gosh Darn Fiasco. The show is based on Fiasco, a line of improvised role playing games that are unique by the fact there is no one running the game (a DM (Dungeon Master) or GM (Game Master), in the parlance of the genre.)
Although I'm more a fan of the "swords and sorcery" style of game, it was still highly entertaining to listen to a collection of characters running around trying to rescue a city zoo on the brink of imminent closure due to poor management.
This particular installment was performed live in front of an audience at MALcon in Denver (The Myths And Legends Convention) that happened in August. Angela M. Webber is the 'cast's ringmaster, frequently joined by her sister Aubrey (together they perform music as The Doubleclicks.) They are joined by Jim Butcher (author of The Dresden Files book series), Senda (She's A Super Geek soundcast), and co-host Richard Malena.
There are randomly generated relationships between the characters, and plot elements of the game voted on by the audience (such as "an animal disguised as another animal"), and then it's all up to the players to bring everything together into a (more or less) cohesive narrative.
Fitzdog Radio
Episode 581: David Feldman
Sometimes it seems like an episode like the one on a recent FitzDog Radio soundcast was the reason earbuds were born. Greg Fitzsimmons hosts fellow comedian/writer/podcaster David Feldman in one of the funniest, acerbic, and politically incorrectly-laced shows I've heard in a while.
I found myself laughing out loud at exchanges that I was also glad weren't being heard by people passing me on the street. All that laugh-inducing vitriol was also covering up a lot of pain, as Feldman revealed -- right at the top of the show -- that the very next day was when his divorce decree was coming down. His 30-year marriage was coming to an end, and Feldman chose to share the raw, open emotions that go with an event like that with Fitzsimmons and countless Fitzdog listeners. That's comedy on the edge, and every bit of it comes through.
The two attempt to slip away from the topic from time to time, but Feldman's impending divorce keeps sliding front and center. Always wary about revealing details of his family publicly -- on his own soundcast, The David Feldman Show, he's joked about having three wives and as many as 5 children -- here he talks about his adult son and daughter and how tough it's been through a painful separation during the past three years as they took sides in the split.
Fitzsimmons, ever the consummate interviewer, Is sympathetic to Feldman's situation while continuing to press for details about what happened and why.
In addition to his weekly contributions to This Week In Comedy Podcasts for Splitsider.com, Marc Hershon is the host and executive producer of Succotash, The Comedy Soundcast Soundcast, featuring clips from comedy soundcasts (née podcasts) from across the Internet as well as interviews with podcasters, soundcasters, comedians, and assorted show biz folk.
Calling all HuffPost superfans!
Sign up for membership to become a founding member and help shape HuffPost's next chapter