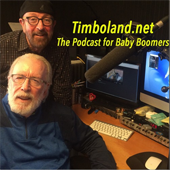 Timboland
1956
Podcasting (or soundcasting) is not just the medium for Millennials or Gen Xers. It's also for Baby Boomers, and not just those who used to listen to the radio but those who were on the radio, too! Terry McGovern was an announcer back in the day of "personality radio" working on KSFO and KSAN radio in San Francisco. He's been an actor and voiceover performer for decades including voicing Empire characters in Star Wars ("These are not the droids we're looking for..."). (George Lucas also credits him with coining the word, "Wookie", according to Wikipedia.)
So it was only a matter of time before McGovern got lured into the produce-it-yourself world of podcasting. And he's dragged his younger brother Tim along for the ride that is entitled Timboland. And it's a show all about Baby Boomers, as each episode is focused on different year of the Boomer spectrum, from 1946 to 1964.
The most recent installment looks at the year 1956 and, in the style of this one-hour show, the McGovern boys give the annum a pretty thorough going over. From politics (Eisenhower was president) and sports (Yankees beat the then Brooklyn Dodgers in the World Series, during which Don Larsen threw the only no-hitter World Series game), to music (Elvis Presley hits the music charts for the first time ever, in February, with Heartbreak Hotel, and shared the Top 10 with Doris Day's biggest hit ever, Que Sera Sera) and lot of other factoids in between.
Terry and Tim also sprinkle anecdotes from that year -- as best they can remember -- with each brother frequently jumping into the others' remembrances to add some forgotten detail.
Being born toward the end of the "Boomtime", I found it all quite interesting. I wonder how today's 20-somethings will react to so much of this 60-year old information, a veritable Stone Age throw away from their own lives.
(Timboland is not available via iTunes, but can be found on SoundCloud.)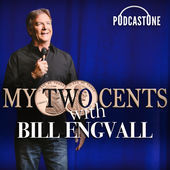 My 2¢ with Bill Engvall
Episode 11: Travis Moran
Another standup comedian hit the podwaves back in June: Bill Engvall. Also known from his appearances in such fare as Blue Collar TV, his own The Bill Engvall Show, and Sharknado 3: Oh Hell No!, Engvall brings a little bit of a different voice in the comedy podcast arena.
In a laidback manner, with a bit of Texas twang in his voice, in My 2¢ with Bill Engvall, he's more about relating life experiences than running bits, a formula that had me smiling at our similarites rather than laughing at our differences.
The show's engineer, Austin, alternately responds to questions from Engvall or tosses in some occasional commentary on the topic at hand, sounding a lot like John C. Reilly at times.
Although the subjects slide around from one thing to another very conversationally, the main topic for this episode is fishing, mostly because Envall's guest is tournament fisherman Travis Moran. I'm going to bet that this is the first time Moran has ever appeared on a comedy podcast but he makes for an affable guest, and is an ardent fan of Engvall's, having seen the host's star turn on the movie Bait Shop numerous times.
Engvall has some great stories along the way about camping with his family, each of which is a launching pad for his easy, homespun brand of humor.
I think if Hollywood wanted to go for a reboot of The Andy Griffith Show, Engvall might well be the man to pick up that fishing pole and whistle his way down to the crick.
The review of My 2¢ with Bill Envall originally appeared in This Week In Comedy Podcasts for Splitsider.com and is reprinted with permission.
In addition to his weekly contributions to This Week In Comedy Podcasts for Splitsider.com, Marc Hershon is the host and executive producer of Succotash, The Comedy Soundcast Soundcast, featuring clips from comedy soundcasts (nee podcasts) from across the Internet as well as interviews with podcasters, soundcasters, comedians, and assorted show biz folk.
REAL LIFE. REAL NEWS. REAL VOICES.
Help us tell more of the stories that matter from voices that too often remain unheard.