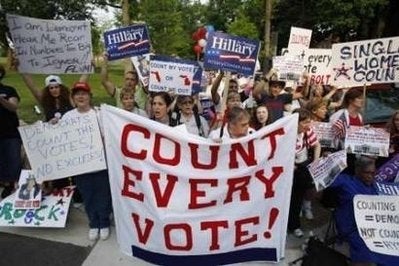 The Democratic Party's Rules and Bylaws Committee is close to reaching a deal to seat the entire Florida and Michigan delegations, each with half of its vote, according to multiple sources.
Sen. Hillary Clinton would gain a net of approximately 28 delegates - not enough to seriously threaten Obama's national delegate advantage. Sources said both campaigns were willing to hammer out an agreement along these lines.

Two officials, including a high-ranking member of the Florida delegation, confirmed that DNC members reached an agreement last night and will seat the state's entire delegation but give each delegate half a vote. The result of the Florida deal would be a net gain of 19 delegates for Clinton, though there is no word yet on how the state's superdelegates will be allocated. It is, the official says, a compromise that Sen. Barack Obama will accept. "There will be theater but not much fight."
The Michigan compromise, details of which must still be worked out, would give the majority of delegates to Clinton, who won 55 percent of the vote in the state's primary. Those with knowledge of the RBC's inner workings say the potential deal involves all of the candidates who took their names off the state's ballot voluntarily agreeing that the now-uncommitted delegates would go to Obama. The Illinois Democrat, accordingly, would receive 40 percent of delegates. Clinton nets roughly nine delegates on Obama under this scenario.
Democratic sources believe the Michigan proposal stands the greatest chance of passing: it would pacify Sen. Carl Levin, who has demanded that his state's non-sanctioned January primary be fully honored; and it would circumvent the Clinton campaign's insistence that party rules prevent simply assigning all of Michigan's uncommitted delegates to Obama.
In addition to Obama, Sen. Joseph Biden, former Sen. John Edwards and Gov. Bill Richardson all removed their names from the Michigan ballot. The Clinton campaign has contended that it would be against party rules to simply determine that all "uncommitted" voters were backing Obama. The floated compromise would resolve that dispute.
Tad Devine, a veteran Democratic strategist who helped craft the delegate selection rules, says that such a compromise would be "based on the broad grant of authority under the charter of the [Rules and Bylaws Committee]." In other words, he said, the deal would rest on the agreement of all the relevant campaigns and Democratic leaders, not any specific party rules.
Another Michigan compromise -- splitting the state's delegates 50-50 between Obama and Clinton - was three votes shy of receiving majority support from the Rules and Bylaws Committee, The Huffington Post was told.
Popular in the Community