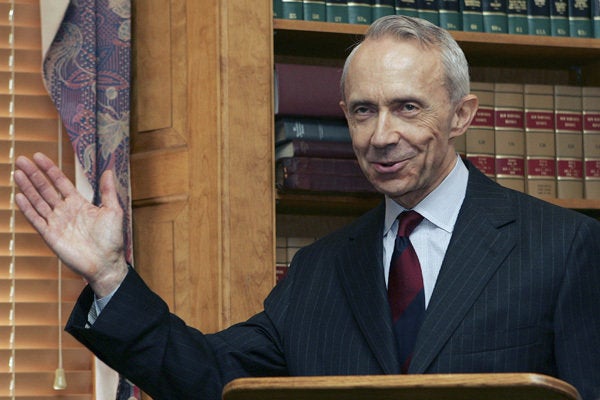 News of Justice David Souter's plan to retire at the end of the Supreme Court's current term immediately set off one of Washington D.C.'s most cherished parlor games: speculating who will take his place.
Long before Souter's decision was known, legal eagles and political observers were taking stabs as to who would be an ideal fit for a Barack Obama Court. Observers believe the Obama is likely to choose a woman, with only one currently serving on the bench. The president's thoughts on judicial philosophy, developed during his years as a law review editor and professor, will also shape his thinking. With that in mind, law blogs, speculative reporters, and (in private) elected officials had already begun bandying names about.
Among those most often mentioned:
Sonia Sotomayor: An Hispanic with 16 years of court experience who currently sits on the U.S. Court of Appeals for the 2nd Circuit, Sotomayor is a graduate of Yale Law and considered a legal liberal. She also shares a biographical footnote with Souter: they both were appointed by George H. W. Bush -- Sotomayor to the U.S. District Court for the Southern District of New York in 1992.
Greene: I think we all agree it's fairly likely that [Obama's] first appointment will be female. And given the additional qualification that he might want a [racial] minority, there is one female, Hispanic Court of Appeals judge, who is a Democrat, [likely to be considered].

Goldstein: Sonia Sotomayor.

Greene: She's probably on the short list.
Elena Kagan: The first woman to serve in the post of Solicitor General, she arrived at the Department of Justice from her post as Dean of the Harvard Law School. She served as Associate Counsel to President Bill Clinton and as a clerk to Supreme Court Justice Thurgood Marshall. Should Obama choose her, it would mean his White House would have to fill another vacancy. But her academic and judicial pedigree seem almost better suited for the Court than as a lawyer arguing before it. Plus, she's already been through the confirmation process.
Seth Waxman: The 41st Solicitor General of the United States, Waxmnan is 58-years old and a graduate of Yale Law School. Perhaps his greatest claim to legal fame was arguing Boumediene v. Bush before the Supreme Court, which upheld habeas corpus rights for detainees at Guantanamo Bay.
Diane Wood: Wood, a 58-year-old Chicagoan, has served for 14 years on the city's 7th Circuit Court of Appeals. She has made a reputation as a strong liberal voice on an otherwise conservative bench and her name was decidedly in the mix when speculation first arose that Justice Ruth Bader Ginsburg would retire due to medical issues. The one downside: her position on abortion rights has already sparked the ire of conservatives and pro-life groups, portending a potentially contentious confirmation process.
Harold Koh: The Dean of Yale Law School, Koh is perhaps the highest-profile Asian-American legal mind in the country. He clerked for Associate Justice Harry Blackmun on the Supreme Court, and worked for the Office of Legal Counsel in the Reagan Justice Department. But if Obama wants a smooth confirmation battle, Koh might not be the pick. Nominated to be the State Department's legal adviser, he has attacked by conservatives who claimed that he values foreign law over the U.S. Constitution.
Dark horses: Some names offered by legal observers who have followed Supreme Court politics a bit more closely:

Teresa Wynn Roseborough: A legal scholar, in an email to the Huffington Post, described the Clinton-era Deputy Assistant Attorney General as such: "She's late 40s, super smart and kind, decent, moderate; and was Editor in Chief of UNC law review. She clerked on the 4th Circuit and for Justice Stevens; worked in Department of Justice, was a partner at a private Atlanta firm; and now at a private counsel for MetLife. And, she's African-American. A perfect choice. Unimpeachable and perfect."
Leah Ward Sears: Chief Justice of the Georgia Supreme Court.
Kathleen Sullivan: Former Dean of Stanford Law and a protege of Harvard's famed professor, Laurence Tribe.
William Fletcher: A U.S. federal appeals court judge on the Ninth Circuit Court of Appeals (the same circuit as one Jay Bybee, who will definitely not be an Obama Supreme Court nominee).
Popular in the Community