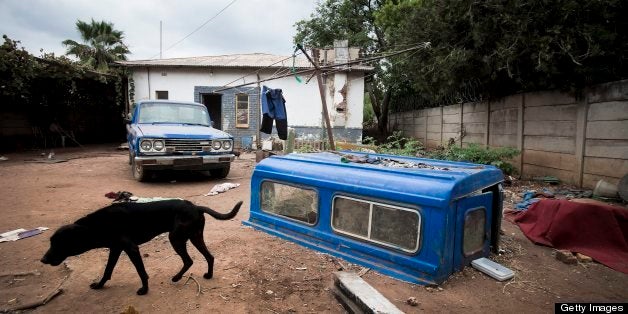 I just returned from an inspring, and in parts equally frustrating trip to South Africa, supporting my on-the-ground team working for Operation HOPE, South Africa.
Inspiring because, well who would not be inspired by all that is South Africa. The cultural richness, the spirit of the people, and the energy present wherever you go. Or the natural beauty of the place, all the untapped resources, and the incredible opportunity to create real, even transformational change throughout the country. And all the stories...
The young boys and girls we spoke with me in a local school, who once exposed to the concept of entrepreneurship, vowed to keep both their heads and their grades high until graduation. They wanted very to become their own job in the future (owning their own business). Imagine looking out over a sea of young 16 year-olds, witnessing for yourself a new generation of committed entrepreneurs, job creators and leaders being born. Inspiring indeed.
Or the elderly women whom we met at a cheetah observation park who proudly announced to us that she had achieved an 'NQ4 financial business management designation' from the local Cape Technical College, allowing her to become (her description here) an "advanced and better skilled" small business owner. This wonderful lady was selling handmade South African products under a covered tent at the cheetah park, but for her this might as well have been a ritzy brick and mortar facility in downtown Cape Town. She was an owner of her own destiny, and she even made me feel this immense sense of pride she had, in doing for herself. An pride of creating her own job.
But then you have the heartbreak. Like the 25-year-old black African youth I met who, when I looked into his eyes and encouraged him to "go after his dreams," stared back at me as if I had insulted him. His eyes seemed to say, "What dreams? Don't bother me with that talk."
The first example is the hope, but the latter example is the challenge, all wrapped into one.
South Africa has a little more than 50 million residents, but fewer than 5 million taxpayers. This is the entire problem, presented in one neat and clean statistical fact. In short, the new racism is South Africa is poverty actually. The same problem I spoke to in another piece I wrote for the Huffington Post, but interestingly enough, that piece was focused on the challenges in the United States.
The problems facing our world today, and specifically our world's young people, are increasingly the same. What South Africa needs now is the same thing that the whole of Africa needs now, and the Middle East too for that matter -- and that is a new era of JOBS, along with a broad-based, genuine hope-filled plan for a generation of 25-year-old and younger youth who don't know what a viable future looks like.
The Middle East will be 60 percent under the age of 25 by 2020. Saudi Arabia already has a majority under the age of 25 years old.
South Africa, and the African continent, is increasingly trending younger, but leaders (and I am talking about all of us now, not just African leaders) just keep giving them the same tired old solutions, over and over again. Left alone, this is a train wreck waiting to happen unless we do something radically different.
We cannot keep celebrating Dr. King's famous speeches here in the U.S., 50 years after they were made, separate from a relevancy of Dr. King's dream in 21st century America. Likewise, we cannot keep championing the amazing successes of Nelson Mandela and others who made South Africa what it is, in an era of civil rights justice, when today youth are looking for a sort of 'silver rights' empowerment success for themselves, now.
If we want to keep the promises and dreams of both King and Mandela, we will need to do what my late friend Dr. Dorothy I. Height once said: "We need to be dreamers with shovels in our hands."
What (South) Africa needs now is a new generation of bottom-up entrepreneurs, small business owners and self-employment projects for those ages 25 and below.
In order for all of those 'with something,' to have any expectation that they will actually keep it, they will have to work hard to insure that those presently without anything, have skin in the game and a future hope of prosperity too.
REAL LIFE. REAL NEWS. REAL VOICES.
Help us tell more of the stories that matter from voices that too often remain unheard.