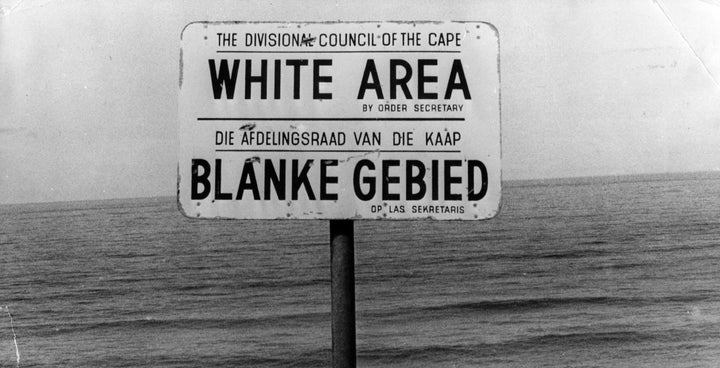 Racist rhetoric in South Africa could land you behind bars for three to 10 years if the country moves to adopt a new draft law criminalizing hate speech.
The South African government released the Prevention and Combating of Hate Crimes and Hate Speech Bill this week, which builds upon the Prevention of Unfair Discrimination Act passed in 2000. The hate speech bill was approved for public consultation by Cabinet this month. Parliament is set to take it up after the public comment phase ends on Dec. 1.
Those convicted of hate speech, vaguely defined in the bill as the advocacy of hatred "by means of any communication whatsoever," could be fined or face up to three years in prison for a first-time offense. Repeat offenders could be jailed for up to 10 years. 
More than two decades since the abolition of apartheid ― a 46-year period of legally enforced racial segregation ― South African politicians and lawmakers say black people, who make up 80 percent of the population, are still grappling with racism and wider discrimination. 
South Africa held its first racially inclusive elections in 1994, the year when leading social rights activist Desmond Tutu declared the country a "rainbow nation." The post-apartheid constitution was founded two years later on values including "non-racialism," but in recent years, social media platforms have allowed a new wave of racism to surface.
2016 kicked off with a spate of social media posts demonstrating the state of domestic racism. In a hate-filled Facebook post in early January, Penny Sparrow, a white member of the Democratic Alliance, the official opposition party, called black people "monkeys." The next day, Chris Hart, a prominent white economist, tweeted that apartheid victims were increasing "along with a sense of entitlement and hatred towards minorities."
South Africa's Economic Freedom Fighters party immediately addressed the incidents in a press release. "The year 2016 has opened with a stark reminder of the painful reality that anti-black racism in South Africa has become normalized," the party wrote. "What used to be closed door dinner conversations are now being hanged in the open and in full view of everyone through status updates on Facebook and Twitter."
The African National Congress also issued a statement calling for legislation to criminalize any act that "perpetuates racism" or "glorifies apartheid."
"In the context of our painful past, racial bigotry and apartheid must be considered serious human rights violations that must be punishable by imprisonment," the ANC said. "The current legislative provisions are not sufficient to punish and dissuade racists."
In March, South Africa launched a National Action Plan to combat various forms of racism and xenophobia. The plan serves as a basis for the development of a comprehensive legal strategy. Currently, hate speech-related cases are handled in civil courts, rather than criminal courts.
Even in its early stages, the hate speech bill ― which was drafted after extensive analysis of similar pieces of legislation in countries like Kenya, Australia and Canada ― has caused widespread controversy.
Critics fear that criminalizing hate speech could set a dangerous precedent infringing upon freedom of expression. But South African Justice Minister Michael Masutha insists the bill would not only hold offenders accountable but would also help authorities track and monitor hate crimes. The bill's creation was necessitated by "recent racist utterances and many other incidents of vicious crimes perpetrated under the influence of racial hate," he explained.
Proposed amendments to the bill will likely be introduced into parliament in early 2017.
Calling all HuffPost superfans!
Sign up for membership to become a founding member and help shape HuffPost's next chapter
BEFORE YOU GO
PHOTO GALLERY
Ridiculous Examples Of Accidental Racism