The government of South Africa is moving forward with plans to legalize the sale of rhino horn within the country, including provisions for the export of the animal product that has fueled a poaching crisis many fear could lead to the species' extinction within a decade.
Draft regulations filed in February by South Africa's Minister of Environmental Affairs Edna Molewa, would allow the domestic sale of rhino horn for "personal purposes" with a valid permit. Individuals, including foreign nationals, would be allowed to export a limited amount of the product, solely through the country's O.R. Tambo International Airport in Johannesburg, for the same reason: either full horns or the equivalent in horn parts, powder or shavings.
In the last decade, powdered rhino horn has become more valuable than its weight in gold or cocaine, spurred by demand in some Asian countries where it's thought ― with no medical backing ― to cure everything from cancer to impotence. The horn is actually made of keratin, the same material as human fingernails.
The proposed regulations do not say why the country has considered opening up the trade, although in the past advocates have argued the sale of horn could help finance the protection of living animals.
South Africa is home to most of the world's remaining rhinos, and both the government and private citizens have stored horn caches worth millions, or even billions, of dollars. Some of these breeders have become outspoken activists for a legal trade, arguing the stockpiles could flood the market, drastically drop prices and undercut poachers who kill more than 1,000 rhinos every year.
"Banning the trade in horn has made the horn more and more and more valuable," John Hume, a rhino breeder who owns more than 1,100 of the animals, told the Associated Press. "Had we never banned it, the price of horn would never have got to where it is now."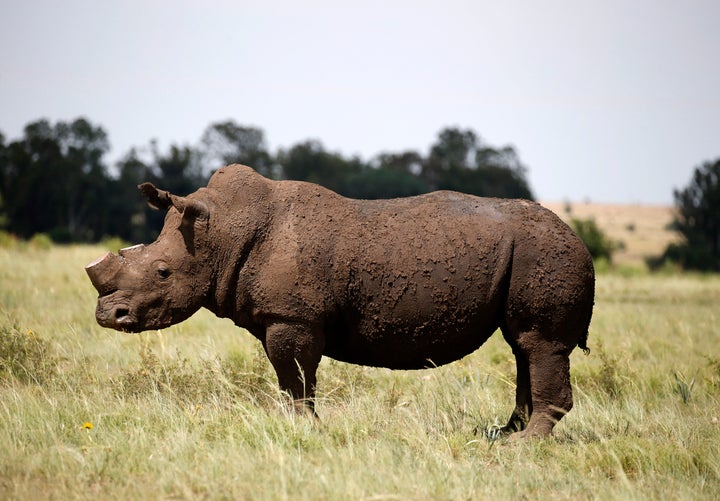 Breeders like Hume, as well as some conservation groups, cut off rhino's horns while they're still alive in an effort to prevent poaching. De-horning is relatively harmless, although stressful to the animals, but must be undertaken every few years as the horns grow back like fingernails.
The international trade in rhino horn has been banned since 1977 under a provision from the Convention of the International Trade in Endangered Species of Wild Fauna and Flora, or CITES, the agency that monitors such activity. A proposal last year from Swaziland sought to legalize the trade once again, but 100 countries soundly rejected the plan.
Environmental groups have slammed South Africa's current strategy as a "back door" maneuver disguised as personal trade.
"Let's not delude ourselves. Any rhino horns exported from South Africa to east and south-east Asia will be used for commercial purposes," Peter Knights, the CEO of the conservation group WildAid, said in a statement. "But after export, South Africa can claim that it has no responsibility for what happens to the horns.
"South Africa plans to send the message that it's OK to buy rhino horn again. Ultimately this will backfire on South Africa, because it will create further demand and lead to even more poaching of wild rhinos," Knights continued. "But a small number of private rhino horn owners will make a lot of money in the short run and that's where the push is coming from."
REAL LIFE. REAL NEWS. REAL VOICES.
Help us tell more of the stories that matter from voices that too often remain unheard.
BEFORE YOU GO
PHOTO GALLERY
Ivory Detection Dogs