South African artist Jane Alexander has long had a penchant for mutant sculptures. Over her four-decade-career, she has created a host of hybrid characters, imagined from the bodies of human beings and the heads and limbs of baboons, rabbits, and jackals. Now Alexander's motley cast of characters is heading to the Contemporary Arts Museum in Houston for an exhibit titled "Surveys (From the Cape of Good Hope)." Debuting on August 11th, the exhibit will display sculptures, installations and photomontages that reflect Alexander's persistent interest in the interplay between human and beastial life.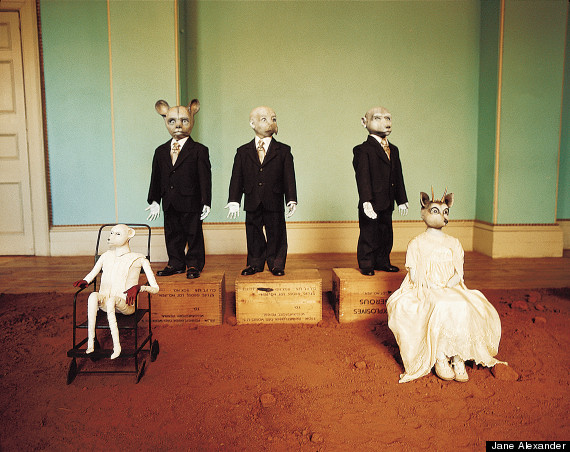 Jane Alexander's "African Adventure"
Alexander's history of hybrid fascinations dates back to the 1970s when she was creating sculptural work as an art student in South Africa. Using powerful animal-human mutants to explore issues surrounding apartheid, she gained international attention with a 1980s exhibit titled "Butcher Boys." In the work, the artist depicted a trio of powerful, mouthless humanoid beasts that, though sitting casually on a beach, appeared like threatening sentinels on guard.
The artist's monstrous creations only multiplied from there. In her 1998 "Born Boys" installation, Alexander created scenes of children wearing menacing rabbit, bird and cat-head masks, who, despite standing in close proximity, seemed entirely disconnected from each other and their surrounding space. Similarly, "African Adventure" shows a group of smartly dressed humanoids standing on varying levels of a dirt space, staring into the spaces beyond the installation without any interaction between the figures.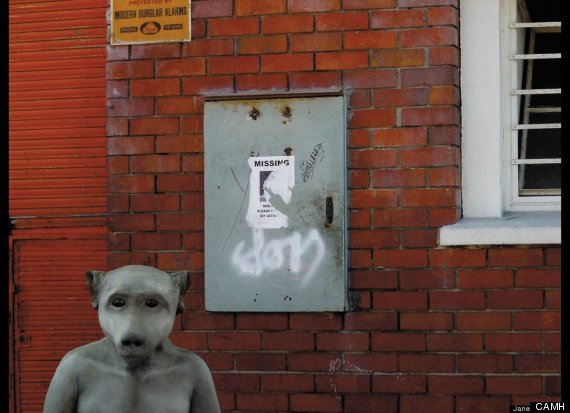 Jane Alexander, "Missing," 2004.
Her ghostly humanoid creations are firmly rooted in her South African experience, but Alexander has focused on the universal themes apparent in her latest installation. "These issues would be particularly accessible to an American audience because of our common histories of discrimination and segregation," she told The Savannah Morning News.
Alienation is clearly a primary theme of Alexander's art. Not only do her frightening hybrids demonstrate an easily perceived disparateness, but the ambiguity of the monsters pushes the viewer to sense their otherness in relation to them. Even the photo-collages created by the artist seem to communicate this alienation, as the familiar muscular forms and costumes of the beings clash with their carnal faces, amounting to a heightened sense of what doesn't belong. It's a feeling that Alexander experienced growing up amidst the social injustice inflicted by apartheid laws. Yet while her work addresses the oppression she witnessed in her home country, it reveals only the entrenched complexities of the time period, portraying motionless animal-human blends that appear simultaneously as victims and aggressor.
Check out images of the exhibit below and let us know what you think of Alexander's monstrous beings in the comments section!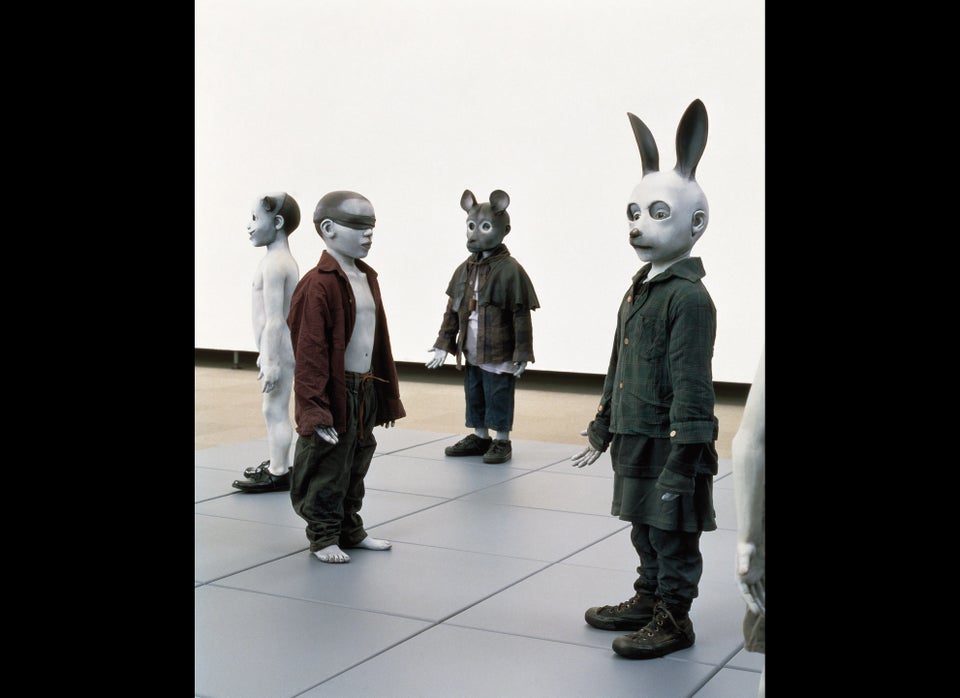 Jane Alexander's "Surveys (From the Cape of Good Hope)"
Popular in the Community