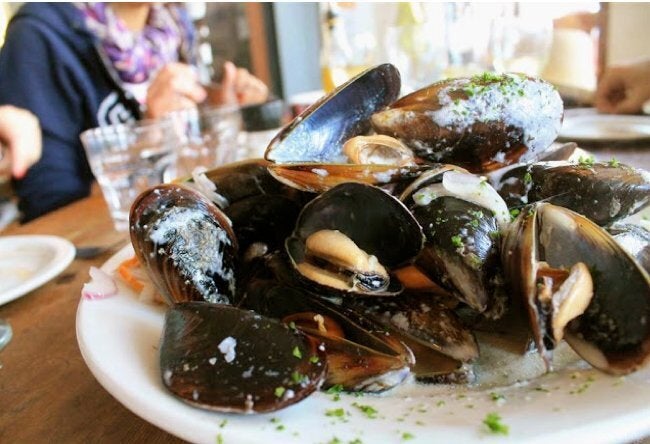 It was our last full day in Cape Town, and we had a lot of plans. Visiting the Cape of Good Hope, for one, and the Cape Point, since there seemed to be a lot of fuss about capes in this town.
Funnily enough, the fuss turned out to be well deserved, as you can see above. There was quite a lot of trekking, several strong gusts of salty sea air, and a few strange animals, including this guy, who was surprisingly friendly and unperturbed by the group of humans surrounding him with flashing cameras.
By the end of the day I felt sufficiently outdoors-y and decided it was time for a good meal. Luckily, a friend of a friend knows what's good to eat in Cape Town and pointed us in the direction of the Olympia Bakery of Kalk Bay. We walked up to the place a bit before sunset, as the weather turned chilly and damp and the wind picked up. Nature is exhausting sometimes and this cafe, well-worn around the edges and filled with warm, fresh bread and cookies, was more than inviting.
To be honest, though, when we stepped in we were a bit unsure. The tables were empty, the kitchen exposed... I toyed with the idea that we had been misdirected by the "friend of a friend." It was then that a rusty-haired woman in an apron walked up to us and said a cheery "Hello!" I think she was quite intuitive, because she spent the next five minutes convincing us to stay with a passion that only true gourmets possess, describing the heavenly delights of South African seafood.
"Just have a seat and order a plate of mussels and a salad, and I'll bring by a plate of fresh bread and the menus. Trust me, you'll love it." That was the hook. I looked around and had flashbacks to some of the best bakeries and cafes in San Francisco, their disregard for the snobbery of high class restaurants in deference to what really matters: good food.
The bread came first, which was a bit of an issue because we finished two plates before the waitress managed to bring the mussels. Once they came, though, our attention was diverted to their buttery perfection, beige against pitch black shells. They swam in a pool of creamy broth that, once the mussels were finished, we sopped up with bread (yes, she brought more), and once that finished we just ladled into our mouths with spoons (we would have used straws if it came down to it).
As was recommended, we picked out a salad too, with roasted butternut squash, goats cheese, avocado, and cherry tomatoes. Afterwards came the main courses: tuna steak, freshly caught and barely seared and Italian polenta topped with ricotta-stuffed aubergines.
At this point the sun had set and the cafe was packed, as were our stomachs. But I have a general principle that states: when you enter a bakery, do not leave without a baked good. And I should let you know that I am quite a principled person, one who follows her principles, and so I stuck to this one too.
It's rare when the end of a meal is just as exciting as the beginning. But in this case, the humbly named lemon tart managed to impress a full stomach as much as bread and mussels impressed an empty one. The custard was smooth, tangy, sweet, and the layer on top was caramelized like a crème brûlée.
Topped off with a latte and some foam art that resembles either a pigeon with mangled wings or a mythical flying squirrel, it made for a more than satisfying meal. In fact, by the end of it we had grown accustomed to the homey Olympia Bakery and didn't think to leave until a group of waiting customers stood right by our table and peered at us impatiently. At least some people know a good thing when they see it.
Popular in the Community